This weekend, I found myself alongside Gwenda Bond wandering through the New York Public Library, poking around their Lunch Hour exhibit, which was much more exciting than the name would suggest. From 19th-century oyster carts to 1912's Heterodoxy feminist-group meetings at Polly Holladay's, the extensive walk-through offers a look at the development of this largely post-industrial meal.
(I couldn't seem to find one of my favorite quotes from the early displays – some mid-19th-century journalistic side-eye about how rushed New Yorkers are, which offers some comforting context for everyone shoving food cart lunch into their mouths as they jog back to the office.)
Despite the slightly sepulchral lighting you can see in these photos, it was a beautiful and informative exhibit. My favorite display was without doubt the automat:
(It looks Dark-City creepy in this photo; I swear it's not this daunting in person.)
It was a gorgeous mini-edifice of marble and working gears, and inside you could snag cards featuring some of the recipes from the first-ever Automat in NYC. Baked beans! Mac and cheese!
Jumping ahead in time – and made up special for those who enjoy the sense of preternatural calm that accompanies lines of organized things – was this diner vignette!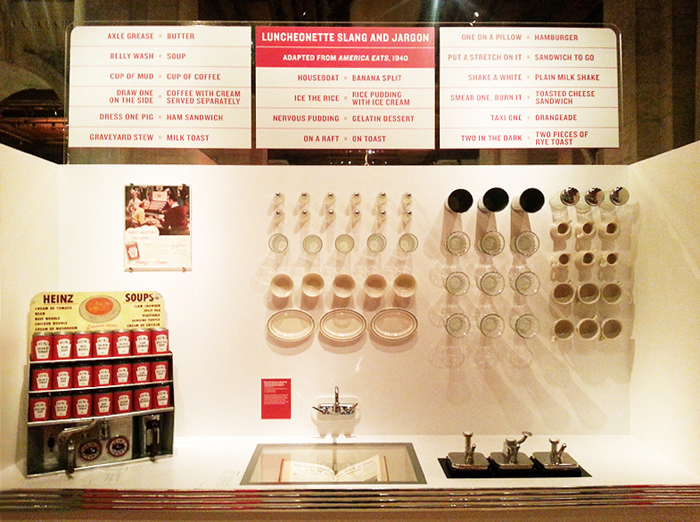 You can't see it because it's too small in this picture, but in the Heinz ad above the soup display, there is a young lady at a counter who is way, way more excited about canned soup than she probably should be.
The slang and jargon cheat sheet was also illuminating, especially two I'd never heard before, Nervous Pudding (band name!) and Belly Wash (should never be the name of anything ever!).
And let's all take a moment to admire this bastion of kid culture from the equally-soothing lunchbox wall grid:
Surrounded by Star Wars and E.T. lunchboxes was this gem, desperately trying to make fetch happen about the wonderful world of metrics. Note the special appearance by PRESCRIPTIONS there at the bottom, for those who want to foster early interest in narcotics.
(This room was so, so pink, by the way. It was like living inside a Tums.)
And scattered throughout were some of the library's thousands of menus, the best of which might have been the one from the Forum of the Twelve Caesars, which embodies the idea of Committing to Your Concept (click to enlarge):
I'm sure everyone involved with the Forum would be thrilled to hear how much of a thematic template they must have provided to the Hard Rock and Rainforest Cafes of today, but looking at the menu headers and notes, it's hard not to see it. Sumptuous Dishes from All the Empire, Charcoal Broiled on the Glowing Hearth…
And the note on the left-hand side: "Since the local Sumptuary Laws have limited the netting of the Pink Flamingo, Lark, Thrush, etcetera – more than the usual number of days are required for our netmen to accomplish their task. The noble Peacock, however, is now arrived, and our ARMIGERIUS and his kitchenmen stand ready with one of the most delightful recipes of their ARS COQUINARIA." (Medieval Times WISHES.)
I actually plan to go back on a day when I can spend more time scrutinizing menus, but for those who won't be in the city in time to catch it, the online exhibit is still pretty spiffy.