For a year, I had the chance to write one of my favorite comics characters of all time, alongside amazing artists and editors. The arc is complete in these two volumes, which include the 8-page post-Convergence sneak peek and the Catwoman Annual with Eiko's origin story in it, so things are fairly self-contained.
I learned quite a bit working on this. I'm honored to have had the chance to tell a Catwoman story with this crew; the real-time comics experience is unlike anything else, and I couldn't have asked for better support from readers and fans. Thank you so much to everyone who read along.
If you're curious and/or if you are like me and cannot be trusted with delicate individual issues, details on each trade are below.

CATWOMAN Volume 6: Keeper of the Castle
(Art by Garry Brown, colors by Lee Loughridge, covers by Jae Lee)
Available at ComiXology, Amazon, Barnes & Noble, and your local comic book store
"She was Gotham's Catwoman. Now Selina Kyle is Gotham's kingpin. After discovering that she's the heir apparent to the Calabrese crime family, Selina has put aside the life of a high-stakes jewel thief—and occasional vigilante—for an even more dangerous game. Now she's the head of all organized crime in the city. Her plan? Unite Gotham's warring families, using their resources to rebuild the city instead of preying on it.
But the crown comes at a cost. Not every family is willing to play ball. As her enemies—like the brutal Black Mask and an impostor calling herself the new Catwoman—attack from outside her organization, traitors lurk within. To rule the underworld, Selina must become a creature of the underworld herself. She may have nine lives, but she only has one soul. To save the city she loves, will she sacrifice everything else?
Writer Genevieve Valentine and artist Garry Brown radically reimagine one of the DC Universe's greatest characters in CATWOMAN: KEEPER OF THE CASTLE (collects issues #35-40 and CATWOMAN ANNUAL #2). Once this crime saga sinks its claws into you, there's no turning back…"

CATWOMAN Volume 7: Inheritance
(Art by David Messina, colors by Lee Loughridge, covers by Kevin Wada)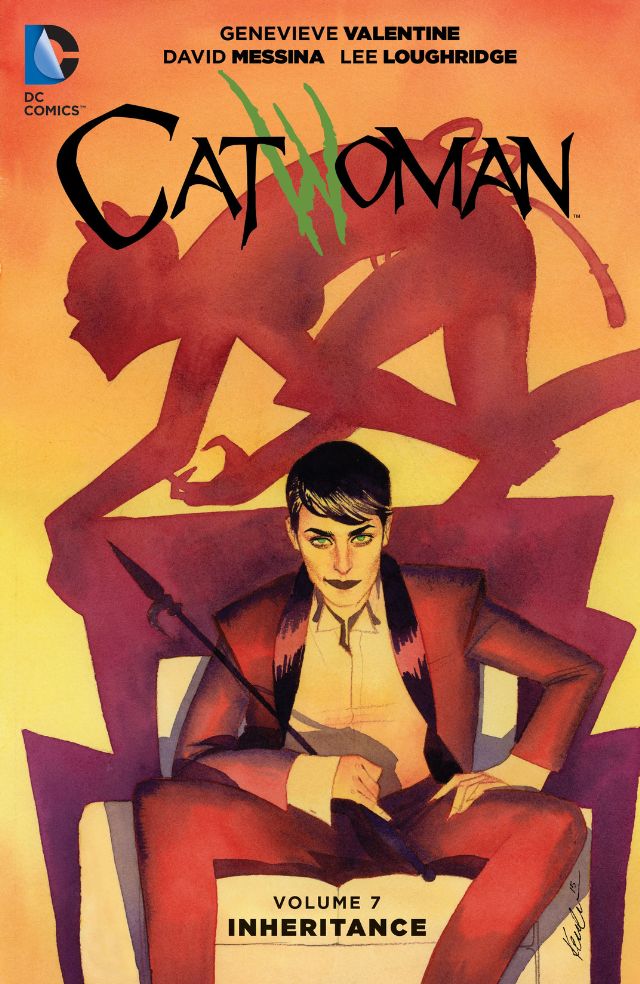 Available at ComiXology, Amazon, Barnes & Noble, and your local comic book store
"Catwoman's life of crime reaches stunning new heights at the hands of writer Genevieve Valentine and David Messina.
Selina Kyle-head of the Calabrese crime family-has survived a crime war with Black Mask and is managing an uneasy peace between the two factions. But old habits die hard. Upon hearing that Batman is dead, Catwoman goes on the prowl again in search of the Dark Knight. Can Selina lead a double life with her crime family nipping at her tail and Black Mask making moves to wipe the Calabrese family from Gotham?
Catwoman's life continues to get muddled when the second Catwoman-a woman she has intimate knowledge of-takes it upon herself to safeguard Selina and train the upstart vigilante Spoiler. The cold war between Gotham's crime families heats up, and Selina must embrace her role or fall. But who is she-a crime lord or Catwoman?
Collects the CATWOMAN Sneak Peak and issues #41-46."