I'll be honest; I assume most people interested in keeping up with my stuff (you are all awesome) are also on Twitter on Tumblr, and so this is all old news to you. But in case you're blog-only: I'm writing the Xena: Warrior Princess comic!
The covers, by Jenny Frison, are amazing. The interior art, by Ariel Medel, is charming as hell. (My scripts have 800 notes about Xena and Gabrielle giving each other old-married looks, and he's been a champ about making room for those despite the fact that I write a seriously talky Xena and Gabrielle. It was always one of my favorite beats in the show – that not-quite-fourth-wall-break of the two of them realizing Life is Happening to Them Again.)
Plotwise, I decided to start it at sort of an odd place in the canon: I start up after the Twilight of the Gods, in which Xena and Gabrielle woke from a 25-year enchanted sleep and Xena promptly infiltrated Rome to check in Augustus Caesar, and then killed half the Greek pantheon just to make her point. After Eve is safely ensconced with the faithful elsewhere, the show took a detour to the North, but I've always thought this was such an amazing jumping-off point to explore some of the secret-history elements of the aftermath of all this. Firstly, lots of soul-searching! Secondly, lots of Roman Empire expansion to rail against! Thirdly, the chance to run into some older warrior women who have stepped up to fill the vigilante vacuum during Xena and Gabrielle's enchanted sleep: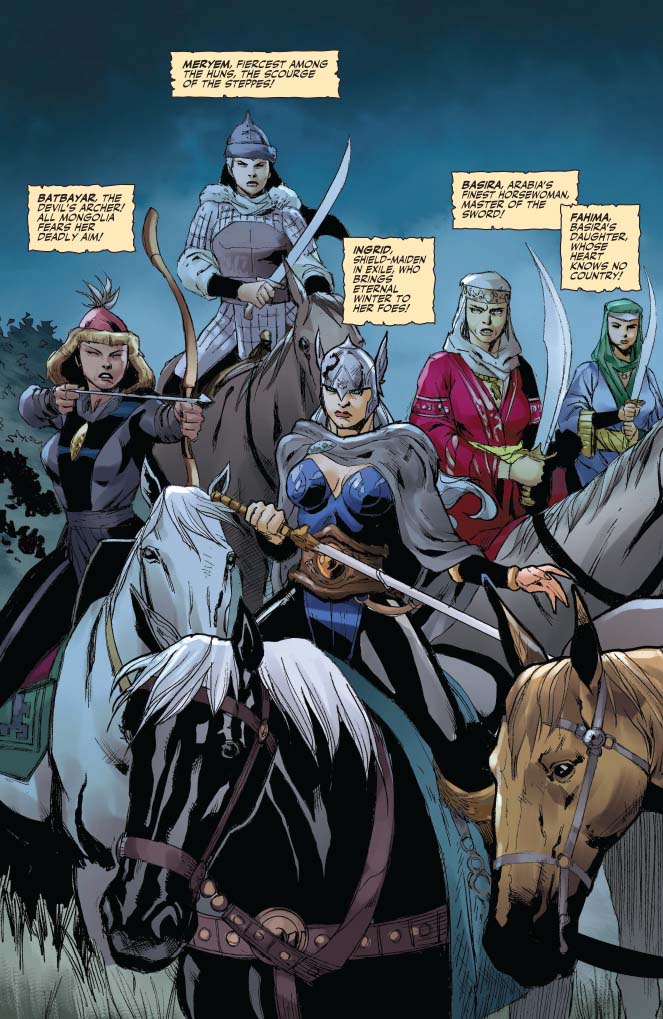 (Is Gabrielle amping up her bard skills in Full Pulp mode? She sure is.)
And there's also some glimpses into Xena's past, because naturally – including a little bit of Borias, who might have been part of my favorite page of the first issue.
While I'm trying not to talk too much about spoilers – I want to balance all the mentorship with the odd casino caper, but other than that I'm trying to keep things under wraps. Before the book came out, though, io9 was kind enough to host a mutual interview with Javier Grillo-Marxuach, who's spearheading the Xena reboot, about why we love Xena so much, what's most important to us, what we're looking forward to playing with, and when Gabrielle will finally get to arm her vulnerable midriff.
There was also some interesting, if not unexpected, feedback prior to the book coming out. In particular, a tweet about trying to make them "sweeter" without being "lesbian" spurred a Twitter essay about why queerness is considered a narrative threshold and how it affects perception of audience and struggle. Yes, I realize this is a comic book about a warrior princess who has met everyone in the ancient world both real and imaginary, often in the same episode, but still, somebody made this their hill, so I climbed it.
I'm having a ton of fun writing Xena and Gabrielle's adventures with the Harpies in tow. If you'd like to catch up, Issues 1 and 2 are available now! You can get them from your local comic shop or via comiXology. The Dynamite website for Xena has more information about finding a local retailer, plus a glimpse at some upcoming covers.