It's my final Channel Flip (I think – if your request hasn't been filled, drop me a comment stat)!
Most people asked for Channel Flips for movies and television they either themselves enjoy, or hope I'll hate as much as they might secretly hate it. It's been a blast, mostly! In this last Channel Flip, I learn to be more specific in terms of what I'll watch, if I ever offer again after this puppy, because someone will eventually request a movie that person made themselves in what looks like 1987 but is actually apparently 2006, and is described on its Netflix envelope ("Short delay") as follows:
In a brilliant parody of children's programming, Philadelphia-based comedy troupe Latitude X Multimedia presents a best-of look into the disturbing world of Hellorama. Hosted by half-crazy has-been Jackie Spratlin (Tim Burke), the public access show for kids (and grown-ups) features hilarious sketches such as "Six Flags over Old People," "Fighting Buddha," "The Meanest Man in the World" and the commercial "Sugar Frosted Beef Flakes."
You know, when I talk about how I sometimes enjoy high school film projects, I'm not entirely lying. Sometimes, there's a certain charm in earnest theatre-department music videos about Hamlet set to songs cooler than ones form Glee but not as cool as ones from Gossip Girl, or halfhearted English projects done with a sort of must-make-do blithe spirit. Do I still want to shout, "Do it until you get a take where nobody breaks!" at them? Sure thing. (My video projects in high school were not fun places.) But you can look at a Jane Eyre recap done in half a dozen different styles in under five minutes (plus credits and at least one minute of bloopers featuring "Jenny"), and think two things. One, that's reasonably clever for high school. Two, thank goodness these kids will someday grow out of this, because that would get old.
Anyway, on a totally unrelated note, let's talk about The Kibbles and Bits of Hellorama!
Timestamp: 00:07:49
As it says on the tin, the show is presented as a series of skits from the ill-fated children's show Hellorama, prompting questions like, "How old is that computer?" and "Why is Latitude X Multimedia not really on the internet in any capacity except as relates to this film?"
There's our host: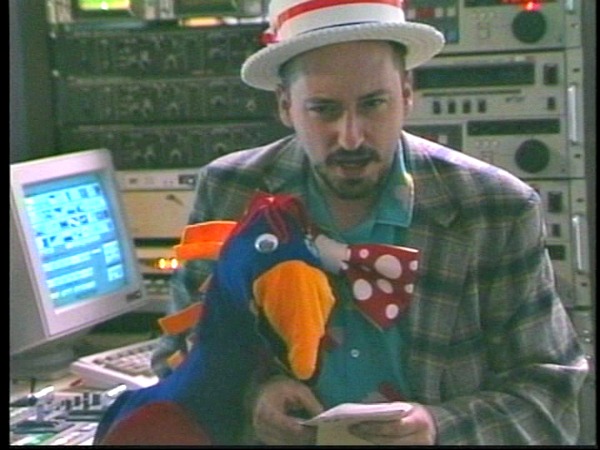 There's "The Small Uncomfortable Bed," in which a doll and her robot dog discover her bed is both small and uncomfortable: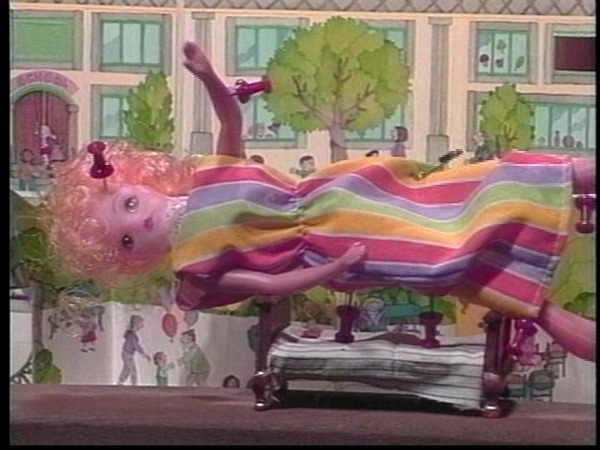 There's a musical interlude about a particular Teddy Bear Picnic involving the following training (actual thing):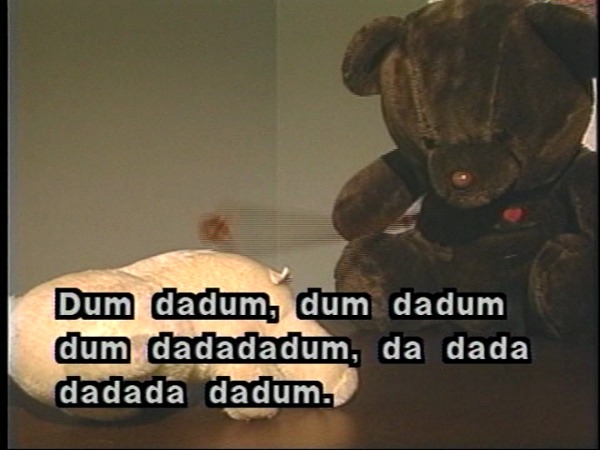 The sketch "Cucumbers in Clamdiggers" (actual thing), which I didn't screencap because why:
[why]
And an ad for this gentleman, The Amazing Leander, the Psychic Ventriloquist (who has the look of a man who was Toreador Clan in his ongoing Kindred game for a while):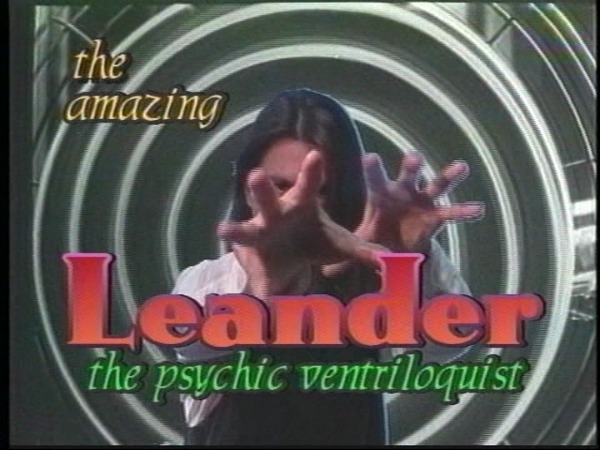 And before we can enter the re-dubbed animation of the Greek cartoon-superhero Hypocrates, presented by "Big Sid Ginsburg," it's timestamp!
What It All Means, I Bet: When the gentleman in question explained that the film he wanted me to watch was one of his own making, despite being informed that this did not guarantee a favorable result, he said:
I do not expect you to sugarcoat your review. If the movie makes you wince, then so be it and please report it. If you are concerned that I may kick up a fuss at your review, please use this e-mail to confirm to impartial folk that I give you carte blanche in your comments and your post.
…
Why am I asking? I don't expect a good review, but there is some good stuff in it. It's a lovable warty scamp of a movie.
If this had been some sort of cynical mirror-licking for a 7-year-old movie filmed with the videocamera my grandfather dropped in a puddle one time, and my scathing review would somehow have brought an underappreciated cult hit to the attention of people who were unaware of any other sketch comedy that has ever aired, or Funny or Die or CollegeHumor or a group of friends with a Flip phone and a dream, then I suppose that would be one [very weird] thing. But assuming good faith, I feel like the screencaps above illustrate, as much as possible, the feeling that overwhelmed me as I watched. That feeling was, "There has to be a high school video that does this, only better, because it gives only 20 seconds of screen time to each gag, having an inherently more balanced sense of when a joke is over than a group of grown-ups with nothing but a poorly-made puppet and a dream of someday making a stranger wish she'd never offered to review anything, ever."
And there was! So that's good. Thanks, Jenny and company; I enjoyed the crib notes on your blooper reel, and hope that closet door got fixed okay.