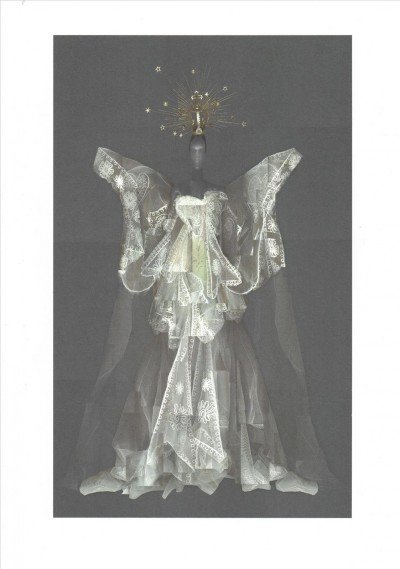 And thou shalt embroider the coat of fine linen, and thou shalt make the mitre of fine linen, and thou shalt make the girdle of needlework … and thou shalt make for them girdles, and bonnets shalt thou make for them, for glory and for beauty.
— Exodus 28: 39-40
Over the last decade or so, the Costume Institute has become the socialite daughter of the Metropolitan Museum of Art. Its yearly fundraiser — timed to a new costume exhibition — has gone from a fashion industry who's-who to a red carpet livestreamed on E!, and the exhibitions themselves are blockbuster events. Recent years ranged from abstract exercises ("Manus X Machina," about fashion and technology) to fraught cultural ground ("China Through the Looking Glass," which hit many of the hurdles you might expect).
This year's exhibit, "Heavenly Bodies: Fashion and the Catholic Imagination," is a gorgeous and frustrating middle ground. Catholicism has a long history of reinforcing its own iconography, creating a visual dictionary recognized the world over. (Chances are you've never asked a costume-party priest or nun who they are.) That means the exhibit itself is more than just designer pieces beside the religious vestments that inspired them — it's a cultural history of enormous complexity that begs examination beyond the allure of a beautiful garment. Given the Vatican's involvement (it lent out 40 rare vestments), there's some inevitable tension. That seems perfectly embodied in the painstaking companion volume.
I reviewed Heavenly Bodies for NPR Books.