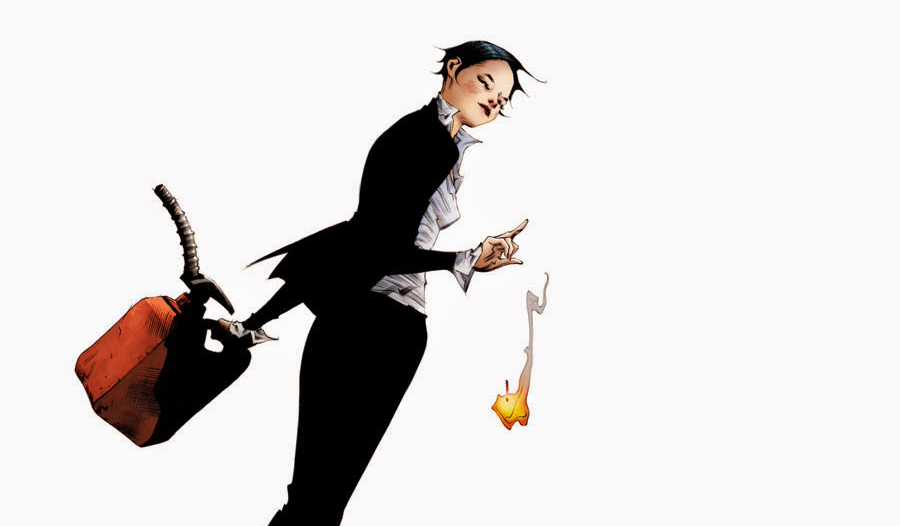 Or: the one in which Selina Kyle confirms a rumor.
This is an important issue plotwise: It's the one in which Selina has to decide if she's going to war against an ever-more-powerful enemy; it's the one in which she has to sit down in the all-neon diner that Drive forgot and decide if she can even believe she has a brother, much less anything he says. But this is also the issue in which Eiko finally tips her hand about one of the reasons she's been so drawn to Selina, and sets another plot in motion. I talk a little about the thinking behind the quotes and the plot forces at work over at Comicosity.
When I was first plotting out what I expected to be a six-issue arc, there were a few emotional beats I considered indispensable. One was Nick, around whom Selina's moral axis pivoted and whose death would set up Antonia to be both guilt-trip and threat to Selina – a contestant for the throne, even if neither of them wanted to think of it that way. Another was finding time for a few key moments with Batman, particularly in the first issue to set up their connection even when at odds.
And one was establishing Selina as canon bisexual.
She's flirted around it – often quite literally – for years now; for me, this wasn't a revelation so much as a confirmation. And as Mark Doyle and I were first hashing out the relationships in this arc, Eiko seemed like the right person: intelligent, driven, in that uncanny valley of Almost Catwoman, and knows enough about Selina that their honesty has become something of a shelter in a situation that's getting increasingly dishonest for everybody involved. The more we talked about it, the more it was something I wanted to make happen.
Was it a surprise for them? In terms of their sexualities, not particularly; certainly it's no surprise to Selina that she has an attraction to a woman. Is this particular kiss a surprise? It's definitely surprising; this is the very last thing you're supposed to be getting into on the brink of war, and they both know it. But this isn't the first intense moment between them: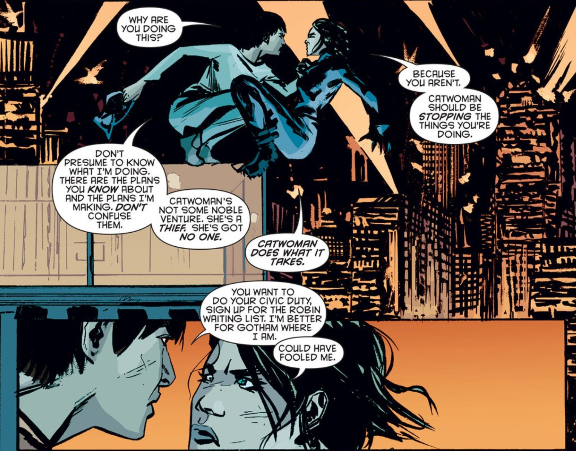 (In the script of this scene I noted for Garry that the degree of close-talking should be "Xena.")
In fact, because Tumblr's amazing, someone was assembling shippy pings before the issue even came out, which pleased me to no end.
While I don't want to spoil what can't yet be spoiled, please be assured that Selina's longstanding connection to Batman has not been forgotten; that is not how bisexuality (or humanity) works. Selina doesn't care easily, but when she does care it strikes deep, and there will be plenty of that coming up.
But at the moment, her relationship with Batman has fundamental cracks they both know about, and there's a lot of work ahead of them if they ever plan to fix those. (Am I looking forward to exploring this dynamic? Need you ask?) Eiko has offered a moral challenge – and we know Selina loves a challenge – but has also unexpectedly given Selina trust and support at a time when those are in desperately short supply. Selina is a complicated person; she's drawn to complicated people. In some ways, it's that simple…though of course, it's never simple.
Obviously with two people who are in such narrow situations with lies and obligations pushing ever closer in, Selina trying to explore anything from a place of trust is going to be a tough gig. Eiko's position might be even more difficult – we don't know as much about her, but we know that she has been interested in Selina for longer than Selina has even known her, and Eiko's both younger and more idealistic than Selina, which is tricky to navigate even when you're not mob leaders on opposing sides. But this also isn't a throwaway; as soon as my renewal as the ongoing Catwoman writer was confirmed (early enough in the scripting process to give the major relationships some breathing room across arcs), I was able to start work on a thread for them that would be woven into the next arc.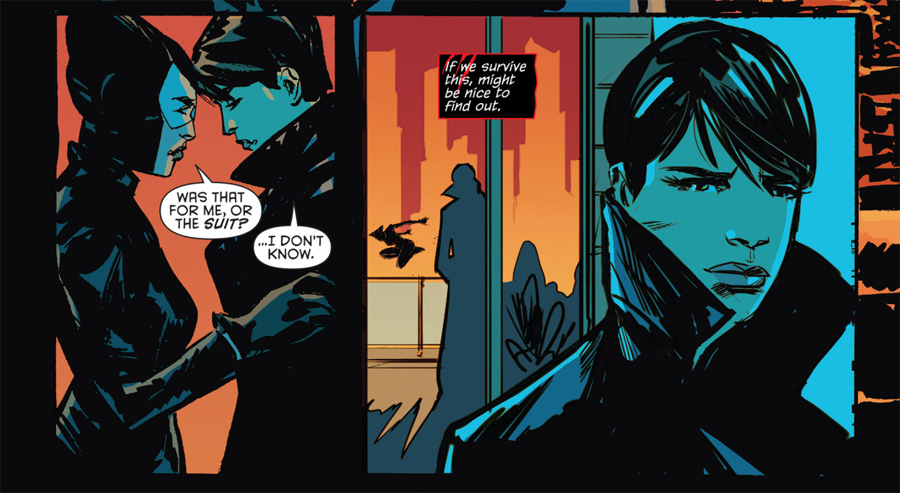 Will they dramatically implode? I mean, it's comics, it could happen. But it will be a relationship. I'm excited to be here for it. Thanks so much to everyone who's reading.