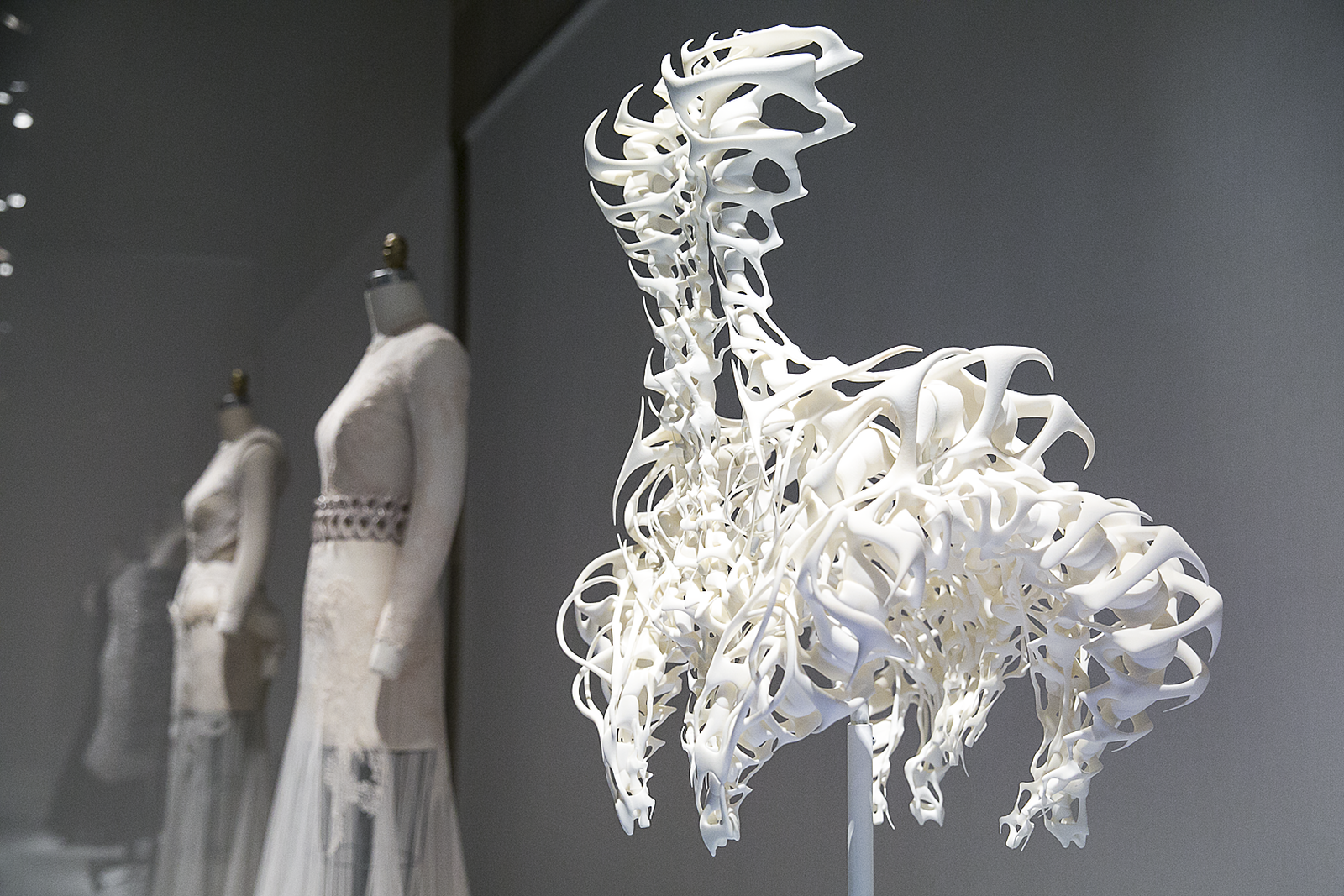 I knew the Met Gala was gaining steam as a mainstream cultural event, but I didn't realize how much it had entered the fray until I heard 1) that E! was going to be streaming the red carpet live, and 2) that Anna Wintour had forbidden any social media once inside. Together, it's an almost sublime attempt to appease the unwashed masses (me) while maintaining the proper distance from them by establishing clear social strata. We don't get to know what goes on inside the Gala, because why would we deserve it? (God, please take everybody's cell phones, can you fucking imagine this crowd giving up their cell phones, I would straight-up watch a movie about that unfolding in real time.)
So! The New Versailles is coming along wonderfully, and it is not stopping me from recapping this red carpet whatsoever. My latest short story is "La beauté sans vertu"; I am invested in red carpets.
This year's theme was "Manus x Machina," and like all other Met Gala red carpet themes, it was a giant trap. The exhibit brief itself is about the relationship between fashion and technology, in the sort of subtle way that takes 150 pieces to really explore. (You can see a few photos here, one of which I've featured above as an example of something you will not see anywhere on this red carpet.) You could always abstain with a wink, as Orlando Bloom did by wearing a Tamagotchi in his tux pocket. Or you could wear something obviously outrageous to make the "Machina" argument. Many attempted it, with really mixed results considering the wealth of futuristic and mechanical couture at their disposal. The admitted showstopper: Claire Danes in luminous Zac Posen.
(Somebody broke that social media embargo to post this picture. Did Zac Posen sacrifice an intern on this altar? If so, what did he promise them in exchange for a lifetime ban from this event? Did this dress defy the Instagram ban across the board and the Met Gala seeped into the public social-media feed despite all best efforts? Amazing.)
But you could also, according to the exhibit brief, wear something with complicated embroidery, or laser cutting, or made of a fabric that was itself a technological achievement.
Emma Watson wore a dress made of sustainably-sourced materials. Questions about the way the double-foldover waistcoat-pants work against the line of the train sort of vanish in the wake of evidence that she spent so much time considering the assignment. (Some questions remain. Michelle Monaghan also showed up in a vegan-leather sustainable dress, and I do not want to hear about this dress whatsoever.)
You could also, if you can, nail the assignment so hard it looks like the assignment conformed to you.
She stands in front of this wall every year and takes this picture just before she heads to the red carpet. Every year, I say it's so her enemies know she's coming, which has been true every year. This wall is slow-motion fashion warfare. But this year I might mean it more than ever; she's wearing a latex dress that blood, for example, wouldn't even stick to. Hypothetically.
The problem with a theme like Technology's Relationship with Fashion is that it's a red carpet assignment that requires a certain amount of engagement and discussion about design, and instead you get four repetitions of a signature pose and then a careful teeter up the stairs so you can sit the hell down for a minute in an outfit that took a team of trained professionals several weeks to select and style. Plus, as the Met Gala red carpet opens up, it's increasingly subject to the pressures of show business rather than fashion. Not everyone's going to take a red-carpet risk when there's a nationally-televised rundown the day after. (Michelle Williams is in a play right now where her character is waifish but steely. This outfit is not a coincidence.) The celebrities, we saw all night; they were out to impress. Anna Wintour personally approves every attendee, after all; it behooves you to at least look like you care.
Two designers who showed up: Miuccia Prada, and Tabitha Simmons.
Each of them could tell you for five minutes why what they're wearing applies to the theme of fashion's relationship to technology. Neither of them is going to. They don't need this; they are this.
Upshot: This year was even more of a free-for-all than most years, and damn, you could tell.
As usual, if you want proof that themeing the red carpet is a cruel joke, Anna Wintour never, ever bothers. She had, until this year, enjoyed showing up in a dress themed to the previous year, because when you own Vogue you get to show up in something that's literally so last year. This year, she decided just to taunt everyone. (Her daughter Bee Shaffer, as usual, dutifully shows up in a drapey trained gown that nods at the theme.)
Yup, that's macrame on Wintour. She knew that there there going to be eight hundred silver dresses on that red carpet, and she was going to look as warmly textured as humanly possible, because Wintour is not required to give even a single fuck.
Several people did, however, attempt to play the game of Impossible Red Carpet Theme. So, so many of them did it by wearing silver and aiming as science-fiction as possible. Fine. Let's do this.
OH MY GOD ARE THERE ANY SILVER DRESSES LEFT IN THE WORLD DIVISION
Sometimes it's hard to decide who's going to show up and effortlessly win an entire division. Other times, Jourdan Dunn posts this Metropolis shot to her Instagram before she even heads over to the Met.
I honestly couldn't love her smile more. Perfect split between casual happiness and "What, this old thing?" fashion shade. (The other thing I can't love more; this red carpet might have opened up to the public in the last few years, and it might even have given in to the necessity of decorative hedges, but it refuses to even acknowledge the army of assistants and publicists. The assistants and publicists don't care; they're too busy working.)
You know who could have really used a dress like this?
Taylor Swift, living proof that some people will always end up being worn by their dresses. This outfit would be tricky to pull of even for people with a lot more natural red-carpet presence than Taylor Swift. But what gets me is that Taylor Swift is a co-chair this year, and this was the outfit that several people approved. (If you want proof Anna Wintour does all this as a giant joke, this ought to do it.)
Brie Larson, trying studiously not to acknowledge that she looks how Taylor Swift should have looked, if the people around her had her best interests in mind.
Ciara, clearing the dual hurdles of Only Works on the Met Carpet and Playing to Theme.
Nicole Kidman, who clearly got her first look at this dress and instantly pushed the Do You Know Who I Am button on her phone – subtly, she's not a monster – so that somewhere in the McQueen offices, the Celebrity Clotheshorse phone rings out in the night. The Met Gala is coming, and Ms. Kidman wants to feel like a beautiful moon princess. (Is it particularly risky? No. Do I love any dress that looks like a planetarium show? Turns out I do, but only if it visibly costs more than I make in a year.)
Mackenzie Davis, who was clearly STOKED about her cape until she arrived and heard that Nicole Kidman had beat her to it. (This is still a damn good showing for the Silver Dress division; get photographed looking like you went all-out but keeping enough Oscars-carpet reserve that nobody's going to ding you.)
She outwore Cindy Crawford, at least, which feels like an achievement even though Crawford was only putting in about a C+ worth of effort.
Liu Wen put in about a C-, but when you've been on the cover of a major magazine somewhere in the world nearly every month of 2015 and several in 2016, you don't have to give a shit about the Met red carpet assignment. Silver, done, boom, where's the dancing.
Rose Byrne. This dress looked better in motion than in still pictures. Barely. The fact that she looks betrayed by her own dress is not a great sign. (She did, however, recently have a baby, so I suppose that she wanted to just get the Yes, I'm Suitably Fuckable Again announcement out of the way in a dress this unforgiving.)

Of course, silver wasn't the only way to indicate the relationship between technology and fashion (she typed in bafflement about the year's most carefully-planned fashion event). And again, this is one of those red carpets where everybody could have obeyed the assignment and you'd still end up with an array this disparate. In theory that's kind of great! Individuality on the carpet! But as the Hollywood stylists must have anticipated, in the absence of familiarity and dialogue, the default is still Who Looks Amazing vs. Who Looks Mildly Embarrassed on the battlefield of what qualifies as high fashion without tipping over into ridiculous. It ends up one giant To Thine Own Self (and, Secretly, the Theme) Be True division, which…godspeed.
Kate Hudson, looking like the patron saint of androids.
Joan Smalls. Can a patron saint have a rival patron saint? If so, I want her to fight Kate Hudson.
Danai Gurira, repurposing Elizabethan silhouettes with the kind of effortless ease Reign can only dream of.
Willow Smith and Jaden Smith. Each outfit is eye-catching, each has vintage lines combined in new ways, and they look completely like themselves. This look felt cooler and cooler the more you realized how many tried and failed.
Lupita Nyong'o. A perfect example of "Only on the Met red carpet." That dress is stunning. That hair is iconic.
Karolina Kurkova, in a dress that lit up in response to aggregated "emotions" from Twitter. As a concept, it's gimmicky, sure. (Plus, I couldn't help but think of that Tay AI that the internet feedbacked into a Nazi nympho in less than 24 hours; maybe sometimes you should just not trust the internet.) But it's a dress that obeys the will of the masses, and on the Met Gala carpet, that's about as subversive as you get.
I saw some people disappointed with this Gaga look, which says something Gaga's history of red carpets. I actually love how she went for a casual, throwback Gaga experience with this. That this look counts as been-there-done-that is proof she's done the work. (My actual favorite part of this photo is that assistant; they literally do not care who gets them in the shot, because they are actually working and making this entire evening function, and I love them so much.)
FKA Twigs. Sleek red-carpet standard gown elevated by a perfectly tailored harness on top. Love the silver fingers, unsure about the other jewelry. (I wish everybody's outfit had come with small explanatory cards this year.)
Amandla Stenberg. This looked better with the jacket on – at some point, three-piece shiny just works better than broken-up belted bustier shiny – but that hairband works with that choker to frame their face so perfectly that it makes the whole thing work.
Solange Knowles, in a tribute to Fortuny pleating!
Grimes. There's no way to win this red carpet. Grimes knows. It's kind of great.
Kristen Stewart, who always wears dresses like she has a grudge against whoever put her in them. She's here, her makeup and shoes are stunning, this dress doesn't work, no dress will ever work, her real victory is not having to be in the Snow White & the Huntsman sequel, can she go inside yet, great, goodnight.
Halsey. This feels both lived-in and slightly unexpected, which is about as much as you can ask on a red carpet that means literally anything.
Ellie Bamber. I'll be honest, I kind of loved this. Hits the embroidery bingo square in a shape that was nowhere else on this carpet, and the plague makeup looks better on her than anyone else who tried it. That's pretty savvy work.
Jennifer Connelly will come to your Gala. She doesn't care, but she'll come. Can she wear combat boots? Great. Some slightly forward-thinking meta print placement? Marvelous. See you at 7.
Sarah Jessica Parker has obeyed the theme of the red carpet to the letter for years. Last year, after her phoenix crown and poppies drew criticism for the obvious reasons, she must have drawn a line. "Forget it," she said on the phone, which was jammed into her shoulder because she was mixing something (I want to say paleo brownies?) in her giant kitchen (I want to say white subway tile?). "I'm done trying to make Anna happy. I want to make MYSELF happy. Do you have something that will really stand out? That embroidery section of the exhibit reminds me of 18th-century waistcoats. They're on Outlander now, right?" She definitely watches Outlander (I want to say while she's treadmilling?), but what she means is that she watches Black Sails in secret (I want to say, in the master bathroom at 3am?) and is going to stand out from the sleek silver crowd once and for fucking all. (I want to say she did it?)
I feel like this dress encapsulates the Zoe Saldana experience, where if she can't be the best she'll just be the Most, and so she wore a dress so big she had to have help to get into the car, and an assistant just to get up the stairs, and then the Zac Posen light-up dress arrived and everybody forgot about her.
Related: Rita Ora. So much of this should work; so much could have worked! But when your dress makes people wonder if you think birds will make it to the future (they won't!), maybe you've slipped off assignment.
Florence Welch, in custom Gucci with a wolf head on the back. Honestly, I'm not always thrilled with her red-carpet stuff, but I found this kind of charming; it's definitely playful in a way most of this carpet wasn't.
Nicki Minaj. Red-carpet goals: to be Nicki Minaj. End of list.
Saoirse Ronan, who doesn't even know the dead man, Officer. She's just a little theater ingenue who was gifted this dress by a mysterious benefactor who is definitely still alive. Now if you'll excuse her, her ocean liner to the Continent is leaving any moment, and she really must go.
Demi Lovato. That dress is an 80s travesty. She looks great despite it, which is saying something. Of all the people whose paper-doll heads I would have liked to put on other people's looks, Demi Lovato is at the top of my list.
Kate Bosworth, eternally awkward red-carpet stander. I actually love this from the waist up – the laurel headpiece is great, and lace structured thickly enough to look like armor counts as themed! I have absolutely nothing to say about the rest.
Zendaya. I do not understand the bowl cut, but given that expression, it's not for me to understand. The rest is lovely. (When she was on Dancing with the Stars, she sold a remarkable parade of questionable costumes. Obviously she's going to just sail through anything where actual care is involved.)
Zayn and Gigi. I went back and forth on it, but honestly, he committed. It looks ridiculous; I respect it.
Hailee Steinfeld. She's here for the party. Let other people try. (That said, whoever put her in deep green was smart as hell; on a carpet that everybody knew was going to be heavy on metallics, she stands out without even trying.)
Rachel McAdams, who always looks nervous on red carpets; another reminder how hard it is to make star presence look natural in a setting that requires this much of it. She's carrying off this lip better than Taylor Swift, but she seems as if she only just realized there's swirling poetry on her skirt that doesn't work with the armored lines of the bodice, and can barely contain her horror.
Katy Perry. If you ever liked steampunk, it's dead now.
And the opposite of Katy Perry, who tries so hard you can hear it like a dog whistle: the Olsen twins. They have a style they've been refining for a decade. They know better than to play this game…and yet, that jacket on the left is Fortuny, who (alongside the famous pleats) played extensively with silkscreening techniques. So without seeming to play the game, they won it all. You beautiful bastards, you did it. You did it.

Well, almost. Bette Midler reminded us that the best accessory is probably a sense of humor.
Turns out, we were the winners all along. (Well, us and Children of Dune, but the Met's not ready. It will never be ready.)