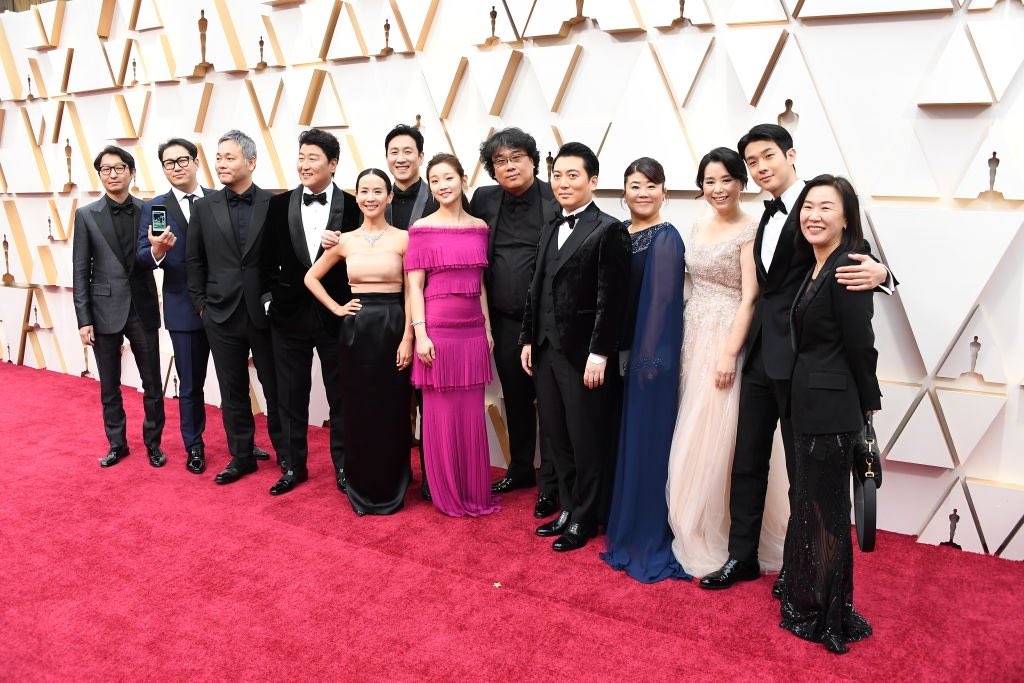 The Oscars happened! And with them, a very particular subset of a very particular level of performance comes to its annual end, leaving behind nothing but the inescapable web of industry positioning and image management, punctuated by occasional moments of deep satisfaction. (Ten years from now, those brave souls who walk past the Dolby Theater in the dark Los Angeles night will swear the phantom guests who applauded Parasite's Best Picture win are clapping still.)
As always, I am fascinated by the red carpet as a microcosm of celebrity (itself a microcosm of a bunch of stuff we just don't even have room for right now, I wrote two books about it and I haven't even scratched the surface of my thoughts on performance, image, audience, dress, and absurdity, because it's just where we all live now, I don't make the rules).
Every year seems to up the ante on surreal Byzantine flourishes. This year's entry: The Curtain.
The red carpet has changed this year. The stars walk on the main portion and any ticket holders have to use a separate, cordoned-off lane so they can't linger and spy on the celebs. You can see it here at the end. #Oscars pic.twitter.com/kbIbl7UzMe

— Amy Kaufman (@AmyKinLA) February 9, 2020
And of course, let's not discount the regular, garden-variety level of bizarre that the red carpet has become in recent years. That gauntlet is real, and it's unforgiving.
Above: Julia Butters, dressed appropriately for her age (so far – Millie Bobby Brown Syndrome is contagious and can lead at any time to a styling team sending girls too young to have a learner's permit onto red carpets dressed like Kathleen Turner in Body Heat), trying to ignore the cacophony on her left side so she can find her angles for a second with the photographers dead ahead.
But there are also a few pleasant surprises every year, one way or another.
The first one was the land acknowledgment by Taika Waititi; no surprise that this isn't already in wider practice in the States, but there's absolutely no reason not to start.
Yes @TaikaWaititi!!!! #Oscars2020 pic.twitter.com/X8vp4ydgHG

— cherrywaves (@heather28df) February 10, 2020
[Transcription: "Tonight we have gathered on the ancestral lands of the Tongva, the Tataviam, and the Chumash. We acknowledge them as the first peoples of this land on which our motion picture community lives and works."]
One of them, which seems small but isn't because nothing ever is, is that after a few years of nearly-bare collarbones, diamond necklaces are absolutely everywhere on this red carpet for no particular reason I can discern; you never want to immediately go full Last Days of Versailles, which I'm positive nobody actually intended, but in these numbers, I'm not sure what else it ends up looking like.
And of course, Parasite. It deserves all its accolades, and a few more it didn't get, but one of the most interesting things about watching the movie make the awards-season rounds has been seeing the red carpet choices for Park So Dam. Don't get me wrong, this entire cast turns out looking amazing every time, but her red-carpet choices this season have deliberately presented a poised-and-ready star on the rise, and this look seals the deal.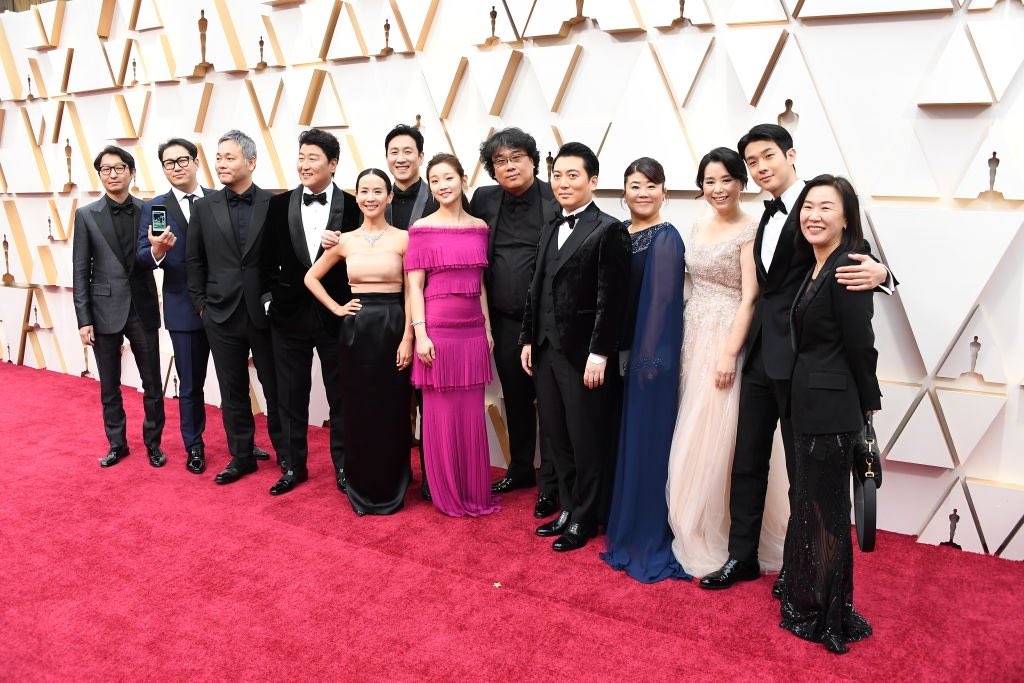 That thing is miss-me-not pink, and it's Chanel. That's a dress for somebody who plans to be back on the red carpet soon. (Can't wait.)
It is not, however, the dress of the night.
Janelle Monae, in the dress of the night.
Strictly speaking, it's isn't an Oscar dress; this is a statement outfit that deliberately doesn't much care about Oscar traditions and style precedents. At this point Janelle Monae is a pro at using fashion as costume – specifically, in outfits like this, to present a speculative figure and encourage the viewer to think, Why Not. As soon as she appeared in this, Twitter was all over the place talking about Star Wars queens and gem wizards and glam robots, and that's the whole aim of this look; to point out how easy such things are for people to imagine, as soon as they see it. It's a meta-text about narrative, just with 170,000 sparkles. (Actual number of sparkles, someone checked.)
She wasn't the only person making a statement, successful or otherwise. In fact, most of the looks I was interested in ended up having something the wearer wanted to say, on purpose or otherwise.
TALK TO ME DIVISION
Regina King. She is one of the few Black women in this industry who has received the accolades that are her due; as such, all the trappings of classic Old Hollywood take on another level of meaning. She regularly wears (and totally kills) modern minimalism and occasionally something slightly risky; she is wearing the Full Hepburn here for a reason, and she's nailed that, too.
See also, Sandra Oh. She spent a lot of years on red carpets doing Classic With a Twist, and it almost always looked great. But since Killing Eve, she has the name recognition that means she can take serious risks just for fun. Is it a little too much? Probably! Has she reached a level of success where she's allowed to have fun with what she's wearing without treating the red carpet like a one-time gig? Absolutely! Can that thrill of success alone make this look work? Pretty much!
Zazie Beetz. This Audrey-Hepburn-as-vampire-queen look is just…so good. Glam enough to be at home on the red carpet, casual enough not to look as though it's anything serious (the hallmark of the SAG Awards! Here at the Oscars!), and styling sharp enough to cut through the crowd of gowns. (That necklace!) This is another I'll-be-back dress.
America Ferrera, who explained that her headband was to honor her heritage – the Lenca people of Honduras. I could wish her team hadn't kept quite so much hair on the sides of her face, so the line of the headband would be a little more stark across the temples and be a little less mod at first glance, but I trust her people have more information on this than I do. Great color on her, and though looks are deceiving (every single one of these dresses has more internal architecture than a shopping mall), she manages to look very nearly comfortable in the dress, which deserves points on several levels.
Natalie Portman, who had her cape embroidered along one edge with names of women directors who were not nominated this year. (If you're curious, they are apparently as follows, order unknown: Lulu Wang, The Farewell; Mati Diop, Atlantic; Lorene Scafaria, Hustlers; Greta Gerwig, Little Women; Melina Matsoukas, Queen & Slim; Alma Har'el, Honey Boy; Céline Sciamma, Portrait of a Lady on Fire; Marielle Heller, A Beautiful Day in the Neighborhood.) The dress is a fun take on the filmy gowns of yore (yore = 4 red carpets ago), but the cape is the reason for this look.
Geena Davis, whose attempts to codify and point out the many misogynist oversights in onscreen representation have met with exactly the sort of reaction you can imagine they met with, has made it her mission to show up to every red carpet she attends looking like she has only just left a banquet at her coven to crash the funeral of her fifth ex-husband in time for the will reading. As she should.
Olivia Colman. I find her developing red carpet style very interesting, in part because she's so candid about being freaked out by the entire process, and in part because her team is really trying to keep up her quirk levels regardless. Often the direction among women who aren't trying to stay young enough for a sleeveless sheath is to go for something classic with an understated signature detail; Sigourney Weaver, with deceptively casual draping and some lovely depth of color, looked great, but this is a silhouette that we all know and understand. Olivia Colman's team would not rest until they had played around sufficiently with the 1930s-meets-1980s of it all, including slashed sleeves and a tabard train only wide enough to highlight the sweep of the garment and provide the hint of grandeur you want from someone currently playing a Queen of England. If anything tips this over the top, it's the giant diamond buttons to draw attention to the slashed sleeves (were we going to miss them? You lined them in white!); otherwise I think this is doing just what everybody wants it to do.
Billie Eilish. The sort of electropunk that's actually Chanel. This is the kind of look I end up thinking about too long, not because of the look in itself (we see it, we get it), but because in order to contextualize it properly you go looking for pictures of Avril Lavigne at a roughly equivalent point in her career, and then you're trying to parse how much control Avril Lavigne had over her styling at the time (and if she had it to start with because everyone found the whole thing a novelty and then it inevitably became part of her brand and something else to be externally managed, at what point was that, to what degree was it in force, and how did it affect proceedings?), and then you're trying to gauge how much direct granular input Eilish has over her styling at this level, with her fame rapidly increasing and her signature style suddenly became a selling point for designers (the slouchy silhouette she's cultivated to keep her body from becoming an object of discussion has become a trademark, and it's as good as any other and probably something worth talking about more in-depth in an age when girls are expected to be polished enough for display at younger and younger ages, but does she have any interest in Chanel specifically as everyone discussed the options for slouchifying the classic tweed boxcut into an extremely Chanel swing at 1990s hip-hop styling she's adopted that itself was originally in conversation with – and often a repudiation of – the familiar silhouettes and detailing of historically exclusionary brands, or is it Chanel doing all the planning and worrying here?), and then you're thinking about the immediate connections with recent actresses who have or have not maintained the requisite veneer of delight when wearing outfits from designers they're representing (youth and beauty is a given, but the red carpet often demands more than that; there must be the indescribable sense that this is a garment the woman in question understands, or else her outfit is Wearing Her, a cardinal sin of this extremely small ecosystem), and then you're thinking about the Met Gala table sponsorship system and the ways it reflects ancient habits of patronage and the symbiotic relationship of designer to subject that only works so long as the subject can suggest that veneer of delight in a way Billie Eilish is, by virtue of her brand, not going to do, and then you're trying to decide whether Not Caring what Chanel comes up with for you because it will be to your specs and not theirs is actually punk after all and Billie Eilish's team have actually cracked it. Meanwhile, Billie Eilish will never think about this look again. This one's on me.
Maya Rudolph, who has also adopted the idea that the body is not always for display, has made some fascinating appearances on the red carpet in recent years. I can't say I was a particular fan of many of them; many were floral, which is a hard sell for me regardless of the cut, and often the styling has done her no favors. Here, too, the hair seems so severe that it's working against her. But the dress is an extremely fun iteration of the general silhouette she's chosen – great color, and the weight and sparkle of the sequins really emphasize the drape. It's a look that has a sense of humor about the red carpet while still fitting in the sliding scale of familiar formalwear. (It's on one side of a line that Kristen Wiig's ruffled-lobster dress is on the other side of; that definitely has the sense of humor part, but has fallen over the Met Gala Horizon for an event like this.)
Florence Pugh. Her team has been presenting her very carefully this season, and understandably so. She had a hell of a year, and is poised for more, and if there's ever a time to be young and carefree and memorable, this is it. There's a lot about this look to like; the makeup and hair are solid, the necklace is one of the coolest pieces of jewelry anybody had all night, and the color really works on her. Something doesn't quite land (is it the shoes? Are the shoes just too much given how much the skirt already is?) but this is a look that knows what it's about. And whatever my lingering questions (the top ruffle? Is it the top ruffle?) it was a minor quibble in a look that clearly had a point of view, all would have been well except that then I saw her in her Vanity Fair party look, which was so good I said "oh shit" out loud in my living room: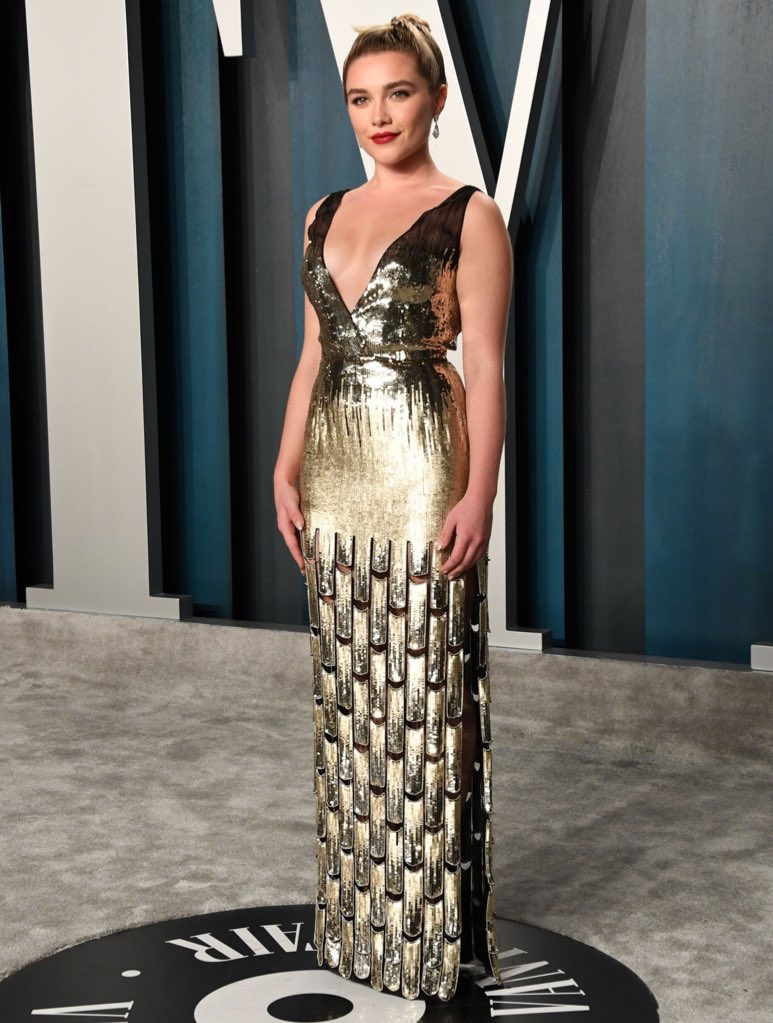 Her red carpet look is young and fun and eye-catching and that's everything it needed to be; mission accomplished. However, that gold dress is going to stick with me a lot longer, because look at it.
Saoirse Ronan. This is a prime example of the ways mainstream red carpets have been influenced by the Met Gala in recent years: those who wish to be more than just stylish or glamorous can swing for the fences much more easily than they could have a decade ago, just because there's a larger general frame of reference for attempts at Fashion. Honestly, I really enjoy the cut of the neckline and the length of the bodice against that periwinkle moire – stark, but in a way that works, and Saoirse Ronan tends to favor sharp and unusual detailing. It's worth noting that Ronan has taken a sustainable approach to this year's red carpet, which means in this case that the bodice of her dress is sewn from the same bolt as the fabric from which her BAFTAs dress was made. A laudable goal! Imagine how much more fabric you could have saved by leaving the peplum off entirely! So easy! So ecological!
Unfortunately, not every outfit offered such easy answers; as always, one or two got the best of me.
I HAVE QUESTIONS DIVISION
Billy Porter. He's got a red-carpet routine by now – show up early and show up big – and most of the time it really works! This time, however, hearing that Giles Deacon designed this brought me up short, because while I am not remotely well-versed in the wider particulars of designer collections, I feel like Alexander McQueen's Fall/Winter 2010 collection is fairly recognizable. It looked like this:
Now, this wouldn't be the first time someone has generously lifted from this collection for their own purposes (if you've seen Snow White and the Huntsman, you know what I mean), but this is so direct a callback that I'm not sure what else this look can be doing, except calling out to something else. Influence is inevitable, and homages often deliberate; certainly there's nothing new under the sun. Still, can't say I did much thinking about this look after that.
And on the far end of that, a dress none of us will ever be able to stop thinking about:
"No, no," said someone close to Laura Dern. "It's all about texture. Bohemian! Maximalism! The sweep of pale pink and then bam! Detailing on the bodice."
"Looks good on camera," said someone else close to Laura Dern, not quite saying that she was going to win, even though everyone close to Laura Dern definitely agreed she was going to win.
"Sure, of course," said Laura Dern, Laura Dern-ly. "But I mean – and I love it! Gosh, I really love it – are the tassels a little…I mean, is that really, you know, Me?"
"It's for movement," someone close to Laura Dern said, as someone else said at the same time, "They move beautifully."
"So I won't – and I love this idea, I'm just not sure about it for me, you know, just in case," said Laura Dern, as everyone around her nodded intensely, "I don't want to go too – I mean, you know." She lowered her voice, out of respect. "Saloon madam?"
"Oh no!" cried someone close to Laura Dern, as someone else close to Laura Dern furiously scribbled some notes. "Not the vibe we're going for at all, absolutely not. We want bohemian, but elegant."
"Carefree, but classic," someone else close to Laura Dern offered .
SALOON MADAM, that one person close to Laura Dern furiously scribbled, then crossed out repeatedly for emphasis.
"Well, okay. I mean, it's going to be an amazing night no matter what. And trust you completely." Said Laura Dern, smiling, "I can't wait to see how it turns out."