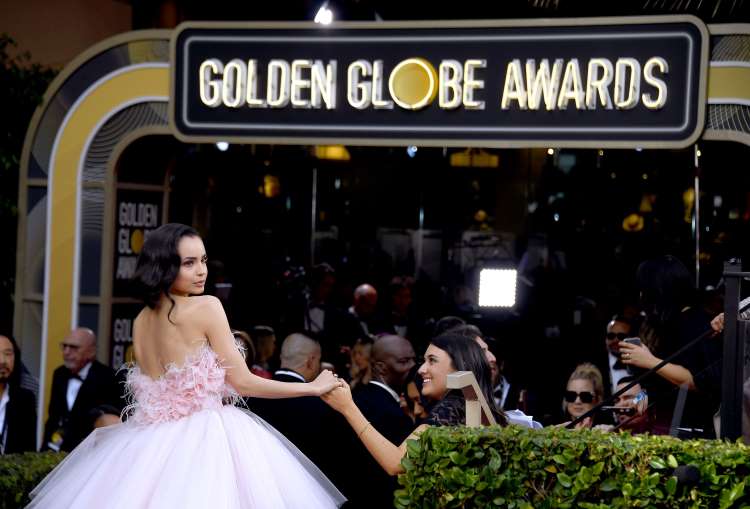 Nothing says red carpet season like a starlet styled to within an inch of her life descending into the many-lensed abyss. Thanks, Golden Globes! I will never stop thinking about this photo no matter how much I try.
Welcome back, everyone, to a year so new that all the photos here are labeled 2019 because that's what year I somehow thought it still was, and also so old that in gathering the list of shitty things that are going on so I could make some actual use of this red carpet rundown, my browser crashed from too many open tabs.
As regular readers of this series already know, the modern red carpet is an ecosystem of corporate synergy, secret-audition personal branding, and general bullshit that involves more designer labels, teams of stylists, and support personnel than bears thinking about.
It's a system with its own trends (just look at that poor sore-thumb white limo, the dream of 1998), in events that are increasingly self-aware and internet-savvy, where manicure-cameras come and go, 360-cameras somehow have not yet gone, Sofia Carson showed up early in that baby-pink business purely because it was big enough to get her the horizontal header on the early red-carpet liveblogs, and the competition to be photographed begins earlier and earlier. Some of those photos are taken before the celebrity in question even makes it to the step-and-repeat, and some photos are taken so early that in an attempt to make the drop-off seem more polished, somebody carpeted an intersection.
(This is my only photo of Saoirse Ronan this time, just because I'm trying not to cut down my lists and let these eat more time than they should in year 2020; for the record, she looks great, also in a very "the dream of 1998" way, which is very interesting, but not as interesting as this carpeted intersection.)
One of the most telling red carpet trends of the last few years is the permeable membrane that the Met Costume Institute Gala has become. As the event became more popular in its own right (it has its own live red carpet show now!), it accepted the inevitable bargain that comes with inviting lots of actors rather than mostly Fashion People, and got more mainstream in its demands; the thematic red carpet brief can be a potent dare, but it's not a requirement for entry. If you interest the cameras, that's usually enough.
At the same time, dresses that would have seemed immensely over the top on most red carpets, even just a few years ago are now fairly normal. I didn't end up recapping the 2019 Emmys, but if there was one trend on that carpet, it was that a lot of actors were willing to go Fashion even if it meant a risk of being worst-dressed rather than be tidy and forgotten. That wasn't the case back in the dawn of time when I started doing these, and it's very interesting to watch the collective dress parameters expanding. (There was probably a time when Margot Robbie's outfit would have seemed like a wide swing, but not in the last, say, four years.)
This red carpet continues that general arc (we got an Iris van Herpen on the award season warm-up! All bets are off!). It means some very interesting dresses as everyone's styling teams roll out their first volley of the year, carefully gauging one another and making plans for the competition still ahead. It means there are very few Bad Dresses, just very different branding approaches. (Don't worry, there are still bad dresses; Gwyneth Paltrow's still good for something.) It also means that some people who used to be able to swing an edgy look on the red carpet fairly easily are having to really push their options; sometimes right off a cliff, like when you aim for Fashion and land on Junior VP of Marketing at Shibari Inc. instead. A risk is a risk!
Of course, everything in the world is terrible, and no event, however frivolous and rarefied, can quite escape that any more. (I'm attaching links to these in case you, too, hit a ceiling on nice dresses and suddenly feel the restless dread of wanting to do something.) So that's fun! What a fun look for us. Here's some dresses.
WE'RE DOOMED DIVISION (everybody's in this one)

Gugu Mbatha-Raw. I will need a team of design and architecture experts to explain the presence of those six buttons to me; I will also not be accepting any explanations, because they will all be wrong. However, we are literally six buttons away from a perfect look, so it's fine. The color! The minimalist styling! The relative casualness of the ankle-length hem offset by the full-glitz sequins! Gugu Mbatha-Raw has flown just under the radar for a while, but her red-carpet team has been carefully guiding her style through a series of winners, and this is no exception. This is a look for the career she deserves. (Bushfire Disaster Appeal)
Lee Jung-Eun, Cho Yeo-jeong, and Song Kang-Ho. They are all seasoned professionals who know how to handle a red carpet, and from silhouettes to color choices, they all look great here. (We all know I love an evening sleeve, but honestly Lee Jung-Eun's evening cape is food for thought. It has so much visual interest but manages not to tip over into being either too formal or busy, which is quite an achievement in a cape that has its own shoulders.) Great work, please watch Parasite. (Rainforest Foundation)
Ana De Armas. I've talked a lot in this series about how red carpet posing is a skill set entirely separate from the work of acting; the ability to make charismatic eye contact with dozens of cameras while showing off the gown and jewelry and purse someone has lent you for the purpose and making it all look like a casual fun celebration you, a casual fun person having a casual fun time, are thrilled to be attending is not something to be taken lightly. Many fail in the attempt. Not Ana de Armas, though; compare this to the photo earlier in the post, where she's preparing but isn't yet On, and you'll see it. (This isn't even the angle that would make the slideshows, and she knew it; this is just practice.) This Old Hollywood Glam look is a perfect choice for her first big red carpet – classic and sophisticated but deliberately eye-catching, for an event where being Fashion occasionally means losing your audience in a way Old Hollywood Glam will never lose an audience. And even then, it's not a safe choice; such a classic shape can easily disappear in the crowd unless you can sell it. She has it covered. (LAMBDA Legal)
Kaitlyn Dever. This dress absolutely screams "I'M DOING IT," and like, why not. There are enough jersey sheath dresses in the world. She's early enough in her career that she can – and probably should – swing wide a few times just to get her face on the lists of X-dressed (Worst is fine, to start with; a picture's a picture), and young enough that she can still pull off the "I just came from a coffee run" hair to undercut the Muchness of the dress. If you get the chance to look like a feverish coloring book come to life, go ahead. Now's the time. (National Immigration Law Center)
Billy Porter. The train is very sudden from this angle – in the past, part of the effect of his red-carpet looks has been the beautifully tailored, unbroken sweep of the outer layer, and I miss that here, where the detachable-skirt aspect of the jacket tips over into costumey rather than just very dramatic – but Billy Porter is not a man who is worried about costumey, and he sells it all. The color is great, the pearl sheen on the fabric looked amazing on camera, and sometimes the feathers just have to start wherever you need them to start. (PEN America)
Cate Blanchett has been doing the Fashion thing for a while, and even in moments when the overall look didn't completely behoove her she's always been memorable; it helps that she can wear clothes with a sense of humor that makes us understand that this is all a lark for her. This jeweled-tamale evening gown with quarterhearted mohawking (even a halfhearted mohawk would suggest she's invested, and she's not! This is all a lark for her! The sheer whisper of a mohawk only, please!) is not for us mortals to understand. Cate Blanchett loves it, and that will have to be enough. (Northwest Immigrant Rights Project)
Jodie Comer, whose dress is technically the full 1960s but whose face is 110% Dovima. It's a very telling look for her – unusual silhouette that rejects some of her previous sexpot styling, great color, having fun with accessories – and it says a lot about where her team is positioning her career that she's gone from jersey draping to something so deliberately Fashion in under two years. This look is gunning for an invite to the Met Gala. It would have been even better if the shoe had been closed-toe – a triangle of fuchsia stabbing out from under the gown – but you can't have everything. (The UN Refugee Agency)
Phoebe Waller-Bridge. The suit is nice! I do not want to see any knockoffs this outfit might inspire, because this suit is carefully avoiding many potential issues that the knockoffs will probably not be able to avoid, but this one particular suit is nice. She is at a point in her career where she is both about to happen and already happening, and in a position to develop and direct projects that can push her over that threshold herself while remaining somehow an indie darling, which is a deeply unusual position for a woman in the industry, and if that's not what this suit is about, I would be surprised. (WIRES Wildlife Rescue)
Helen Mirren. The hem of this garment tells you so much about why any red carpet-level gowns are different from normal human clothes. This is a familiar silhouette; that shawl-collar neckline is recognizable to anyone who's ever watched a movie from the '40s or picked up a mother-of-the-bride dress at a David's Bridal. But the depth of color on that red is achieved with the plum underlayer, plus a few more layers just to give the skirt life as she moves. You can see the volume of interlining in the sleeves so that nothing clings or pulls; the weight and shape of that shawl is so luxuriously louche that you're tricked into thinking it might have simply moved down her shoulders as she moved, though that's clearly not the case here. Even the standby dresses here are feats of architecture. See also: Glenn Close, whose coat is so tailored that it looks like a paper doll. (Environmental Defense Fund)
Kirsten Dunst. There's nothing like Kirsten Dunst whipping out her most disdainful facial expressions for a red carpet, daring us to explain why she should have to do this whole shit one more goddamn time. (We can never explain. We're just all in it now.) She is, in general, most suited to outfits that make her look like a hungover vampire from the Punk Enclave who lost a game of rock-paper-scissors and was forced to appear, but she also likes to mess with her image a little, and given On Becoming a God in Central Florida, I appreciate that she went for iffy allover lace in "the dream of 1998" pageant-contestant pastel with some wild ruffle-placement decisions that get more pointed the more the eye travels. Fuck it, you know? If she has to be uncomfortable all night, so do you. (Wet'suwet'en/Unist'ot'en Camp)
Michelle Williams. Her team has a particular taste that is deeply indie-movie and can also be hit-or-miss, and even this one can be kind of a hard sell (sherbet orange is a risky color, and I honestly can't think of the last time I saw it on a red carpet). But it works, and the stagey 1930s-movie-about-a-Greek-goddess overtones of this look are kind of great; Hestia, probably, after originally being slated for Hera but then Vivian Leigh got it, and all the reviews kept mentioning it because the actual movie had very little plot and this was the only thing left to talk about except the costumes, which were lovely but not two hours of lovely; this was definitely just the studio trying to reuse its big sets from Midsummer and all the Roman epics. (Planned Parenthood)
Beanie Feldstein, in a 1980s-movie-about-making-that-1930s-movie-about-a-Greek-goddess look. I would have paid someone real money to take off that headband, which knocks it from Fun to Trendy (if you listen to this photo carefully you can hear a fad clock ticking down, which is too bad, because from the scalp down this is a fun business). I am also glad that I will almost never have to gauge or plan a makeup look that will be on high-definition camera in a dark ballroom/heavily-lit stage and will also be on high-definition camera outside on the street at like 3 in the fucking afternoon, because that involves some tough choices on one end of that carpet or the other. (Southern Poverty Law Center)
Not if you're Jane Levy, though! Jane Levy's team absolutely gunned it for the secret-audition lane of this carpet. Do YOU need a a starlet whose second husband died of heart problems two weeks into the marriage, which is a terrible shame but life goes on and that gala evening affair won't attend itself, such a bother, all these parties to attend and on Valentine's Day, too, what a pity, but still, one has to powder one's nose and go? Well, you're sorted. (National Bail Fund Network)
Jennifer Lopez. Does she look like an overachieving Christmas present? Absolutely yes. Is she sending a message? Absolutely yes. She's shown up in Full Smoke Show mode at every red carpet she's attended the last several years, so this notable departure is on purpose. If you'd like to see her sexy leg action, you can purchase and view the movie Hustlers (2019, dir. Lorene Scafaria), for which she is living this red carpet season. But this dress is also meant to signal she's not going to take red carpet season seriously, of course, because she's been in this game a long time and she's not going to let herself get hurt by hoping too openly for something she could lose, much like her character Ramona in the movie Hustlers (2019, dir. Lorene Scafaria). She's just going to show up like she always does, and her dresses are only going to get more Statement every time she doesn't win, and if you don't like her choices, you can turn off the red carpet livestream and go watch the movie Hustlers (2019, dir. Lorene Scafaria). (Electronic Frontier Foundation)