Well. Awards season has started, somehow, in a year that is eighty years long.
I have some conflicting thoughts about this. It felt like the Emmys did, too. We kept getting signals – alpacas and Margo Martindale drinking wine in her backyard and putting out fires on TV and showing off the empty auditorium with a few cardboard cutouts in it as both a punchline and as some kind of proof of precaution as if nobody was backstage or behind the cameras – that this year was bizarre. An anomaly. Out of the ordinary.
And sure, it is; the HAZMAT tuxedos for those tasked with delivering the Emmys (only if you win, of course, as Ramy Youssef documented), and the cameras (130 of them, according to the LA Times) dispatched to nominees' houses, as with Nicholas Braun:
How topical of the Emmys to set-dress that subtle emerging-surveillance-state 2020 feeling! The Emmys gaze also into thee.
But this year also dovetailed the performative faux-casualness of social media with the performative branding of the red carpet amid preparations for the public health in a way that does not surprise me, and which I suspect is not going to be out of the ordinary nearly as much as we might wish.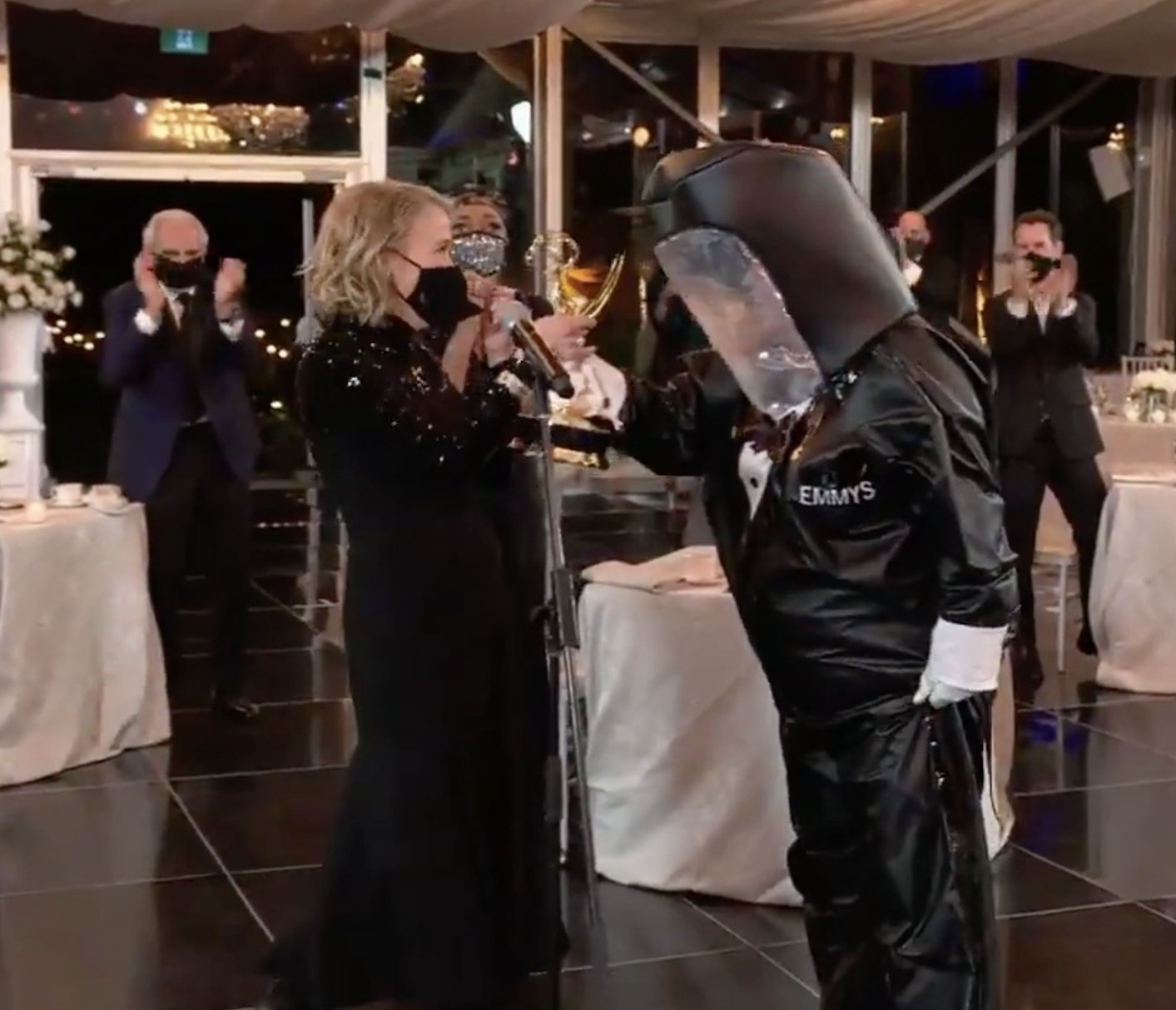 I mean sure, technically, the socially-distanced solo tables and HAZMAT tux intern might have been of note, but the most startling part of this image for me was that moments later Catherine O'Hara took that mask off to deliver her speech into what looked like a shared mic, a thing that would not have even crossed my mind in March of 2020 and now, eighty years later, means I get to research new sanitation methods for a couple of hours while I debate whether I'm going to write this post or not. (One opinion that did not change while I was doing that is that I truly enjoy her outfit; you can't see the shitkicker platform boots in this photo, but don't worry, they're there.)
Of course, this isn't really a Red Carpet Rundown, because there wasn't one. Several teams got together to do the full business, and almost everybody who wanted to go for it looked great, but for a lot of the nominees this year, there was less of the usual red-carpet-branding pressure than there was pressure to balance the professional self/true self/unfathomable public simulacrum of the true self while in a private space with the unavoidable awareness of a crumbling nation brought to its knees by pandemic in a time of impending climate collapse. Tricky!
This is not an above-it ding at celebrity – I am the least above-it person in the world about this particular thing. And it's easy to say that celebrating stories with an evening of designer-styled Zoom calls is frivolous during a pandemic and a national crisis, but if you're reading this, you probably already think stories are important enough to award, so we don't have to hash that out here. So while I did have a few "this year is a tough one" moments during the HAZMAT stuff – and the alpaca – you might as well hold the awards. Marginalized people are deeply unsafe this year, but it's foolish to pretend they were any safer last year or the year before, when attendees sat in hotel rooms as teams of professionals turned them out to go on national TV in a crush of SUVs and assistants. In fact, not having to negotiate the very specific requirements of the modern red carpet made it easier than usual for those who wished to ditch finery for message.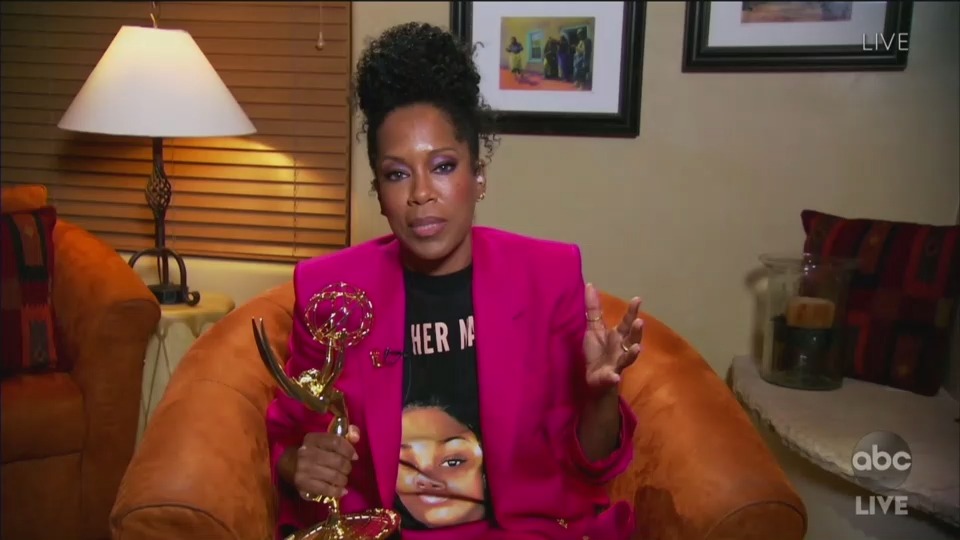 Regina King, wearing a Breonna Taylor shirt.
King, a veteran of the red carpet, also delivered an Official Red-Carept Look:
It's a stunner, with a silhouette you get to play around with when you know you won't have to lie down in the back of a limo and then sit in a small seat for several hours trying not to block the face of the person sitting behind you. Is my favorite part of this shot the patent, glittering falseness of this look against the cityscape behind her? It sure is.
Uzo Aduba, also wearing a Breonna Taylor shirt, in front of some charmingly-dressed shelves that made you feel like you were Zooming a friend at the very second she got great news, which was a great way to handle the inevitable video-call undertones.
And Sandra Oh, whose jacket reads "Black Lives are Precious" in Korean. (Matching purple mask not shown.)
For others, the pursuit of a new normal meant embracing both the usual surreal of the red carpet and the always-hovering likelihood of our chronic-pandemic future.
Yara Shahidi, whose entire photocall made a strong case for giving up on the red carpet entirely and just going full editorial-portfolio with nominees for the forseeable; this look is much more striking in situ than it would have been on a red carpet (and honestly opens up a conversation about whether the red carpet has ever actually been a good place to try to pull off a look, but that's not a conversation I'm willing to have today, so let's forget I even said it!).
Attempting the best of both worlds – Tracee Ellis Ross, who staged the carpet for her photocall. My personal thoughts on whether the mask pose is an acknowledgment of a singularly strange year or a portent are not relevant. (Also, petition to require municipalities to plant trees everywhere they want to have red carpets. Looks good, and fuck knows we need the trees.)
But the look that struck me the most – and the night's most striking look overall – was Zendaya.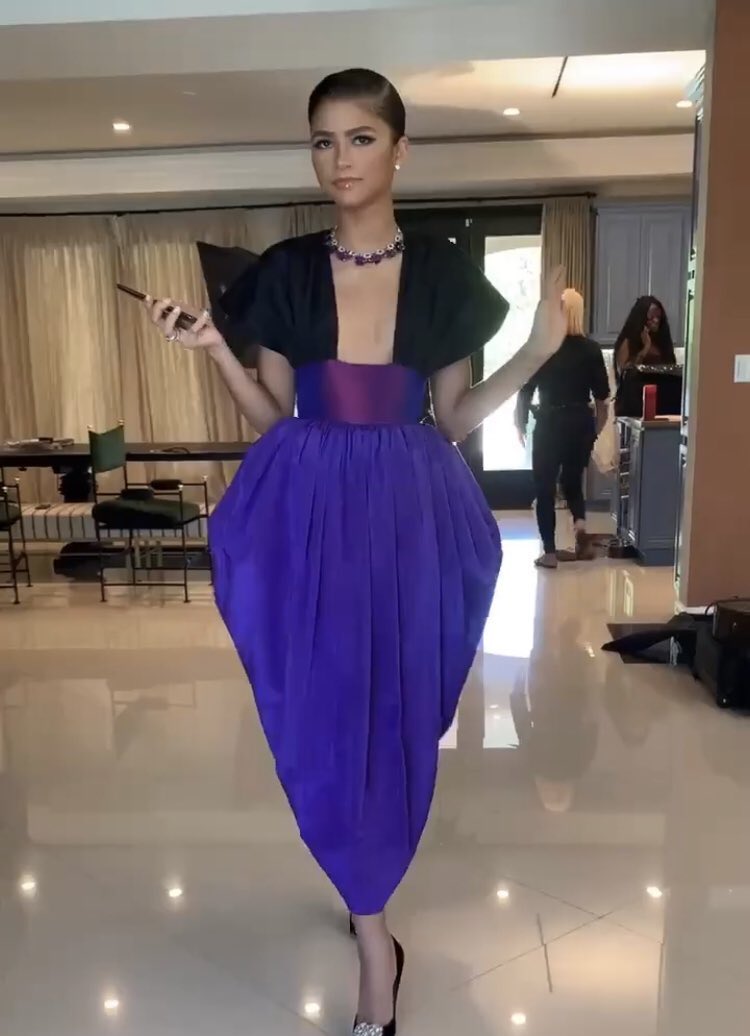 Firstly, this is doing exactly what it needs to be doing. Zendaya's star is rapidly rising; she won tonight (the youngest-ever winner in her category), and her next film is the kind of science-fantasy behemoth for which a striking silhouette technically counts as marketing. Everyone wants you to remember she is in that forthcoming movie; this dress is helping.
Secondly, a well-worn refrain in this series is that acting and being able to wear clothes well as oneself on camera in a charming capacity are two very different skill sets. You can see it in the video here, where the demanding silhouette (by Christopher John Rogers) becomes as effortless as a tee shirt:
Zendaya's first look is already a big win. 👏💜 #Emmys

🎥: Instagram/Zendaya pic.twitter.com/kIOMQUOCud

— Entertainment Weekly (@EW) September 20, 2020
It's actually a very telling choice of silhouette, since it was also the height of fashion in 1919, when Erté offered up the lanternbearer, and Lucile was experimenting with sculptural skirts and geometric bodices: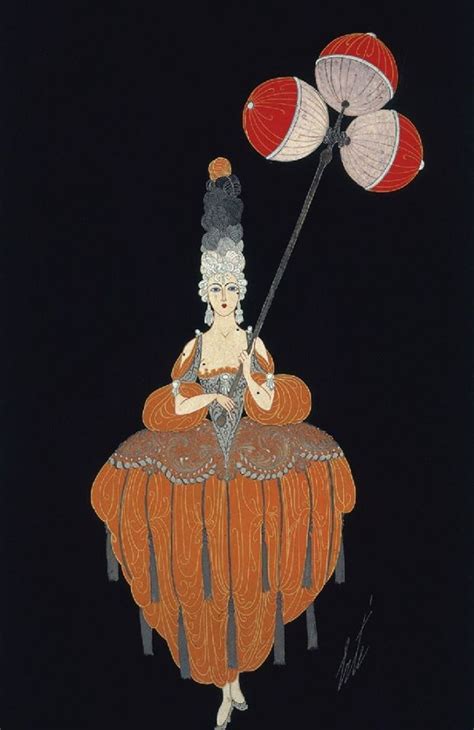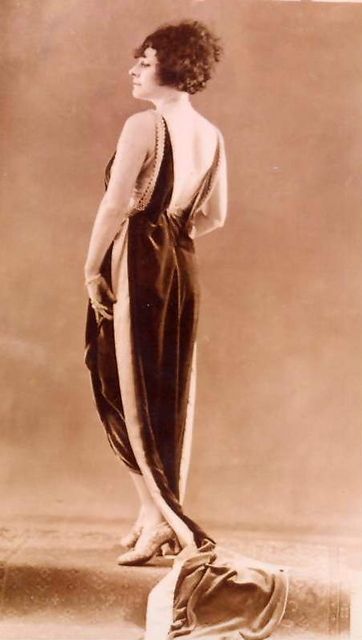 And Lanvin delivered this:
…during the second wave of the global influenza epidemic, amid a desperate attempt to slow the spread of a disease which would kill tens of millions and drastically affect the prospects of the next generation. And such a pretty purple!
Other awards shows will follow, sharing the audience's fervent hope that all these precautions are an abnormality rather than a glimpse of the future. It will be interesting to see the ways each tries to adapt to the the necessaries while learning from this, and how the attendees choose to handle what is both extremely unusual and also, maybe, not as unusual as we hope. (Having to hope your wifi holds out long enough to get to the good part of your Zoom meeting is the great leveller.) Until then, please remember to thank the HAZMAT Emmy intern at your door.