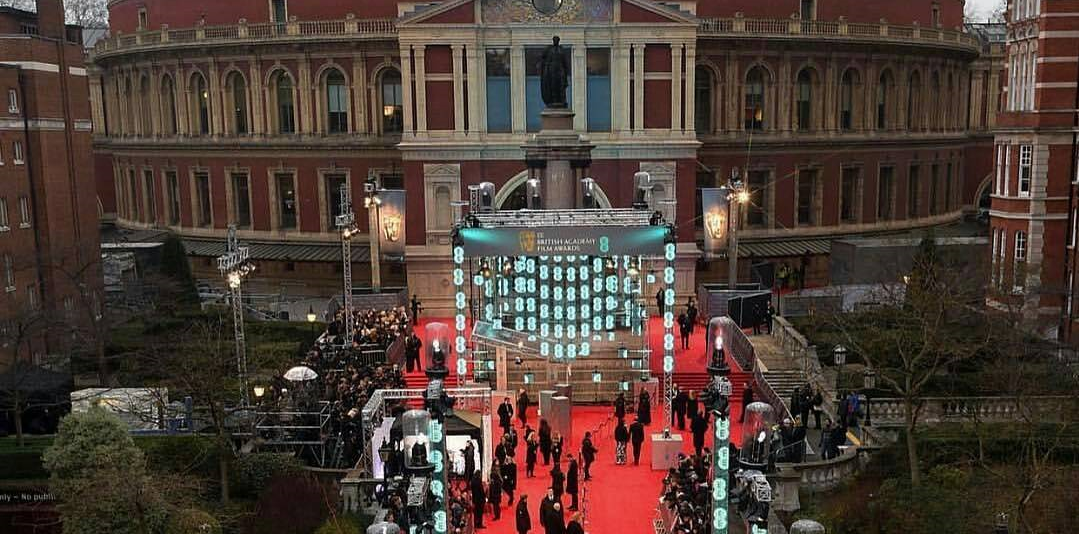 If awards season is a series of teen-film house parties for film and TV types, the BAFTAs are the laid-back bonfire at the house of the girl who's taking college classes already and went to boarding school for two years in a city she keeps changing the location of just to mess with the betting pool (your current bet is Vienna). She pretends to be above high-school drama but has still invited a big group of people to roast marshmallows in the artisan fire pit her parents put in last year, and you suspect she's done it purely to feed them her parents' good liquor until somebody's drunk enough to spill the beans.
As such, the red carpet is hard to figure. There's always a good showing by British designers (McQueen and Jenny Packham both showed up this year), the occasional example of someone staying On Brand for Red Carpet Season, and a few people making the most of the fact that the BAFTAs are just invested enough to care, but not invested enough to remember. (They're not even invested enough to avoid scheduling opposite the Grammys. This year's crop was pre-forgotten. You can tell because Nicole Kidman was wearing third-string Armani Prive.)
But this is still the party at that one studious/bohemian girl's house; everybody was bare-armed on the red carpet, but they all brought impeccably tailored motorcycle jackets, presumably because motorcycle jackets look amazing by firelight.
There's no particular order this time – not enough dresses to get into it. We'll start with the best and sort of wander downstairs to Dress Hell.
Look of the night, Thandie Newton, because :slams fists on table: CATWOMAN TOP THREE CATWOMAN TOP THREE
:taps one finger very quietly on the table: She was holding her shoulders carefully forward like this in most of the photos I saw, which to me suggests she very wisely chose to do sleek bombshell after the Cirque du Soleil of the Golden Globes carpet, but then did not test run that dress with the tape they intended to use until 48 hours out, and by the time they realized the torso ratio was an inch past comfortable they just decided to let her bluff through it.
She is! It's fine! CATWOMAN TOP THREE CATWOMAN TOP TH
Emily Blunt, in a McQueen with a bodice I stared at for a full minute, and a skirt I understand as a collection of component parts that, in motion, is probably meant to evoke the kinetic energy of the eighteenth-century boom in botanical printmaking.
Noomi Rapace, who showed up looking like the gleefully vengeful ghost of Nita Naldi, and then changed…
…into a Flapper Murder Cape ensemble complete with handsome victim. Did she come to my house and read my diary?
Sometimes someone wears a dress that just suits them really well and looks lovely. Related: Carmen Ejogo. (The lack of jewelry makes it.)
"Who the hell nailed the Punk Versailles dress?" I asked as I clicked. Betty Bachz, the caption replied, and I had no idea who that is, but I looked her up, and thus the Punk Versailles dress does exactly what it was meant to do.
Amy Adams. What an interesting red carpet for this dress! Why this red carpet, and not the Globes? Is her team running a betting pool with hundreds of accessories being moved on a huge grid as her fortunes ride or fall? Did a length of green velvet ribbon attached to a pair of diamond earrings the size of wind chimes sit on the sidelines of this map for weeks, waiting for nomination announcements? Was it better to make headlines at the BAFTAs than to be seen trying too hard at the Globes? Was this her dress for Oscar night and they moved it, knocking some mostly-fine Armani swatches to the ground in a fit of rage? I mean, I kind of hope so; I want the stylist landscape to be as intense as it feels.
Viola Davis. This palette is delightful.
Isabelle Huppert. Let's be honest, it's galling for you to spend decades delivering the goods and then finally have a one-two punch of awards-buzz movies the same year a movie about a winsome girl barely old enough to rent a car comes out and sweeps awards just because nobody completely embarrassed themselves while singing or dancing. Why wouldn't you dress like a 1930s pillar of bisque Miss Havisham righteousness?
Anya Taylor-Joy. It's a look. I mean that sincerely. It's not a traditionally flattering or red-carpet garment, but that's utterly beside the point. The color is eye-catching, the silhouette different from everything else on that carpet, and that sequin detail screams "I'm a vaguely edgy but still traditionally appealing ingenue available for all your Vaguely Mia Wasikowska/Like Anne Hathaway If She Was Cool Needs."
Sophie Turner is going to make an announcement any day now. That announcement will be, "I have killed twenty men for being rude, and I have less remorse than you can possibly imagine." She dresses like this on the red carpet because she realizes that she might lose her hold on this secret and blurt it out at any moment, and wants to make sure she looks like a suitably carefree murderer in the mug shot.
Emma Stone, on a dare not to look at nor mention her pants all night no matter how much people ask.
Felicity Jones, trying to move past ingenue and into If You Saw Rogue One, I am Available for More Gritty Parts, but Also a John Singer Sargent Biopic if That's on the Table.
Holliday Grainger. This look is fascinating to me, because you can trace the entire thought process that went into it and realize everyone expected it to work, to the point that it very nearly does. Ballgown that's fancy enough to indicate a red carpet but with a casual floral pattern? Cute. Bare neck to keep that sense of youthful carelessness? Why not! Deep red lipstick? It's a lot, but you can balance it out. Dark caramel blonde with a little surfer-unwashed casual styling? I mean, maybe. But by the time you hit the highlighter to cut the stagey effect of the lipstick, it ends up looking like Actually Didn't Shower for Two Days Ahead of This, which is not great. (Except in the bonfire movie; it'll look amazing there. I bet she slices off the last foot of her dress so she can go hiking with the boy she likes. She'll wear a utility jacket to show she's too cool to care about her ballgown.)
Michelle Williams, actually auditioning for the part of Cool Distant Girl From Boarding School That One Time Who Invited People Over to Share Secrets But Has the Biggest Secret Herself. She's looking good for it! (Her dress is also looking, but we won't talk about that.)
Bryce Dallas Howard talked once on the red carpet about how she was too big to get designer freebies, and how that kind of thing takes a toll on one's self esteem. For the record, she looks lovely here. She also looks incredibly uncomfortable. I mentioned this in my SAG rundown as something that's going to be a problem for her; based on her pictures tonight, that has not changed.
Sometimes when an actress returns to a red carpet after a little while away, their stylists try to pull an Elizabeth the Motion Picture and reinvent her as a virginal ingenue all over again. Julia Stiles has mixed feelings. (If you think it looks a little weird on Julia Stiles, it looked even weirder on Jennifer Jason Leigh.)
Naomie Harris, who took the same dare as Emma Stone, except for giant waist flowers.
The Duchess of Cambridge. It's more or less the same idea as Holliday Grainger's dress, and looking at the Duchess makes you understand exactly why Holliday Grainger's styling team got together and decided on the Vampire Surfer Special.
Jessica Brown Findlay. I actually like this dress a lot – just a sliver of something interesting on a traditional ballgown. I would LOVE to know how the Bottega Veneta people found out about this haircut, which falls somewhere between rockstar ne'er-do-well and tactical error and seems like a crucial distance for ever again getting to borrow more ballgowns from them.
Caitriona Balfe, whose eyes are screaming for reasons I'm sure I don't know the first thing about.
Daisy Ridley, the first time you showed up on a red carpet you wore an incredible Chanel for what I suspect were pointed reasons. When I saw you in this I literally murmured, "Oh, why" to my computer. It did not answer me. Nothing will ever be sufficient answer for this dress.
And yet, somehow she still comes out looking better than Kelly Macdonald. For the record, Kelly Macdonald is a very good actress who doesn't get nearly as much work as she deserves. I hope literally everyone in the British Academy of Film and Television Arts is aware of that down to the very last member, because that dress is not designed to make anyone take you more seriously. That dress is designed to make me whisper "Oh, WHY" to my computer. And somehow it's even worse than Daisy Ridley, because Ridley's entire dress was a disaster except for the skirt length, and no single element could have been altered to save the whole. Kelly Macdonald found a dress that looks perfectly fine (even interesting!) from neck to knee, agreed with more than one person that the flowers/propellers on the bottom of this dress were a great design element that definitely added something and should be shown to all the photographers, and then punched me in the face and ran away.