Okay, well, welcome back to awards season, where it's All Happening.
Sometime last year, a confluence of cultural circumstances meant that some of the biggest sexual predators in film and television were suddenly facing consequences for their actions, which seemed to surprise everybody else as much as it surprised the predators in question. In a surreal twist amid a wretched year, 2017 became a deluge of stories from targets of powerful predators who were occasionally called to task, and in the immediate wake of all this, the zeitgeist seems to have shifted.
I've seen it said that the sheer volume of it was overwhelming, which can sound less than supportive, but I understand some of the sentiment behind it; not only did it become brutally clear just how much of this had been going on – known and unchecked – for so long in so many places, but the outpouring also carries the intensity of people who feel that if there isn't justice now, there won't be any later.
Enter Time's Up Legal Defense Fund, in which celebrities join forces to bring their star power to bear to fight "sexual assault, harassment and inequality in the workplace" – and enter this year's Golden Globes carpet, where stars wore black to declare their solidarity with those who have suffered abuse and biased treatment, in Hollywood and elsewhere. Eight actresses also brought activists as their plus-ones, to draw attention to various facets of the movement.
Whatever you feel about this idea (and I think it's :warily wiggles hand:), it's hard to deny that having celebrity heft behind your cause is probably useful.

Left to right: Saru Jayaraman (ROC United), Calina Lawrence (Suquamish; Mni Wiconi, among others), Tarana Burke (founder of #MeToo)

Left to right: Marai Larasi (Imkaan), Ai-jen Poo (National Domestic Workers Alliance), Mónica Ramírez (Alianza Nacional de Campesinas)
Not pictured: Billie Jean King (you know her), Rose Clemente (Green Party, attended with Susan Sarandon and I am just too tired to have Susan Sarandon on the blog today).
However, there's also a gloss to the whole thing that, at least this early in the proceedings, is a little hard to shake. A lot of this mission statement, and the deeper dynamics behind it, require a lot more soul-searching than something like the Globes red carpet is prepared to address. Honestly, it's more than I am prepared to address. There's a lot underlying this, even in terms of making passing commentary on it: learning from your mistakes; the mistakes one can learn from versus the line-crossing things that can't be set aside; the ethical compromises one almost always has to make to some degree to pay the bills versus one's obligation to speak out. Everybody's in it.
Mapping these considerations over anything on a public scale is always a process, and there's a lot more to unpack after we get rid of the most obvious groping. (Remember ScarJo's last five or six roles? Remember Kate Winslet talking about Woody Allen like, last week? Remember when Salma Hayek, who spoke compellingly this year about what she's suffered, was one of the women who tried to lecture Jessica Williams at a roundtable about how anti-blackness was maybe really just about being plucky enough?)
A public reckoning on this scale is going to be long and painful. This year's Globes were, as much as anything else, a reminder of how difficult this will be. Things like, I dunno, a red carpet exclusively and explicitly about standing up to sexual violence when two consecutive Best Actor winners are among the accused, or Justin Timberlake wearing a pin in solidarity even though he's in Woody Allen's latest film, or speeches and pointed bon mots from Natalie Portman, who once signed the infamous Roman Polanski petition. It's a process! (I will not be pulling receipts on everyone in this rundown, I promise, this is just pointing out that awards season is both the perfect time for celebrities to be loud about this and a very awkward time for celebrities to be loud about this.)
But despite everything that can very fairly be leveled against them, awards matter, and it matters that they happen in public. Oprah's DeMille award speech speaks directly to the legacy and power of being recognized publicly by the establishment. In that light, it's great that so many women had their talking points lined up about sexual harassment, assault, and gender parity, and it's very cool that activists were invited and got the chance to speak on camera. Among the growing pains was a sense of novelty about them that was well-meant but occasionally a little weird. Presumably, if the movement has staying power and the industry shifts in the long term, this feeling will fade and become part of the usual surreal ecosystem of the red carpet.

Damon Winter (shooting for the Times)
And yes, even with everything going on, it was as surreal this year as ever.
In particular, the thing I didn't anticipate becoming a Big Deal but definitely should have was the pressure to wear black. (For women; for men, it was more or less a Tuxedo Mask deal.) My favorite reaction to it might be this Harper's Bazaar piece, written ahead of the Globes, that worried very much about a red carpet that looked like the inside of my closet: "But are we returning to a short-sighted view of fashion by adhering to a blackout? Should the fun be taken out of style choice at Awards' ceremony Red Carpets that need it for entertainment…and business value? Fashion is an industry, after all—one that traffics in paying actresses and stylists to rep their wares on that long crimson walk."
Luckily, very few celebrities opted to sew their own dresses, so it worked out fine.
Despite all the odds (?), it turns out many fancy dresses already come in black, and designers were able to play the game as much as ever – even more so, perhaps, with the engine of social progress lending everything an air of participation in the cause. (I'm glad the guest activists were asked relatively substantive questions rather than awards fluff, and I respect any decision they made to eschew the full trappings because that is not what they are there for, but I would have loved to know more about which designers reached out to clothe them for free.)
A brief reminder, for those new to the Red Carpet Rundowns: I both love and fear the red carpet. It is a thing unto itself, where actresses are laden with coded messages we can only begin to fathom; it's a place where a group of professionals decide on a look and teams of people can spend hours executing it for the unforgiving lighting and cameras of the red carpet (preparing for both still and motion cameras), and you still end up in this:
Gwendoline Christie. She has had some real winners on red carpets (Vivienne Westwood tends to do right by her, and I loved her floating-starfield look at the Last Jedi London premiere). This is not one of those.
So, with black as the color of the evening (of A-listers on the carpet, I think only Maggie Smith decided to publicly not give a fuck), we'll just go down the line and look for the devil in the details.
LOOKING GREAT DIVISION
Ava DuVernay. It's a solid look (she's worn this slightly sharp-shouldered silhouette before to good effect and her hair is perfect); not quite as prepossessing as some of the other ensembles I enjoyed, but her expression here might make this quite literally my look of the night.
Viola Davis, who took a break from nailing it in her usual column of bright color to nailing it in a column of black; the velvet was a fantastic choice (the light-sucking quality of good black velvet is not to be underestimated when you want a dramatic silhouette), balanced beautifully with her hair and the necklace.
Claire Foy. Literally slapped my desk when I saw this. Her red carpet outings have been hit or miss, and in the past that's largely been because she's tried to balance being a Young and Available Talent with the fact that she has to be at least minimally connected to The Crown, which can mean something either very regal or something that gets lost. However, they've recast Elizabeth for seasons 3 and 4, so she's free to be as modern as she likes; this is a perfect outfit for reminding everyone of that. The tux is great, the makeup is perfect, the hint of shoe, the hint of jewelry – it's spot on.
Issa Rae, looking great in an I'm Not Sure I'm Getting an Emmy Nomination This Year So We're Gonna Go Big While the Getting's Good number.
Greta Gerwig. A simple black velvet swoop, a gold collar, and the expression of someone who's about to frame a besotted private eye for murder and get away clean.
Allison Janney, fulfilling the brief in a very technical sense and then immediately abandoning it for an Art Nouveau exoskeleton, because why the fuck not. (I would have dearly loved for her hair to be pulled back so we could get the full symmetry of it, but the ol' Veronica Lake keeps creeping back onto red carpets even for outfits when it maybe shouldn't.)
Samira Wiley, looking great in a really clever dress – polished, sleek, technically on brief but with the hit of color; clearly got the memo that Necklaces are Back but opted to wink at that without quite joining in.
Isabelle Huppert is never going to forget she gave two Oscar-caliber performances in a single year and lost to Emma Stone, and she is never going to let you forget, either. Her entire wardrobe has made the switch to Vengeful Edwardian Widow and she is not coming back.
Tracee Ellis Ross, who, as always, absolutely loves her outfit and is wearing the hell out of it.
Allison Williams. They've tried an alternating edgy/gauzey business for her for a while, but neither of them worked half as well as this sinister ice princess thing. (I wonder how much of this is this carpet vs. an attempt to shift her general image to something more mature in the wake of her unexpectedly good turn in Get Out. On Seth Meyers she talked about how many white people have asked if her character in Get Out was a victim and how blatantly bullshit that is considering everything her character does in that movie, which is not a surprise, but is a very interesting thing to pick for your late-night anecdote. Curious to see where this goes.)
Lena Headey, looking how I would look if I had worn black to the last seventeen red carpets and then suddenly everyone else was, too, and they all looked really good, and you start to question your position as the leader of the punk enclave. It's for this reason alone she's in this division this time; I do not like this dress (the hip ruffle is what tips it over the edge), but I deeply understand overthinking an outfit.
Michelle Pfeiffer is here because of the air of open hostility her entire look manages to convey. I envy it even as I boggle at every individual piece of this outfit. Is that it looks like she smothered her gown to death in that jacket and the feather flounces died? Is it that her polish against her skirt looks at first glance like she literally has Catwoman claws? I must learn from this; I must be able to make an outfit that hates people as much as this one does.
Octavia Spencer. The shoulders bother me a smidge, but otherwise, this dress manages to be both suitably formal and sort of floaty and cool without seeming like she's trying to be young, as if she has a supper club in 2170 she needs to visit later (just to cast an unimpressed eye around the place and then bail for a montage of her holobowling in formalwear and still killing it), and she doesn't have time to change.
Sally Hawkins is her date for holobowling. It's gonna be adorable.
America Ferrera, pragmatically skipping right to the part of the evening where you start borrowing your date's suit jacket because it's 55 degrees in the auditorium; Natalie Portman, in a dress that somehow still manages to be more historically accurate than any of the costumes in The Other Boleyn Girl.
However, looking good is only one part of being on a red carpet. It's a big part! You don't hire teams of half a dozen people to get you ready for this business without wanting to look good at the end of it! But this is a ridiculously effective place to deliver a message via clothes, and sometimes, whether a look is lovely is a secondary consideration to what it can tell us, either on purpose or by accident.
SENDING OUT AN SOS DIVISION
Jessica Biel. I really enjoy the crescent sweep across this dress (is it because it's velvet? I mean, probably, I'm not made of stone), and it seems she does, too; it's unexpectedly nice to see her on a red carpet with something to do other than try to look as if she's not counting the minutes until she can suddenly and explosively serve Justin Timberlake divorce papers right there. Just, right there in front of everyone; the thrill of it playing over and over in a silent loop on her head as she heads silently down the step-and-repeat next to Justin Timberlake.
Gal Gadot is fascinatingly halfhearted on the red carpet recently; there's a brand being upheld here that feels like it goes beyond merely what's appropriate for Wonder Woman, and I'm stumped about what it is. Here, a jacket, but not like a tux jacket because that would be Too Much, so just a little 1997 bridesmaid shrug to pop over the painstakingly ruched dress with the slit that, when she cocks her hip as red-carpet posing classes demand, makes her look ever so slightly like she's beginning to topple.
You know who didn't bother with a shrug? Zoe Kravitz. She's good. She's just barely winking at an Audrey Hepburn look because Big Little Lies is not going to be allowed to forget her, and she is here to make people envy her haircut and remind them she's cooler than this and then go right home. She's allll set.
Yvonne Strahovski in the Supporting Actress Special: A very nice dress with an interesting but not overwhelming detail (sequins! all done), with lovely but not edgy accessories and lovely but not edgy makeup, here to look professional and have a nice professional time representing the show that you were very good in but knew you weren't getting nominated for.
Dakota Johnson. This is the dress of a woman who has won an award she's giving herself, and I laughed out loud when I saw it: Dakota Johnson, Best Actress in a Franchise She Palpably Hates. She is clocking out of 50 Shades so fast they might have to use a cardboard cutout of her for the press tour. That is over. That is over.
Geena Davis, who literally has an institute to study gender bullshit, wearing the dress that a woman wears to her ex's funeral when she wants to scandalize his old corrupt business associates and then burn down his house with many of them inside, which is probably as fitting an outfit for this event as could be imagined.
Sadie Sink and Millie Bobbie Brown, showing us the difference a season of TV makes even if your hand-pose coach is the same.
Sadie, still in her first season, arrived with the boys and is dressed like a very fancy preteen. Millie Bobby Brown, two seasons in, arrived over an hour later, because she's been positioned to Happen on a different scale. Her dress is low-backed, with a cascade of ruffles, and she's been made up to look significantly older. This is always a gauntlet; there are a lot of actresses trying to negotiate this very loaded space on the red carpet between childhood (limiting) and adulthood (premature), and recent conversations about the sexualization of underage girls have added another layer of scrutiny. There's already been backlash about "all grown up" terminology in the press to discuss Millie Bobby Brown's changing red-carpet style; I'm curious about what her team was aiming for with this look.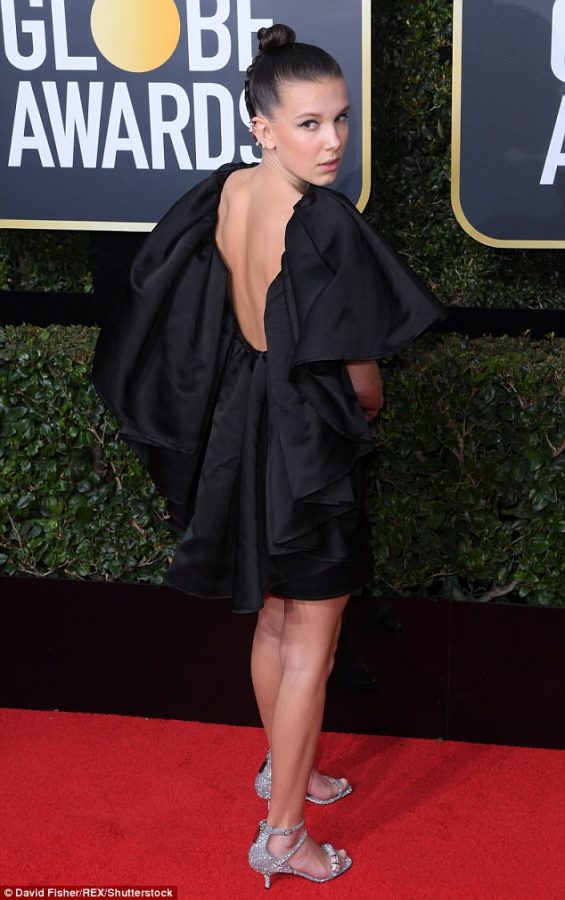 Rachel Broshnahan, awards newcomer who will likely be back here again, opting to keep her look extremely simple and just walk the carpet as a John Singer Sargent pastel portrait study. It works.
Another item of the red carpet that nearly always Means Something whether you mean it to or not: pants. The fallback for the over-50 set until a few years ago, I am excited about the sudden all-around gusto for formal pants! (I greet it like I greet the evening sleeve.) However, as with anyone on the red carpet, the line between amazing and questionable is a thin one, and execution of the look is just as tricky, if not more so, than with a gown. It's possible to have a forgettable gown; with pants, you either hit or you miss. Claire Foy hit. Not everyone can.
I QUESTION YOUR PANTS DIVISION
Susan Kalechi Watson. I don't actually have any questions about her pants, because she looks awesome, I'm just putting this here so that as we scroll down we have a reference for someone who picked great pants and sauntered off into the evening.
Alison Brie. Alison Brie is always trying extremely hard. That is not a bad thing, and honestly, neither is this outfit; if you were to pitch evening pants for Alison Brie, "like a 1950s pastiche drama about a married magazine editor who hosts an extremely glamorous dinner party at her home and also has to solve a murder that happens there, probably, because otherwise this movie might not be doing enough" is exactly what I would expect.
Debra Messing. This is so close to an interesting take on evening pants! There's just some fundamental sense of "almost" that keeps the look from having the sort of armored cool they were clearly going for. Would an updo have helped? If she'd ditched the handbag and put her hands in her pants pockets, creating little beaded panniers with her forearms, we might be there? (Then we have the sleeves, but that's fine; I could take the sleeves if everything else seemed more settled.)
Maggie Gyllenhaal's expression makes me feel as if she knew before she ever left the hotel that I, personally, was going to be questioning her pants, and she can't even summon the energy to worry about it any more. That's fair. I hope she's happy to hear that in motion, I really appreciated the drape and swing of the top half of this outfit, had no strong feelings about the pants, and took exception only to her earrings, though if someone felt that giant earrings were necessary in order to avoid a necklace, I understand and I accept.
Like many others, I was surprised how good Alexis Bledel was in The Handmaid's Tale. This outfit is a visual representation of what I think about all the rest of her acting.
Rita Moreno. How dare you think I would ever question Rita Moreno's pants; this is just here to close out the division because regardless of how you feel about it, no one's going to top the combination of pants, formal sandals, wedding-caterer tie, and studs. No one.
However, she is also close to the inevitable division of those whose time has come; but for her force of personality, she too would be here.
NO THANKS DIVISION
Elisabeth Moss. So, this dress is actually fine – the waist is an inch or two too high, and given that collar I would have expected a statement bracelet rather than statement earrings, though I understand that for a ringer who knows she's gonna end up on the podium (and she did), you want most of your visual interest on your face for the close-up, and less on your hands. I'm putting this picture here to appreciate how difficult it is to photograph black, since this dress manages to look as though she is being stretched and flattened into two dimensions by the gravity vortex opening up right behind her, because her dress and her shadow have become part of the same visual field at just the wrong moment.
Caitriona Balfe. I spent 13 weeks watching her on Outlander, and her work as Claire is definitely solid stuff. In particular, she has a knack for making you aware of the clothes Claire's wearing without making Claire actually notice it herself. Every time I look at this picture, I will cling to those memories.
Saoirse Ronan. I feel, on one level, that this is to pay me back for the year she wore a series of floral sheaths and struck exactly the same pose in all of them and I gently pointed it out. On another level, that's fair play. This look does what everybody wanted it to do; I don't like it, but they wanted the 80s reboot of Greta Gerwig's society-girl noir mystery, and that's what they have achieved. (On another another level, it's in here and not the SOS division because that is just how much I didn't like what they achieved.)
Margot Robbie loves long, mostly-tailored sheaths with graphic sequin details, and on red carpets where solid colors tend to rule the day one way or the other, I think that's a perfectly smart brand to go for. I also think it's more of a Fashion beat than a red-carpet beat, and suspect she will keep running into the divide. I don't like this dress, but I respect it, and hope this look made her happy.
Catherine Zeta Jones. Couldn't care less about this dress; am hypnotized by the possibility that her hair was styled to look as though she had a wind machine pointed at her. If that's not the case, never tell me.
And last but not least, Sarah Jessica Parker, taking one for the team and wearing the "Hollywood trying to sort its shit out and failing in very weird places" costume that one can only presume was selected to make sure that rather than discussing the many small discomforts about performativity that would be hard to unpack, people could talk about something so blatantly egregious that it seemed almost comforting by comparison. Sarah Jessica Parker, you did what you came here to do.