If you are here, reading this, you know that the red carpet is a bizarre, self-sustaining piece of performance art. In case you'd like a reminder of that before we get started, here's Taraji P. Henson casually greeting former costar Jackie Chan.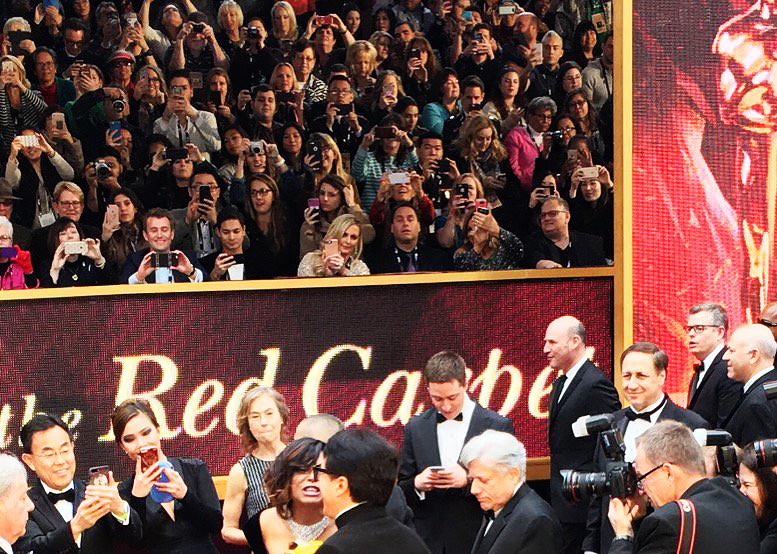 Fun, right? Let's all go have an extremely casual red-carpet time!
This year was slightly unusual by Oscar standards. In particular, one spectacular thing happened in which the best movie on the slate actually won Best Picture!…after tripping over every single one of the public-embarrassment roadblocks that haunts my nightmares, of the sort that likely resulted in the firing of minimum two people (I'm thinking one PriceWaterhouseCooper and at least one of the in-house production people, to keep it equitable). So, congratulations to Moonlight, a film I adored that absolutely deserved its win. Also sorry to those people who are definitely fired by now.
There were also some very interesting red-carpet moments that set this year a little apart from the standard stylist-off.
Anousheh Ansari, the first Muslim woman in space, accepted Best Foreign Language Film on behalf of Asghar Farhadi, who opted not to attempt to get an exception to attend the Oscars in protest of the Muslim ban. Her shawl is a stylized aerial view of her home city, Mashhad, and though it looks stunning, I recognize it's a bit beside the point.
And while it's not unusual to bring friends and family on the red carpet with you (just tonight Chris Evans brought one of his sisters and Michelle Williams brought her best friend Busy Phillips), this year we got a beautiful mom duet:
Left, Dev Patel and his mother Anita Patel; Right, Lin-Manuel Miranda and his mother, Dr. Luz Towns-Miranda. Both of these women are impeccably dressed and seem very proud of their sons, and I am very happy for them and hope they had a nice night. (My standards for civilians are not my standards for seasoned pro styling teams in any case, but here you don't even need the leeway; these looks are pristine.)
And the cast of Best Foreign Language nominee Tanna! I'm not qualified to judge traditional dress for obvious reasons, but I was glad to see them on the red carpet.
Everyone else, though, is waist-deep in the sparkly, terrifying labyrinth of personal style, professional image management, and movie spokesmanship, and fair game! This year's red carpet was sort of fascinating on a macro level; because so many people leaned on so few trends, there's a sense of cohesiveness to the overall narrative. With a few exceptions (oh, Leslie Mann, why did you let them do that to you), it was a carpet that had the feel of a runway collection. In some ways it actually precluded the usual categories because even the biggest Goth looks on the red carpet shared enough with the most angelic looks that they seemed of a piece; even with differences in style and execution, it fundamentally agreed.
The other fundamental agreement of the Oscars is that this is a serious business, especially in an industry when just having an image isn't going to get you very far and you have to demonstrate regularly that you're capable of projecting a totally different image on command. (This isn't as weird or rare as it seems; we all understand on some level that getting dressed is character design.) And if you have a chance at appearing on the Oscars red carpet, then that's the big guns (unless, of course, you have a lock on an award elsewhere and know you're going to lose the Oscar, in which case we're looking at some sartoriomancy).
But the best red carpet looks tend to happen when someone is genuinely enjoying themselves, and the team of officials carefully checking the perimeter of their eyeliner and stretching them out in the limo so nothing wrinkles is merely assisting them in making everything come together. There were a lot of those this year!
LOOKING GREAT DIVISION
Look of the night, dress category: Janelle Monae, who managed to wear a 1780 French court dress silhouette with the ease of a 1925 robe de style while delivering editorial and architectural poses all the way down the carpet and keeping the panniers perfectly aligned. It's especially fascinating to see this as the culmination of a carefully structured red carpet season, the ultimate incarnation of a look she's been hinting at for months. Given this dress, was her Golden Globes look a preparatory polonaise? Was her floral ruff at the SAG Awards a wink at what was coming? I would buy it; Janelle Monae doesn't tend to do things by halves.
You know who else doesn't?

Taraji P. Henson. Look of the night, literal facial expression division. I said it on Twitter and I'll say it here: Some women wear clothes. She shows up dressed as a dare directed to you, personally, to forget she was there. She has never lost.

Ava DuVernay. On a style level, Ava DuVernay does very well for herself; this is a lovely dress with beautiful texture and presence. (It also has a meta purpose. It's an Ashi Studios dress; the designer is from Lebanon, and was chosen in solidarity against the Muslim ban.) But I'm always just – happy to see her? Her particular sense of style goes deeper than just the dresses she chooses; you can tell no matter what she's wearing that she knows how to wear it and enjoys the spectacle of red-carpet wear without ever giving off the vibe that she needs to be there – she's doing them a favor, and if a look wasn't either comfortable or fun then she wouldn't be doing it. It's a very adult sense of style and I love it. (We'll see the opposite of this later, and you can always tell.)
Ruth Negga, a perfect example of making a look work through sheer force of personality. The color of this dress is great, and she has the serendipity of being red on a carpet that was otherwise a sea of neutrals, which were great starting points. She also strategically showed up early enough that she could monopolize the press pit and make sure there were plenty of great shots, which was a smart move. Does her jewelry compete with her dress by being just a shade off but not enough to feel intentional? It does. (Her jewelry also competes because her earrings hit the top of her collar and box in her face!) Do I wish the top of the sleeves connected to the top edge of the neckline rather than hovering in the middle of the plain bust netting? I do. Is that Gibson-girl neckline oddly affected by the late-Empire bustline in a way that that channels the '70s rather than the modern Pre-Raphaelite vibe the dress is clearly going for? It is. Does it matter? Gosh, it sure does not. Ruth Negga is right where she wants to be, and she is more than capable of wearing this dress, and we are all done here.
:slams table: CATWOMAN TOP THREE CATWOMAN TOP THREE CATWOMAN TOP TH
Kirsten Dunst. This is just about as clean and classic as you're going to get, and it's accessorized with my favorite thing of hers, which is the Just Don't face she's been whipping out with increasing regularity lately, as if atoning for the forced winsomeness of her youth on a case-by-case basis.
Octavia Spencer. A great color on her, and I love the softness of the not-quite-pleating folds. The feathers are following some fault-line construction that works better toward her hips than toward the floor, but she looked floaty in motion and she loved wearing this dress immensely, and when she and Janelle Monae and Taraji P. Henson joined up for their onstage bit, they looked like they had called each other and coordinated, and it was all lovely. (Also lovely: her hair and jewelry, sleek and sharp, which works beautifully against the dreaminess of the skirt.)
Viola Davis. She has the "Technicolor sheath with some detail interest" angle down to a science, to the point that the scoop of her bangs draws the eye toward her bodice drape.
Vaguely related: There's a lot of talk about "winner dresses" and whether one dressing 'like a winner' or not determines one's personal expectations of winning and, on some level, can suggest a test of whether the actor in question feels she deserves to be there. But those are very different things. Since red carpet clothing is a language and we all increasingly know how to speak it, you can, to some degree, ID a winner dress. (This year, you could tell from Emma Stone's perfectly head-to-toe retro-porcelain-doll routine that she was expecting to go up for her statue. Ruth Negga, nominated but with a vanishingly small chance of winning, went memorable and vaguely funky for her first time out, which serves her larger career purpose just fine but doesn't "read" as a winner dress in the same way.) But the attempt to determine Winner Dresses can also get pretty iffy – shockingly, pop culture is not particularly fond of women who act as if they deserve things! One of the smartest things Viola Davis and her team have done for her in the last few years is to set up a personal style for her on the assumption she'll be playing a long game on awards carpets (yes), which has eliminated a lot of the winner-dress speculation. She doesn't look like a winner or not on any particular carpet; she always looks like Viola Davis.
Auli'i Cravalho, who looks so frothy and Deco-seashelled and gleeful and fresh and young that it makes me want to smoke fifty cigarettes and cuss for a year.
…like Brie Larson wants to do, right before she slithers over to a PI's office to bring him the most dangerous case of his life.
Priyanka Chopra, in this fantastic dress, has actually already slithered over to a PI with the most dangerous case of his life and will probably run into Brie Larson on the way out, since it's such lengthy work to get back down the stairs in that dress.
Naomie Harris. What a great dress for her; she talked on the red carpet about knowing she was a long shot and that she was just enjoying Moonlight's moment, and so she took the opportunity to wear a crisp dress with a unique silhouette on this carpet; she looks tailored and polished and carefree.
Isabelle Huppert, still tilting ever so slightly toward Miss Havisham vibes for completely understandable reasons, but with a more modern flourish than at the BAFTAs. She knew she wasn't going to win, but she wasn't going to make a big deal out of it; she was going to wear bridal white with Deco sequins and paint her nails I Can't Believe This black and wear an ear cuff for a touch of edge and just enjoy her night.
Felicity Jones at Peak Ingenue, knowing her entire job is to look more feminine than she did in the Star Wars movie that got her here. It's a little baffling if you consider that her red carpet history is almost entirely feminine ingenue business, but when you've been in several breakthrough films without quite breaking out and someone offers you Star Wars, then you do the whole thing one more time for good measure, I guess! (I am very interested in what her red carpet style will look like over the next year or two, and how much of this is her permanent red-carpet persona vs. how much of it is strategic whimsy. It definitely works for her! But her look at the BAFTAs was a step away from this and I am curious where it's going.)
Charlize Theron, who looks like she has just now realized she's not sure about this dress and has asked the person standing out of frame if it works or not, and the silence has gone on long enough that she's starting to panic but doesn't want the other person to know she is, so she's just trying to remember what a casual pose looks like until this answer actually comes, what do human arms do, oh god, oh god what do arms do
Emma Watson is going through a style gauntlet this year with Beauty and the Beast, and will be strapped into an untold number of dresses that fifty people in the Disney marketing food chain and her personal styling team all discuss in committee and then sign off on based on their fashion-forward princess-ness. This is a break for her, and I wonder if it's been carefully negotiated that she shouldn't look like she's angling for awards on the Oscars red carpet, so Disney agreed to let her team dress her in something more casually modern, like she just dropped by the red carpet on her way home from an opera matinee – one of the casually modern operas the kids like these days, not one of those operas that's gunning for, I dunno, production and costume design Oscars in 2018. Nothing like that.
Shohreh Agdashloo. Not a showstopper, but it wasn't meant to be and doesn't need to be. Her evening sleeves are great, her neckline is the perfect frame for that 1960s Hammer hair, and the sequins lost that disco shine when the spotlights were off and looked rich in motion, so she's going to look like an elegant vampire all night and I'm into it.
Sofia Boutella, skidding into a PI's office between sets at the Snake Eyes Lounge to deliver an unsuspecting PI the most dangerous case of his life.
Cynthia Erivo. On one level this dress did exactly what it was designed to do by making her memorable on a red carpet that was going to be drowning in A-listers thirty minutes after she showed up. On another, this is a genuinely striking dress, with a really interesting interpretation of eighteenth-century floral embroidery and one of the only examples of a print on the entire red carpet this year. Could I live without the black lace underlay? I could. Is this a great, smart look for her? It is.
Emma Stone, dressed like a winner. (This year's red carpet was, generally speaking, fairly sleek, so that brocade texture and the fringe work as the standout elements the way skirt circumference sometimes has in the past, and the retro styling is clearly designed for posterity.)
And while there were very few utter duds on the red carpet this year (see also Halle Berry, not pictured here for her own good), there were a lot of dresses that leaned heavily on something that didn't quite support them; a meaning that maybe wasn't what everybody was hoping.
S.O.S. DIVISION
Hailee Steinfeld. I literally laughed out loud when I saw this. She didn't nail this silhouette at the Golden Globes, so she is goddamn well trying again, done deal, nobody asked you.
Jessica Biel, who constantly seems like she's contemplating a sudden and dramatic divorce from Justin Timberlake halfway through cocktail-hour appetizers and just wants to make sure that when it happens she looks like she's too good for him.
Teresa Palmer rounding out a red-carpet season of "Oh! You're Also Here" with another well-chosen, understated look that looks nothing like the other looks she's had on this season. It makes nothing but sense – this would be the time to feel out personas until one of them sticks and you know how to position yourself going forward. Hollywood Retro looked good but Brie Larson just ate that one, so forget it; this one is very sweet and feminine and detailed enough to suit the Oscars. Her best look was actually the broken-mirror T-shirt dress at the SAG Awards, but I suspect her team is wary of committing to anything so soon given that her career is coming together from the edges of several genres. She's still looking; that feels smart.
Michelle Williams, in a minimal look that very nearly works. It's a perfectly fitted bodice and the skirt draped nicely when she walked; I suspect it's a dress that looks balanced in direct proportion to how much of that velvet tie you can see. From the side she probably looked great.
Salma Hayek, hair pulled back tighter than the spot she wedged herself into when she harangued Jessica Williams about Blackness at that Oscars roundtable.
Alicia Vikander's red-carpet resume has its ups and downs, but it has never before felt like she's not trying. She looks like someone tried to make a flamenco dress and forgot what they looked like halfway through.
And last, Dakota Johnson. She is a better actress than her tentpole work would suggest (for one, see also her slouchy restlessness in A Bigger Splash; for another, her tentpole work is the 50 Shades Movies and almost anyone is better than that would suggest). And she's already done her incredibly-tightly-calibrated time on the red carpet, reminding all of us that she's young and sexy so loudly her team hopes it drowns out any questions about how much she hates her costar. But they're nearly done with that fiasco, and it's a great time to be introducing a new, edgier silhouette. A modern take on the 1930s ingenue look is a great silhouette to introduce; wearing hot-off-the-runway RTW is a great way to entice other designers to loan you things by proving how on top of trends you are while confirming you're thin enough to fit in a runway sample size.
With all those great things going, it's actually sort of amazing that she ended up with this floor lamp of a dress. It manages to make her look both like a Golden Girl and like a child whose hair is glued back with frosting who got caught trying on an adult's clothes. This is a dress worn by a woman in style trouble. She is the most dangerous case that PI will ever take.
(UPDATE: You know when she looked better? At the Vanity Fair party. In fact, there was lots to talk about at the afterparty! I noted some of it on Twitter.)