Red-carpet season continues across the pond, as London hosted the BAFTAs on Sunday! They're always interesting, with a mixture of UK actors and Hollywood celebs and such a wide range of outfits that I feel as if the Stylists' Guild classifies BAFTA as a free-for-all and just does whatever. We'll be making quick work of it – it's a rising red-carpet presence, so the photos tend not to be of a Golden Globes density yet. It's still red-carpet, of course, but I feel like this is something of a testing ground for looks that aren't the standard. Let's find out why!
LOOKIN' GREAT DIVISION
Naomie Harris, look of the night. Clean lines, unusual color, amazing sleeves, and her styling is minimal and clean and totally eye-catching. The sort of gown described as "confident" or "strong." In a Bedknobs and Broomsticks situation, this gown would be flying on its own to fight Nazis.
Lupita Nyong'o, who has gracefully knocked aside the competition to be this year's consistently best-dressed, and manages to make this quasi-mermaid ballgown, which actually is red-carpet standard anywhere else, stand out here, looking like the sort of casual throw-on that you'd of COURSE reach for when you're headed to the BAFTAs, because why not.
Lea Seydoux, doing the This is Unofficial Press For La Belle et La Bete tour, taking the idea of casual insouciance and using a sequin tee and a sheer curtain to form a dress that's somehow chic and effortlessly put-together. (She also got the holdover memo about necklaces this year, using only the carelessly enormous earrings to offset her sequin detailing.)
Cate Blanchett, wearing a skintight satin evening down with foiled photographic floral like it's a tee and some leggings, because wearing clothes well is a skill she's always had. It's a skill for which her stylists were so thankful they gifted her with that symbolic protective pendant; when she shall walk into any boutique, lo, the sales associates shall know she is under their protection, and shall suggest to her nothing that is too trendy or undesirable. She shall walk unscathed through the land of distressed denim and floral motorcycle jackets.
Gwendoline Christie, selling the crap out of a cocktail dress that is essentially a very formal tree skirt, and for that I salute her.
Amy Adams, who's wearing a great '30s-throwback gown, and not too great '90s-throwback lipstick.
Olga Kurylenko, who feels like she's in the new 300 movie even if she technically isn't, wearing a straight-up snake costume to the BAFTAs, auditioning for what I assume is a role in the next vaguely-historical fantasy actionfest for which she's overqualified.
Emma Thompson, daring to wear her actual coat on the red carpet instead of just catching a cold like everybody else.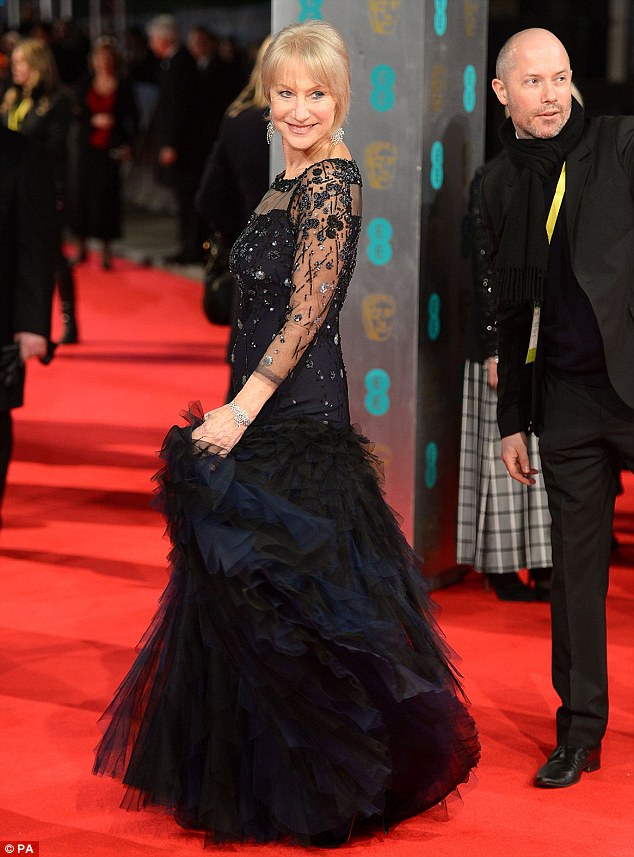 Helen Mirren, who can't catch cold because of magical powers, summoning said powers by twirling in a navy dress with jeweled applique that works much, much better than the other navy dress with applique we will see tonight.
Sari Mercer in an incredibly fun dress (dead treeees), though I might want to chat with the makeup person who put her in that powder and then let her go under lights bright enough to make her face five shades lighter than her shoulders. (Chiwetel Ejiofor looks great in that navy/black combination, to which I am increasingly coming around.)
TUX DIVISION
Are you SERIOUS, look at this outfit, this is such a great take on the tux while still getting the drama of a gown. I could do without the framing of the bustline, but the rest of it more than makes up for it. (Fun fact: her actual "outfit" was just the gown, which means her team did what Jennifer Lawrence's team did last year and gave her a jacket in case she was cold, and Uma just wore it the whole way down the carpet, because she, like Emma Thompson, was not going to risk bronchitis just for some awards ceremony.)
Ruth Wilson nailing her Thin White Duke costume. (Love the flash of blood orange on the detail of what we'll call a cummerbund so we don't have to call it a stomacher. Always into an accent that changes the feel of an outfit completely. Can rarely recognize them until they happen, but always appreciate them when they appear.)
Angelina Jolie, who has great proportions and cut but strangely kept the soap-opera post-formal-party-we-couldn't-afford-to-film undone bow tie, which looks one lick too close to a tux costume rather than a tux, somehow.
ALMOST THERE DIVISION
Laura Carmichael, wearing STUNNING shoes, a sweet but unprepossessing dress that's probably gorgeous in person but with detail that doesn't stand out in photographs, and the hairstyle that every single girl in my 7th-grade class wore to the end-of-year dance.
Eleanor Tomlinson arose from uneasy slumber and donned her finest gown for the gala, nerves heightened in the extreme. Would Lord Hammonton be present? Might she yet avoid marriage to odious Mr. Smithely? Her heart leapt as she stepped onto the walk that led, perhaps, to the end of all her hopes. She could hardly bring herself to speak to Lord Hammonton, much less use the wiles over which all women were said to have mastery, but in which Eleanor found herself lacking – now, when she needed them more than ever.
Her mind was so occupied in these matters – said to be so small in the world of men's concerns, and yet of such weight to her that she felt near to sinking beneath them – that she hardly noticed she had forgotten her petticoat.
Sophie Kennedy Clark, who has the magic power to turn me into my mother, since I saw this shot and said "Stand up straight, you're on camera!" to my computer screen.
Helen McCrory, who always looks like she's just daring you not to like the outfit she's picked out. She's working the look, but the belt interrupts what's already a pretty busy torso, so I might take that dare.
Gillian Anderson is done. She's done with patriarchy, she's done with this evening, she's done with the photographers, she's done with this coiled-rope bodice in oddly mismatched blues, she is DONE.
Speaking of done:
EVERYBODY ELSE DIVISION
"It's okay," thinks Tuppence Middleton, "you're in luck, that tablecloth that got stapled to your dress by accident is the same color – whew, that was lucky – just look really cool, you'll be fine, Mona Lisa smile it and keep walking."
(What's bugging me about this dress: the folds are too visually heavy for a dress with that neckline – that's a 1930s slip dress neckline, and that's an origami-ballgown-level drape, and the two don't meet structurally to me. Even a boatneck would have helped balance this, for me, but as it is I can't reconcile the sartorial disconnect.)
Hey, speaking of things I can't reconcile: anything happening on Alicia Vikander.
Maggie Gyllenhaal, who always looks so thrilled to be wearing what she's wearing that you wonder if it's actually very fashionable and you're missing something, and it's not actually a vaguely-dull lace dress with awkward net sleeves and a neckbelt (you know those) onto which small children have glued their Princess Party souvenirs, but instead a marvelous outfit. We'll never know.
And with this out of the way, we're in the home stretch for the Academy Awards, for which the Stylist Guild is already in a penthouse loft space ("It's multipurpose," they say, "it's got so much light, it's really flexible, it's such a creative space, you know?" as they look around their one huge open desk and wish desperately for an office with a door), peering at graphs illustrating skirt trends and sheerness levels, their huge "NO NECKLACES" reminder spray painted right on the board in case anyone forgot. They're breaking up alliances and secretly calling their assistants (who are inevitably in tears) to run back to the Zuhair Murad showroom and grab the gold dress, no, the OTHER gold dress, jesus christ don't you even know the gold dress, the only gold dress that would even WORK right now, OKAY, we need it in twenty minutes, don't tell ANYONE, if you see another assistant at that Murad showroom lock her in a closet and grab the dress and run, we can't let Julia Roberts have this, gold isn't even her color, dear jesus why are you still on the PHONE, IT'S OSCAR SEASON.
See you then.