One of the first things I did after we'd sketched the bare bones of this Catwoman arc was to sit down and decide how everybody was going to dress.
Comics are cinematic in their use of clothing to indicate character; it's a great psychological and expository shortcut. The shift from Catwoman into Selina Kyle, Mob Boss would mean a lot of changes in her wardrobe, and everything she wore would necessarily reflect that change. It was also important to me just on a vaguely-fashion-aware level, because I will never forget being a kid and reading the issue of X-Men where Gambit shows up to take Rogue on a date and Rogue is wearing a full-body lace bodysuit underneath what I swear was a handkerchief skirt and tight peasant top with matching headband. That was a lot. Nobody wants any more of that.
What did I want for Selina? This.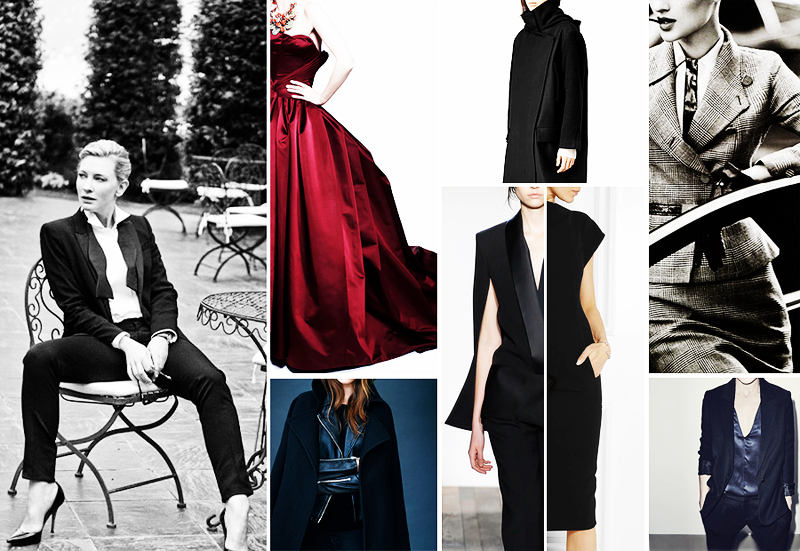 The "hero" tux was exactly the mood we wanted for her out-of-uniform uniform; it's a graphic statement, it connotes both power and privilege, and it's sexy without being too revealing, at a time when Selina's very much in a masculine sphere. In fact, we were careful to make sure there are variations on her signature suit specifically so that when she deviates from it, it's significant. Bottom right corner is her "off duty" suit, which we see her in at times when she thinks she'll only be dealing with family concerns. Top right corner is the suit we see her in at the open of #36, when she's making the rounds to have the families kiss her ring, so to speak; it's deliberately more feminine, but it also has the broad lapels that feel ever so slightly like a mark of state.
But one of the things we knew was going to happen was that the tenor of the clothes would shift over the course of the arc. She starts out on top, and as things become increasingly murky, the more her clothing looks like armor. The ballgown she wears in 35 is an amalgamation of Charles James and Zac Posen gowns, and represents a deliberate opulence and vaguely frigate-y comfort that we don't necessarily see from her at any other time. This is her coronation, and she's dressed for it. By the time she's wearing the cocoon coat at the top center, in which she looks slightly like a beetle, it's because she feels the need to protect herself; it's a coat you can disappear inside of.
Overall, though, this is a Selina that's not messing around. Clean lines, black everywhere, tailored but rarely tight. She's too skilled an opportunist to let this chance go to waste; at a time when she doesn't have any weapons close to hand, she'll dress like she is one.
Which brings us to Eiko.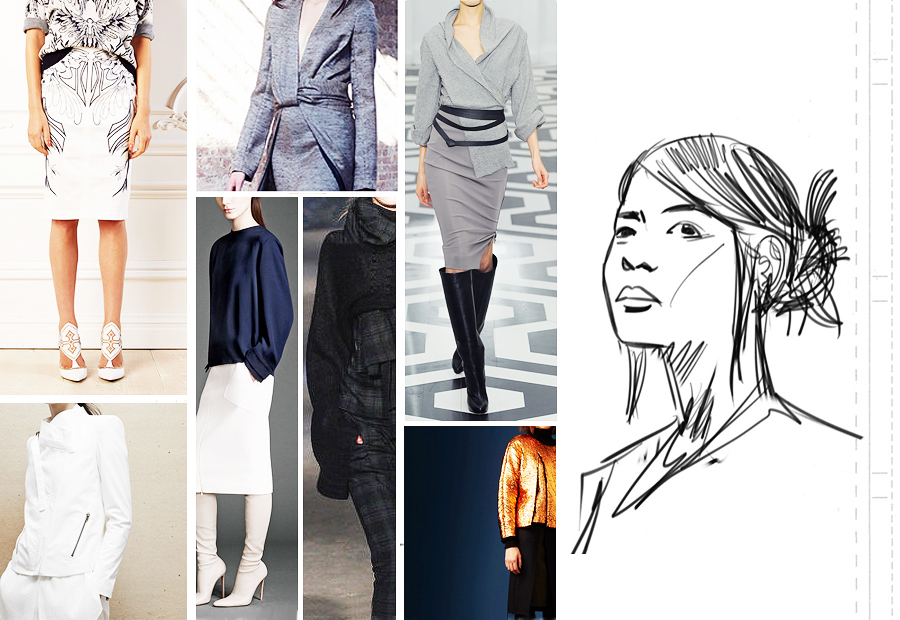 Eiko is new, and a bit harder to give context to; she's a major character in this arc and a main attraction in the Catwoman Annual in December, but for now you've only seen her once. However, when we were going through the design process, it was remarkable how lived-in she felt. This is Garry's first sketch for her, and I absolutely loved her – thoughtful but observant, determined but a little unhappy. She's grown up in the world Selina's still trying to feel comfortable in, and we wanted her clothes to reflect that unconscious ease, as well as the fact that Eiko's not nearly as invested in the power games of it all. She's still young, and her involvement in the business is still basically messenger work whenever Dad demands.
Since she doesn't need to impress, we put her in clothes that have a slightly funkier edge. She wears a lot more skirts than Selina; we wanted the idea of drape, of careless casual layers and the occasional structured piece that only looks good if you're young, thin, and rich as hell. (You might notice the dress she wears when Selina first meets her is not on this board. It's actually something of an anomaly to the rest of her wardrobe; it was a way to communicate a message to Selina in a way nothing else quite could. A dress of casual ease, a tattoo left undone, and the self-assurance to display it to a stranger as a warning.)
There are definitely some overlapping points in their wardrobes; they're both trying to exist within a very particular position, and while those positions aren't the same, sometimes the messages are, whether that means Don't Look At Me or Don't Try Me.
Eiko's wardrobe became an incredibly important way to establish things about her; over the course of the arc, it will, hopefully, establish even more as she and Selina either negotiate around one another or end up enemies.
I thought about putting Antonia here as well, but with the exception of her formal suit, which features a borrowed skirt, Garry and I agreed early on that Antonia's all business, all the time. She'd been squirreling away all the bits of suits Nick never wanted, just in case the day came when she could be taken seriously. Nick never wears a suit; Antonia's got them all. Plain and tough as stone.
I hope to keep tracking the costumes as their circumstances shift, but for now, these were the basic ideas behind the design for each of the women. Antonia a rock, Selina a blade, Eiko a ghost. Stay tuned as things fall apart for everybody! (Except their clothes; we have not come this far to have their wardrobes go to pieces.)