So I think enough time has passed that we can drop spoiler politeness. (My writeup of Catwoman #36 and the Catwoman Annual were two of the most coy things I've written lately.) There's a new Catwoman, and we know exactly who she is. Her outfit was a delight, and now we can chat about it, alongside some more costume specifics as Selina and Eiko's circumstances change.
Eiko's circumstances, of course, have changed because she's Catwoman. The process of designing her was a dream. "Oh, we…we can design a whole new Catsuit?" :silent screaming:
Of course, this isn't the Catsuit Selina wears, that black one-piece honed and streamlined and made of the sorts of performance fabrics only the comics can provide. Eiko's a rich girl who took to the streets as Catwoman to undercut her father's business; she doesn't have the same ready access to flexible Kevlar inserts. Her Catsuit's assembled, not crafted. Of course, it's assembled from Helmut Lang, which helps.
In the center is the initial sketch by Garry Brown based on the jacket picture; the armored thickness of the leather, the pleating and piecing that strengthens stress areas (those pockets have to hold heaven knows how many wires and knives), and the protective neckline were all perfect. Helmut Lang was also kind enough to provide leggings with moto padding on the thighs and knees, which was terribly handy, and we gave her a pair of heavy-duty knee boots. The jacket, we figured, would have been tailored after her first few outings to keep it closer to the body (there are some bits of her in action on the right).
In the Catwoman Annual (left), of course, she isn't yet the practiced Catwoman we meet in Catwoman #35. For her first outing, Pat Olliffe drew the jacket in all its original glory, alongside a hastily-assembled Catcap and some ski goggles that made me laugh out loud the first time I saw them because of how perfect they are. She gets cooler goggles later, but if you're Catwomaning in a hurry, you sometimes have to make do.
And of course, when you're Catwoman by night, it affects your wardrobe by day. This is the mood board for the arc through #37, #38 (on sale soon!), and bleeding a little into #39.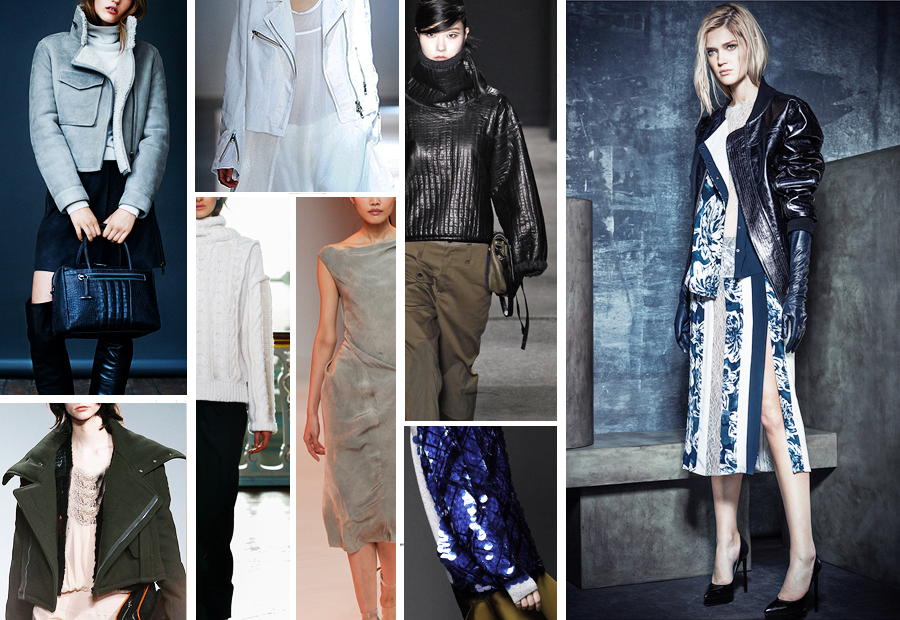 Eiko's still got the layers and the boxy silhouettes of your usual devil-may-care heiress, but with everything around them beginning to constrict, her clothes in #37 and onward have a more martial edge. Everything has higher collars, the jackets have a stiffer silhouette, the knits so thick it's like she's trying to stop knives from getting in. She's still young and definitely more trendy than Selina, who trades more on style than on the current fashions, but there's a shift in what Eiko feels comfortable in. (The grey dinner dress, the basis for an outfit which appears in issue #39, is the sort of thing we see her in a lot more in the Annual, the sort of drapey softness that has started to become a costume she puts on to play the part of her father' daughter. Clothes are always a costume; it's only the identity you're presenting that changes.
And what about Selina?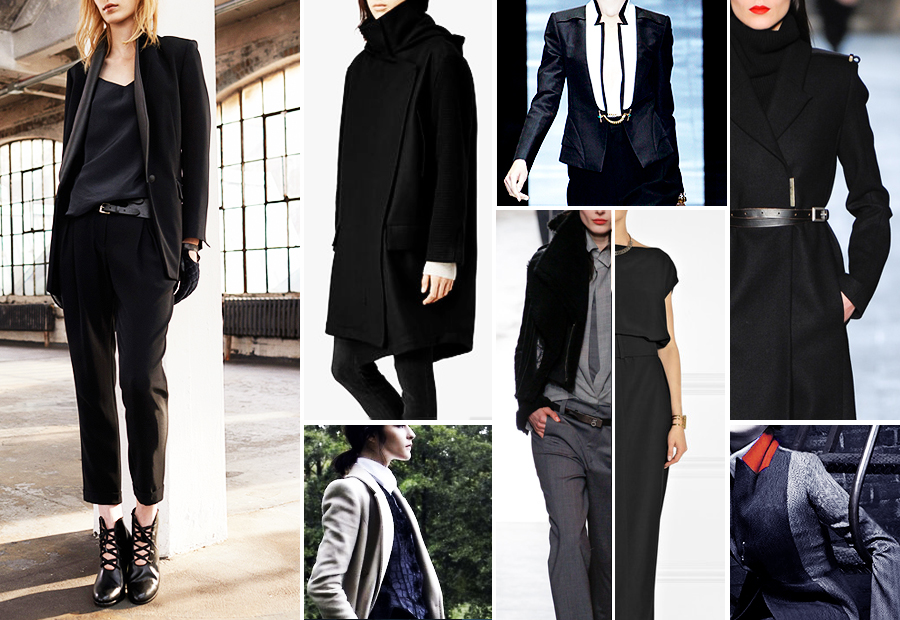 The suit on the left is one of the inspirations for her at-home suit – a looser interpretation of the more formal suits we see elsewhere on the board, but still on the clock; hers isn't a business where you can afford to ever really take off your uniform. At the beginning of #38, she's in a Charles-James influenced cocktail dress with an upward curve like a knife, that unfortunately has only my illicit cel-phone-quality photos to go by, and thus doesn't appear here, but the sleek black pillar of a dress in the center gives the right silhouette. And though she's generally in a suit of some kind – she's running a mob, they're a power-suit bunch – there are as many sleek suits as there are hours in the day, and every one means something different. And I'm becoming unspeakably fond of the cocoon coat, which Garry makes either a beetle carapace or a cape, depending on the wind and on who's looking at her. I'm very excited to see it show up as the arc moves forward; she gets some pretty film noir use out of that collar, and I love it all.
Reviews for the series have continued to be positive, which pleases me to no end. For those who might be newer to comics and like deep analysis in context of other books and comics culture, Rainbow Hub has a really thoughtful take on #37 (and of the Annual, both of which provided context I hadn't known about, and which gave me some wonderful grist for the mill at the recent Bat-office summit when I got to chat with the Grayson writers about Upcoming Things.
If you're reading Catwoman, thank you so much. It's a dream to be working on this book; I hope to be able to continue telling Selina's story for a while.