Okay, fine, Reign, FINE, I will finish Season 2 before the next season starts. It besmirches Catherine, but we all know that even besmirched she's the best thing on this show by a factor of ten.
And why not? In these two episodes alone Kenna almost married the general who then got caught and blackmailed into treason by Conde and then kidnapped the Queen and then got caught by Francis and turned AGAIN and then got hanged while Kenna and Bash made up but only because Kenna was PREGNANT whoops, which Bash's pagan woods girlfriend knew all along, but didn't take seriously as a threat to their relationship because she's a very secure woman and was already using black magic to bind Bash to her anyway. Reminder: this is a single subplot.
How does Catherine feel about all this?
Sublime.
Fuckin' dark witches try to imitate her and can BARELY get there.
Little Delphine and her bonding spell WISH. Sure, wine across your chest as you bang a stranger on Bash's bloody shirt. Fine. Did you feed him the flesh of his most beloved yet? No? That's sweet, Delphine. You keep trying.
(Don't worry, Lola is still applying herself in her grad program at the Queen Catherine Institute, and she's going to graduate with honors.)
Attagirl.
The progression of Catherine's moods in this two-parter is obviously the only thing anyone cares about, so we'll just track that progression over a couple of very busy days.
Here, she found out Narcisse is still trying to make out with Lola (dude, please), and rather than punish Lola she goes right to the source and opts to just feed Narcisse a steak she made from his favorite horse. He's still gnawing through it as he gives her attitude about this relationship, as if 1) he hasn't wanted her to climb him like a tree all season, 2) he doesn't know the value of pretending to love powerful people, 3) he doesn't know what looks like this mean. Why would you cross this face? Why? Hounds are baying, one hundred men will die this night, fuckin' just cool it sir.
Nope. One hundred and one men.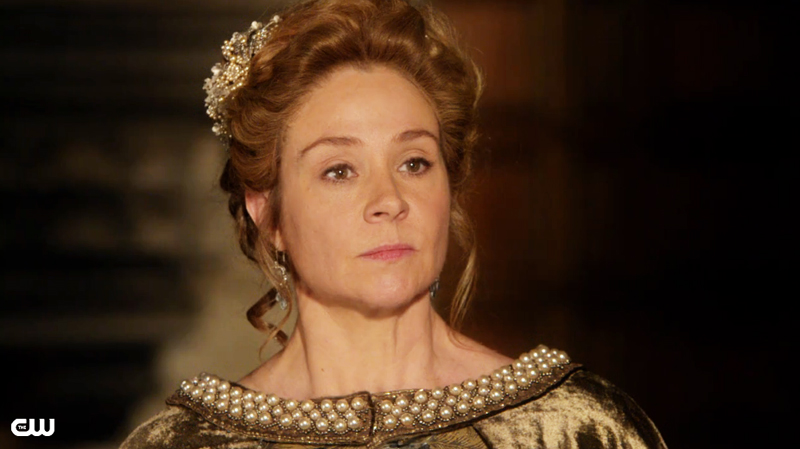 One hundred and one men, and Mary Queen of Scots.
A hundred and one men, Mary Queen of Scots, and Queen Elizabeth.
Even in the world of this show in which nothing ever makes sense from one minute to the next, I do not understand why you would ever give any shit of any kind to Catherine de'Medici. Her only consistent points of characterization are 1) she loves her kids, and 2) she will end you for nothing. She ends people all day. The fact that people (Mary) are continuing to cross her (poorly) is at this point frankly astonishing.
You will note that Catherine didn't get any of her good dresses in this sendoff. And I'm not joking, she has some, it's just that her 1972 Mourning Special isn't one. I am getting one of those occasional upticks in people not understanding why Reign uses contemporary dresses, and I feel like it's time to reiterate that my problem has never been the modern dresses; it's been in the random inclusion of half-assed period garments or ugly modern dresses. Mary spends the penultimate episode in a McQueen; I'm long past begrudging the show its lack of historical accuracy, and just wish it would commit harder! (I'll probably end up contrasting it with The Musketeers, which is a very fun show with some tragic costumes for its ladies.)
Here is an attempt at a historical garment, and the McQueen.
There is literally no point in that first garment existing when the second garment also exists. The McQueen is more definitive character design, it's more effective for the mood of the scene, it looks visibly richer and more textured despite having a simpler shape. As the show has become a series of plot darts thrown onto a board at random, the costumes are the closest thing we have to a narrative through-line, and at this point I'm almost always happier to see a knockout modern dress than any attempt at historical accuracy.
This two-parter feels like even more plot soup than usual, but amid the five-minute siege and the triple-agent general and Catherine arranging the kidnapping of Lola and the baby in order to scare Francis into killing Louis and all the Delphine business and some random subplot trying to make Claude happen and the reappearance of Nostradamus who is WAY too late to be of any use since we've moved so far past Cathy and the Prof and into some weird dark corners, I wanted to acknowledge a moment of Mary taking a break from repeatedly fucking up to actually do something right the first time!
She showed up begging Louis for help and faking a pregnancy, stayed long enough for her fake-plague ruse to scatter his troops in a panic, and then stabbed him. I'm on the record frequently that this show is dedicated to only one historical aspect, and that is Mary's inability to ever make a good decision, but she got some shit done here, and I will give credit where credit is due.
But where does that leave everyone?
Greer is so happy being single she re-ditches Leith in their one scene together and then shows up with what looks like her own lighting team, that's how happy she is. (I kind of love that she's casually one-upping Mary at the Look Good in Black game. She's that friend who only wears Gap t-shirts but somehow they're two sizes too big and it makes them look impossibly chic and you don't get it but she barely notices because she's so happy being the best madam in Paris.)
Lola?
Perfect.
Kenna leaves as she arrived: hitting on a king. This one's fifteen. She's already making arrangements to see him as soon as her baby's born.
I laughed. It's all perfect somehow.
Queen Elizabeth: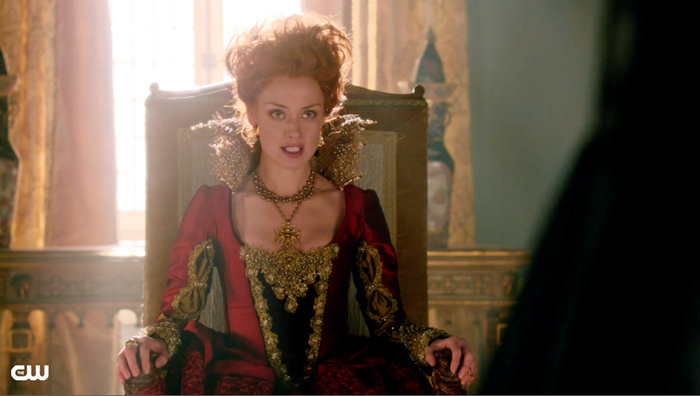 Hi! Sure. Fine.
Francis: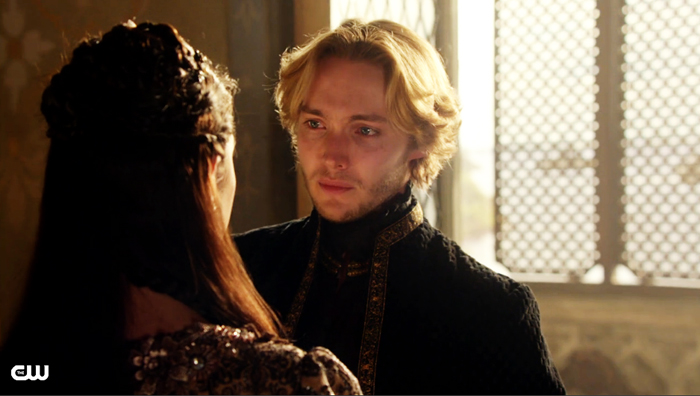 That is the face of a man who knows his life will soon be cut short by an ear infection.
And Bash?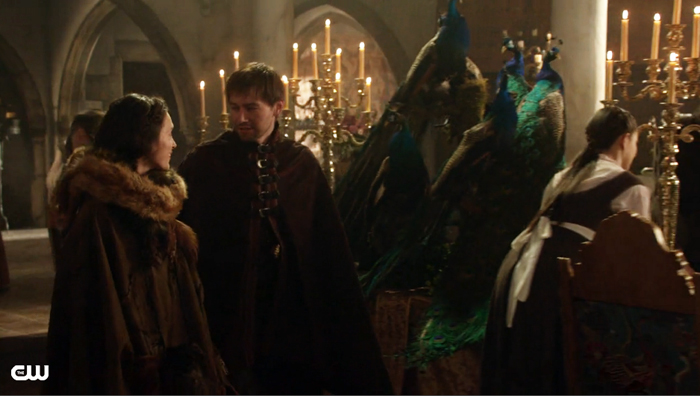 This is the face of a man who knows he's being upstaged by the show's first truly impressive centerpiece. Better luck next year, Bash. Better luck to us all.