Ah, the dystopia of red carpet season is really hitting its stride.
Recently a friend who doesn't watch red carpets much asked me, "You keep saying the red carpet is weird, but – what's so weird?" And sure. Fundamentally, it's people in the industry – many of whom routinely appear on camera for their job – getting dressed up and appearing on camera again to talk about things they did for their job. Even the expensive designer loans and styling teams have, increasingly, become absorbed into the rhythm of presentational life events. (How many weddings build in a half-day to get the bride ready for all those photos?)
But the requirements that build up around a red carpet of this magnitude – one of the major awards ceremonies of the year, televised, with more than one network doing TV specials about the red carpet alone – can get weird. In some ways, that can be fun – a joke we're all in on – especially as the red carpet gets faster on social media. The serendipitously-stationed Fiji Water Girl, who wasn't going to waste the chance to make eye contact with the camera, became a meme while the red carpet was still happening.
This woman holding FIJI Water at the #GoldenGlobes truly came to SERVE. pic.twitter.com/Aln54zOhKY

— E! News (@enews) January 7, 2019
And that's fun! Watching the red carpet as its own event is still weird, sure, but spectacles of plenty are nowhere near new. We're smart people of the modern age and know this ecosystem is ridiculous, but if we can catch a glimpse of the royals on their way to Versailles, then why not, you know?
When I say it's ridiculous, I mean that the behind the scenes specifics start to sound like science fiction, and there will always be some detail that seems beyond the pale. A few years ago, people were surprised that women with satin gowns had to lie down in the car to avoid creases, a thing celebrities now liveblog because we're all in on that joke, too. This year, my new fact was the hawk they hire to discourage pigeons getting near the guests. You know, like normal.
Plus, the red carpet is such a specific ecosystem that it requires a completely different skill set than people's actual jobs. It requires Making Eye Contact with 72 Cameras While Holding Your Neck at a Specific Angle and it requires Making Sure Your Knuckles are Visible at All Times Because of your Rings and it requires Pretending to Give Those Questions Some Real Thought. Above all else, it requires Making The Camera Care in the Middle of Unimaginable Chaos.
Like Jessica Chastain, who had to start summoning the red-carpet skill set while she was still in the holding pen. She manages to draw your attention away from the 30 staff people AND the fact that her dress is a ten thousand dollar version of a Ren Fare witch wearing a corset over her dress, which is more than she's managed on previous carpets, so credit where credit is due.
Here's Elsie Fisher, a teen who made her movie debut last year. No finishing-school coach has shown up to correct her posture and remind her of foot position. She is wearing a fancy outfit she seems to like to an event she doesn't entirely feel comfortable with, and that's just how life is sometimes, also here is a fancy purse that gives that hand something to do. That's not to say this is going badly! She is doing the red carpet ten times more successfully than I would ever manage it! This is just a reminder that the red carpet skill set is often something that you assume is inherent for actors until you see someone who has not yet undergone the necessary osmosis.
That said, here's Kiki Layne at her first Golden Globes, and she fucking crushed, so some people really do just have that charisma skill set ready to go. I also truly love her gown; it's the Full Ingenue, and that is such a deliberate and suitable and canny choice for the styling. Great look – one of the best of the night.
That, of course, is a primary reason for the night – to admire, and judge, the clothes. The red carpet has increasingly taught its audience how to read it in recent years, which has been a fascinating and uncanny phenomenon. This year, for example, the Golden Globes stopped being the safety school and started being a testing ground for more personal looks than the parade of unobjectionables of years past. It means there are some big misses, and an entire category for dresses that were doing work I understood but didn't enjoy. But even those mean that this red carpet is becoming a place where the dresses are meant to actively be doing work. That could end up being fascinating. Clothes say so much as it is.
Last year, I went to an exhibit at FIT about the history of pink in fashion. Among the things one would expect (the gender-association shift in pink across the centuries, from masculine to feminine), there was a filmy pink evening cape from just before the turn of the twentieth century. The curatorial caption talked about the ways that industrialization made rich pigments easier to come by, and therefore the ideal high-society pink changed from the deepest pink possible (previously a sign of how expensive it was to make) to the palest pink possible, for an impression of delicacy that drew attention to the care needed to design and assemble it.
Many people tend to talk about Amy Adams' red carpet style as predictable or simple, even dull, and that is not the point. The point is that the designer (I think this was Calvin Klein, but it doesn't matter and will never matter) has made a dress that looks as if it was drawn onto a paper doll. It fits so pristinely you can tell her team made sure not only to prevent weight gain prior to the carpet, but weight loss. This is not about catching a trend or even standing out in a crowd. This is about how you can tell how much she's moved her arms walking the carpet so far because the sleeves have fallen half an inch. In the file of an atelier's back office, someone has the measurements for the arc of the back of her arm, from the shoulder to the center of the armpit. That's the point of this dress; that's the only point of this dress. What else needs saying?
Then there are the people who perform more overtly outward, like Lady Gaga, who treats the carpet like a stage and always has.
Ok maybe Gaga wins the dress train contest? It takes TWO additional human helpers to hold her gown #goldenglobes #gagaglobes. pic.twitter.com/ULCF0E9DWH

— jen yamato (@jenyamato) January 6, 2019
If you have a strong preference for implied vs. performative dressing, you'll love or hate a lot of these dresses accordingly. But thankfully, after a few years of playing it stiflingly safe, we had a carpet where people were trying. Let's see some people for whom that paid off!
LOOKIN' GREAT DIVISION
Billy Porter. Cape aside (and yes, that's a magnificent aside, the drape was incredible in motion and the texture on the shoulder detailing is just perfect), the detail of the shirt embroidery would still push this over the top into something remarkable. Does the fuchsia lining on the giant silk cape help? Absolutely. But that's drama. The embroidery – how it echoes from cape to shirt, how the motif repeats on the hip to draw the down toward the shoes – is what makes it so good.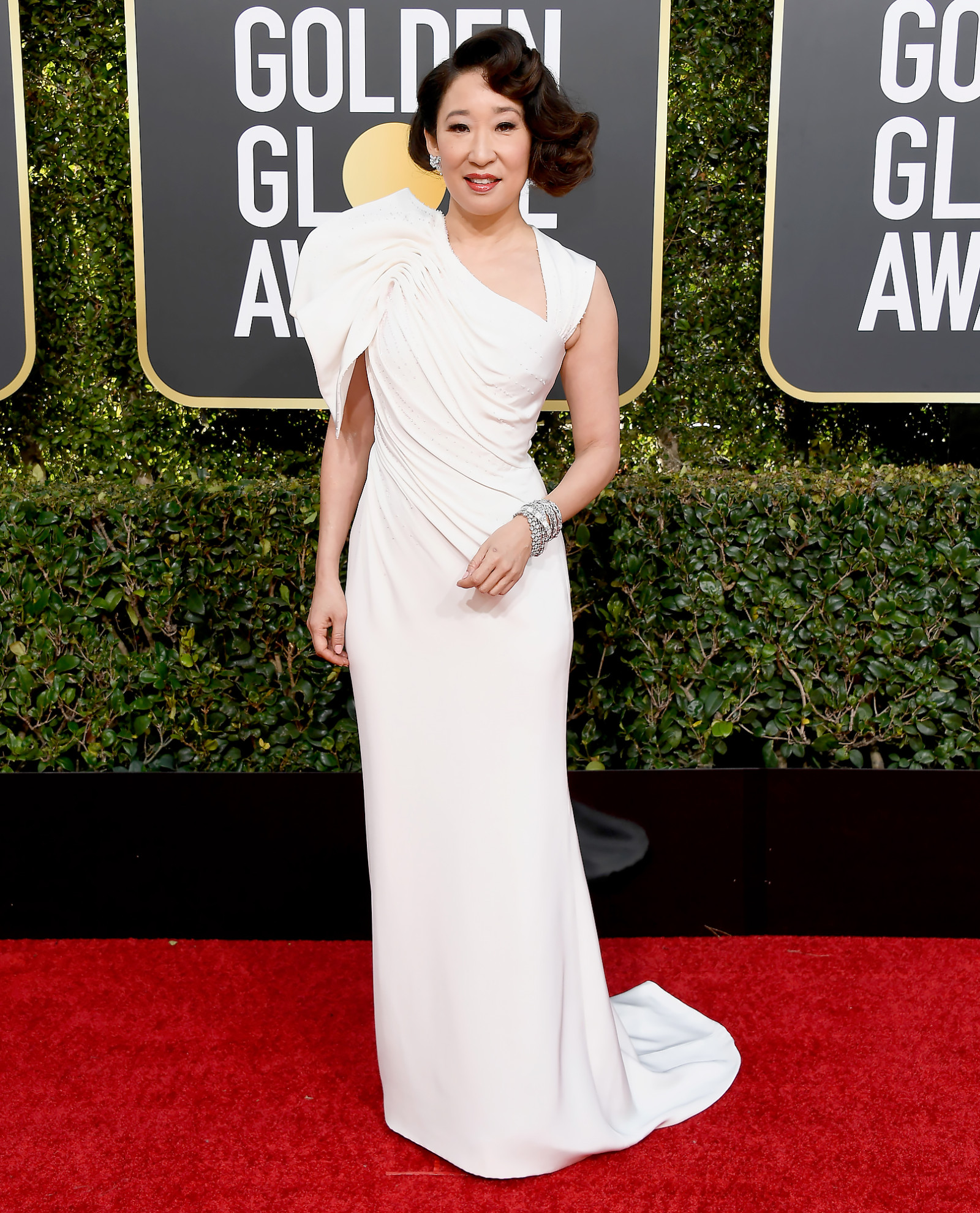 Sandra Oh. She looked stunning all night (the plunging long-sleeve red dress, the white dress with the gorgeous liquid-gold sleeves), but the 1930s styling here was a  great start. The shoulder drape was a dramatic touch on a beautifully-draped gown, the wrist full of shine was a perfect counterpoint – she and her team knew exactly what they were doing.
Lupita Nyong'o. She makes such fantastic use of color on the carpet, and this dress in motion was a real stunner – you feel that she really loves what she's wearing, but particularly when there's a dress with as much motion as this one.
Olivia Colman. She's usually very "I will see you inside, I said good day" about this portion of the job, but this season she's barreling her way to a possible Oscar, so the McDormand Maneuver isn't going to cut it. This is a great choice for her. Simple silhouette, with regal detailing in the underdress and the cape sleeves (and the knucklers) – it's all a wink to the role, styled to subtly remind you she's more youthful and polished than good old Anne.
Regina King. She really knows how to make a column dress look special. The pink is a little unexpected, and softens the metallic, so you're left with the impression of something that's equal parts untouchable and refreshing. (The illusion of simplicity for a dress that actually looks hellishly complicated is enhanced with jewelry-free neck and wrists and carefully carefree hair.) That's all very on brand for Regina King on the red carpet, and it looks lovely here.
Indya Moore. The Globes have become a Full Formal red carpet over the last few years and is almost barren of cocktail-length anything, but that was never going to bother Indya Moore. The proportions of the overlay and the slouchy space sleeves are fantastic, and it's a look that feels both edgy and reflective of personal style – which feels like the next big phase of the Golden Globes carpet.
Emily Blunt. The fact that she and her team chose a dissolving-lace Lamb of God McQueen says a lot about the development of the Globes red carpet. For a few years, it was fairly dull – everything in good taste in sort of the same way, as style teams realized the internet was getting faster and savvier with their snap judgments. This dress is one of many signals that the Globes carpet is becoming a place to experiment with style and brand – a place where you try for something different.
Or just The Most!
Lady Gaga. On purpose, this is a dress that makes you talk about it early, and with emphasis, because it doesn't leave you any choice. This is a dress for someone who used to try to be surreal and is aiming for a more traditional actor shape without going Full mid-90s Respectable Madonna, which she clearly wants to step free of. Hence, dress.
(People talked about the Judy Garland Star Is Born influence here, and I see it, but I'd also suggest this late-'50s Patou, if we're looking for influences.)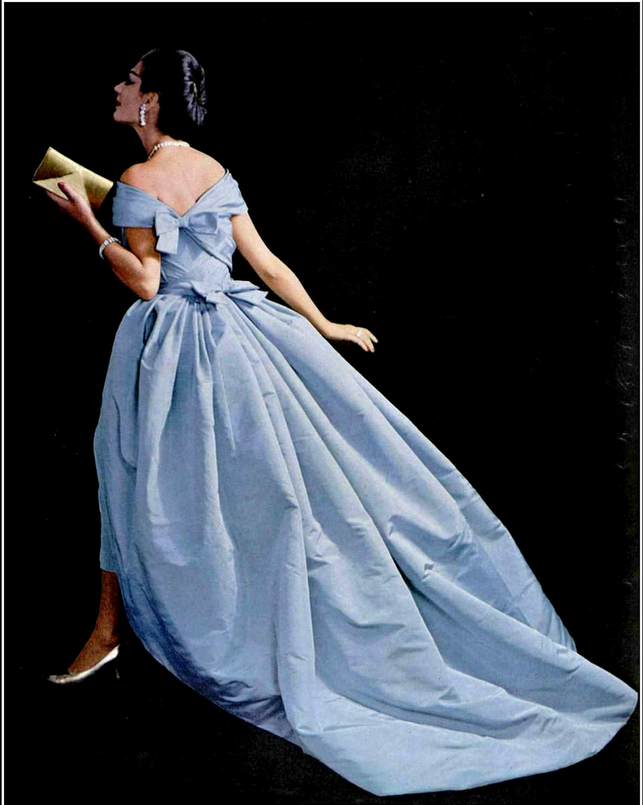 Lena Waithe. Fitted tuxes for women have become a trend, and I love them, but femininity shouldn't be a requirement of red carpet wear for women, either. This more menswear cut really works for her. I wish, if she was going to keep the jewelry so minimal, she'd also gone with a thinner turtleneck, since turtlenecks are the devil and the bulk they make at the neck calls for something with a little more weight to remind the eye to keep moving. (Remember the turtleneck they made Keanu Reeves wear in The Lake House? You definitely do, it was the only thing you could hear in that whole scene, because it was screaming.)
Danai Gurira. Look, if you had described this dress to me ("It's orange with pinkish-red lace on top and a big orange bow on one shoulder"), I would have worried that it would be too much dress, or hard to style around. I should never have doubted Danai Gurira's ability to wear a dress, and I will not make that mistake again.
Patricia Clarkson. Twice! I would have make that mistake twice!
Dominique Jackson. The crisp white, the clean lines, the delicate jewelry – solid look.
Yalitza Aparacio. I am not super fond of the Random Cutouts trend, and this is not the only time in this rundown I will say that. I also am not sure this color does much justice to her – I thought the colors she wore to a recent fancy nonsense dinner really sang on her and was sort of hoping for something equally saturated here. That said, this is a delicately-rendered gown with an overskirt that moved beautifully on the carpet, and her styling was impeccable.
Thandie Newton. Is this dress my favorite? No; cutouts, and as metallics go, this is too lightweight and flat for my taste. She's here because this look of barely-indulgent contempt is the only accessory she will ever need, and it sells anything she's ever worn.
Chrissy Metz. Bold color, great sleeves. I could have done with it touching the floor (the line between tea length and Just Slightly Too Short is a thin one but the perception matters), but otherwise this is a strong look for her.
Cody Fern. We've seen an uptick in interesting menswear lately – velvets and some colors and some embellishments. (Idris Elba had a beautiful jacket this year.) But it's rare for a man to break from the suit/tux, because that's the acceptable silhouette. This outfit deliberately avoids that, and the sheer shoulders with the eye makeup is a surprisingly striking combination for an outfit that's otherwise so pared-back. Great details.
Honestly, a lot of outfits this time around had great details that suggested quite a bit. Sometimes I liked them! Sometimes I was merely observing them, using my breakfast-cereal decoder ring to try to decide how much barely-hidden branding and messaging could go into a single red-carpet look. The answer is: Infinite.
ENIGMA DIVISION
Rachel Weisz. Did I like this dress? I did not. Is it a playful dress that suggests the frothy petticoats of an upturned skirt, a sly reference to the film in which she plays a woman having a relationship with the Queen? It is. Have they tried to counter that with casual waves that look modern but also have a slight undone-ness that enhances the overall echo of a period piece with plenty of sex business in it? You bet. Has this look done its job? It has. What I actually think of it matters less than nothing.
Gemma Chan. This look is calibrated to the quarter-inch. A professional tied that bow based on very strict proportions. That lipstick color was the product of several styling discussions that included jewelry tryouts and hair dry runs. The fact that there are short shorts under this gown – that, despite the stunning color and the ten-foot train, this outfit actually was not complete until the short shorts had been displayed to the photographers – ceases to matter. It's not part of a garment; it's part of a statement.
Caitriona Balfe. The thing is, I see where this is coming from. I've been researching 1920s fashion (again) for a project, and this particular bubble effect was very editorial but still present; it's definitely present again once we hit the 1960s and Patou gets involved. When your show is about time travel, you might as well nod toward it sometimes without defaulting to ballgown. The hair suggests 1920, the shoes 2019. My complaints here are the single cinnamon-roll rosette on the bodice, which is somehow just crushing to look at, and the fact that this skirt was so stiff that any of the bell-ringing motion that a skirt like this exists to provide tilted toward Bottom Half of a Sports Mascot, and that's just not where you want to be.
Julia Roberts. By itself, this is one of those trend-affirming outfits that point at things even when they are unremarkable in themselves; red carpet pants are a goal worth pursuing. My favorite thing about this is that consummate movie star Julia Roberts wants to include you, the bleacher-dwellers at the Golden Globes, in this experience with her, and so she reenacts the glee of discovering her outfit has pockets so that you, the common soul, can share this with her – your love of pockets, just for a moment, two people connecting under the watchful eye of the hawk that's yanking a screaming pigeon out of the sky as we speak.
Jodie Comer. This dress is a Goth callback to her Villanelle pink, and we all know it. job done.
Octavia Spencer. She really loves a good tea length. It's nothing spectacular (the gentle '50s interpretations are a good wheelhouse for her but they're also a staple of formalwear both on and off the red carpet), but I'm always excited that she's on red carpets enough to have a personal style on them.
The cast of The Good Place – William Jackson Harper, Jameela Jamil, and Manny Jacinto. They all look great, obviously. (Jameela Jamil looks like she's just beginning to understand Tahani's all-gown-all-the-time wardrobe is going to make red carpets a real challenge.) They all arrived together; D'Arcy Carden, their costar with some developing awards buzz from this season, found them on the carpet later but arrived alone; Kristen Bell arrived alone, and later in the evening. I still do not fully understand the insider baseball and serendipity that dictates the arrival schedule for red carpets like this, but group photos are rarely an accident, and solo photos aren't either.
Michelle Yeoh. I can't believe I'm saying this about Michelle Yeoh, but this is not a very good dress. The color's perfect (she can swear up and down it wasn't meant to remind us that she wore her own emerald ring for Crazy Rich Asians because she hated their mockup so much, but we know the truth), but the tailoring on that leather is subpar, and the skirt isn't doing anything to salvage the silhouette. A more simply-tailored dress in that leather could have been amazing; a more carefully draped dress in that lace could have been nice. Her styling is otherwise fantastic and deliberate; I do not understand what the concept of this dress could possibly be, but she does.
Lucy Liu. Does she look like a Miss Havisham set to marry the entirety of the 1990s who has been shrouded in broken dreams ever since? She does. But she looks so happy about it! Let she who is without Hypercolor cast the first stone, I guess.
Janelle Monae. I mostly dig this, but I couldn't leave it alone, because of course I couldn't. This is from Chanel's "Egypt" collection, and that influence is very visible. But the heaviness of that cardigan layer and the long, tight sleeves of the underdress actually bring to mind two other silhouettes.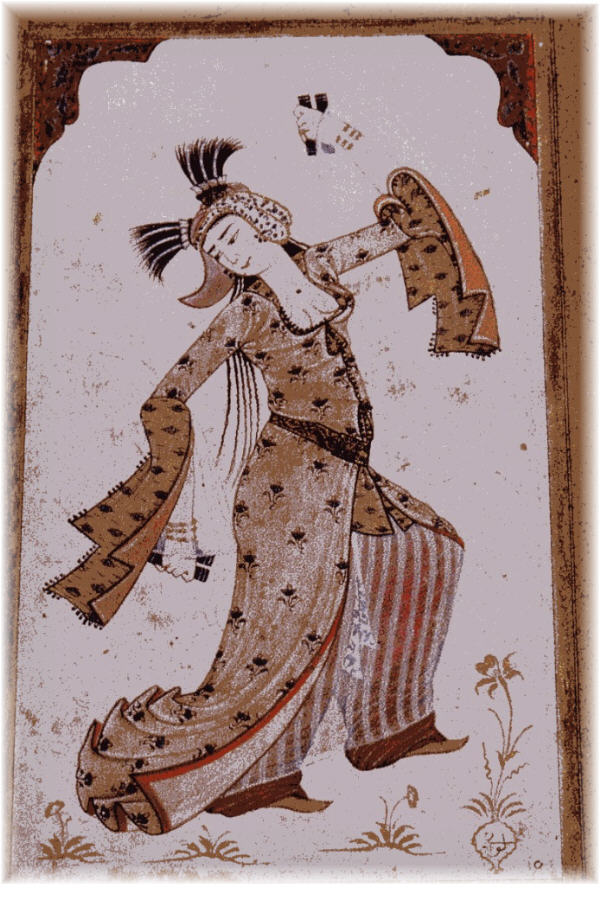 The one that's more familiar in red-carpet dressing is the late-medieval kirtle, the close-fitting overdress (often with short sleeves just like this, where outer sleeves could be attached for warmth and interest, or removed for comfort) that went over the equally close-fitting shift. The other is Persian and Ottoman dress, which from the early medieval period to the end of the eighteenth century had some of the best layering ever seen in fashion anywhere. A standard was the tight-sleeved white gomlek; then, often over trousers, a filmy long dress in a light color. Over that was the hirka – a short-sleeve or draped-sleeve jacket with a fitted bodice. Generally that had a full skirt, but this early-medieval Persian-style coat shares the same body-skimming fit in the torso. (It was found in a tomb in Egypt.) Today, hirka means "cardigan."
Constance Wu. She went Full Ingenue, for an interesting unfinished-muslin version of ingenue. Given that a lot of her red-carpet appearances have been more Fashion than pure glam, this feels deliberate, particularly during an awards season where she's celebrating being the lead in a studio romantic comedy. That's vanishingly rare for an Asian actress, and she doesn't want you to forget.
But the ingenue situation can be loaded. The red carpet is no place for a quitter, and ingenues know the dangers ahead. They're not fools. They've come prepared. This is what they live for.
INGENUE FIGHT CLUB
Dakota "Full Cut" Fanning, undefeated ingenue six years running. The only thing cooler than her dress is her nerve. Here, she wears her favorite knuckle ring, Girl's Best Friend. She's sliced the necklaces right off three opponents with that thing. She wears them in rotation as trophys, neckline permitting.
Claire "Frigate" Foy. Never turn your back on Claire Foy. Sure, the train and beadwork look like a TV star moving to studio films), but that trajectory doesn't come with a lot of uplifting advice. One talk with Claire Foy and you'll be ditching acting for a career on the open sea.
Alison "Ahlspiess" Brie. The 15th-century steel spear isn't her weapon of choice (no weapons allowed in Ingenue Fight Club, you gotta watch the face). It's just her method – tremendous effort, and at speed. "Tulle? Yes, so much of it I can barely walk, why else am I even here? Giant bow? God, yes, if it's necessary, of course – wait fuck, does anyone else have a bow? Do too MANY other people have bows? I don't want to look like some mindless follower who just picks a dress with a bow because someone told her to. How can we get around that? Fuck fuck – heavily encrusted bandeau! Perfect, thank god. Thank god."
Saoirse "Shakedown" Ronan. Sure, the dress is the sort of Deco fringe number they suggest when someone's smack in the middle of her hale Ingenue days and are lining up roles. She should be an easy mark! But have you ever been on the receiving end of that stare when it goes from unimpressed to Unimpressed? Good luck if you are, soldier. Better ingenues than you have tried.
MJ "Regret It" Rodriguez. Her dress is comfortable, her hair is flowing. She will out-camera all takers. Nobody's outlasted a scene with her yet.
Emmy "Possum" Rossum. Her best acting job? Playing like her career is dead, right until her opponent turns her back. Then it's lead on a show for nine years.
Lili "Lavolta" Reinhart. While you were partying, she studied energetic partner dances of the 16th century. Not because she uses them on TV or for her spokesclients; she just wanted a nickname that would stump people. She knew Ingenue Fight Club was coming. She's taking no chances.
Camilla "Big Cat" Belle. The tones: Jewel. The pattern: Leopard. The nickname: From her nap schedule, particularly during the hottest hours of the day, when finding shade is paramount to keep from dehydrating.
Emma "Stickem" Stone. Her dress blends into her skin tone so effortlessly you don't even realize she's there until she turns a bit about Hollywood whitewashing into a bit about herself.
Rachel "Bruiser" Brosnahan. The dress may be yellow. The disposition may be sunny. But when it comes to a good old-fashioned audition, she is also very sunny at those times. Competition is no excuse for bad sportsmanship. (She is new to Ingenue Fight Club.)
And Glenn Close. High Judge in charge of all battle disputes. Trusted because she was never really in the Ingenue Wars, moving into Stoic Heavyweight almost immediately. Distrusted for the same reason. Those who make it out of Ingenue Fight Club have their own ways; no outsider can truly understand.
Honestly, we can't. So much of this is opaque unless you're in the industry. It's why we still gasp and go "What is she WEARING?" like she threw something together herself on her way out the door while the camera pretends two security guys for the jewelry, a personal assistant, and a publicist are just strangers who happen to be standing directly behind her. Part of the reason we love the red carpet so much is because it makes us feel like we're all united in parsing the language of these clothes, and getting at the meaning underneath.
Sometimes, of course, that's just not possible. Sometimes, no reason seems like it will be enough.
NO THANKS DIVISION
Gina Rodriguez. Gina Rodriguez usually looks awesome on the red carpet; even when the dress is not her finest, she has more than enough presence to carry it. But this dress just does not work. The top does nothing for her bust, the built-in necklace effect looks more cheap than clever, and the fabric, while ethereal in motion, looks limp in photos. The red carpet is a brutal place to put dresses through their paces; not everything's going to work as well in practice as it did in theory. She'll nail it next time.
Judy Greer. So many people saw her in this, at so many points in the awards-prep process, and still they let her go out here like this. Surrounding yourself with people you trust is such an invaluable business decision.
Rosamund Pike. The jacket's amazing. The dress has anxiety.
Maya Rudolph, who is one of those people so charismatic in front of a camera that you sort of assume she wears things like this to give her screen partners a shot at some attention. (This dress also has anxiety, but the depressed kind.)
Kata Mara. A little while ago, she had a red carpet style that was slightly ahead of the mossy-buildup-on-nude-netting trend, and it was just early enough in the trend cycle that she didn't get any points for doing it. Since then, she occasionally picks a look that you have to assume is just out of spite. She will wear whatever unsettling garment she can find, and the camera lens will be forced to look at it – camera after camera, staring right into a garment that costs two month's salary for a regular person, thinking about late capitalism. Kate Mara wants you to see it. She wants you to look. Look at that dress and that scraped-back Cindy Lou Who and tell me anything will ever be okay again.