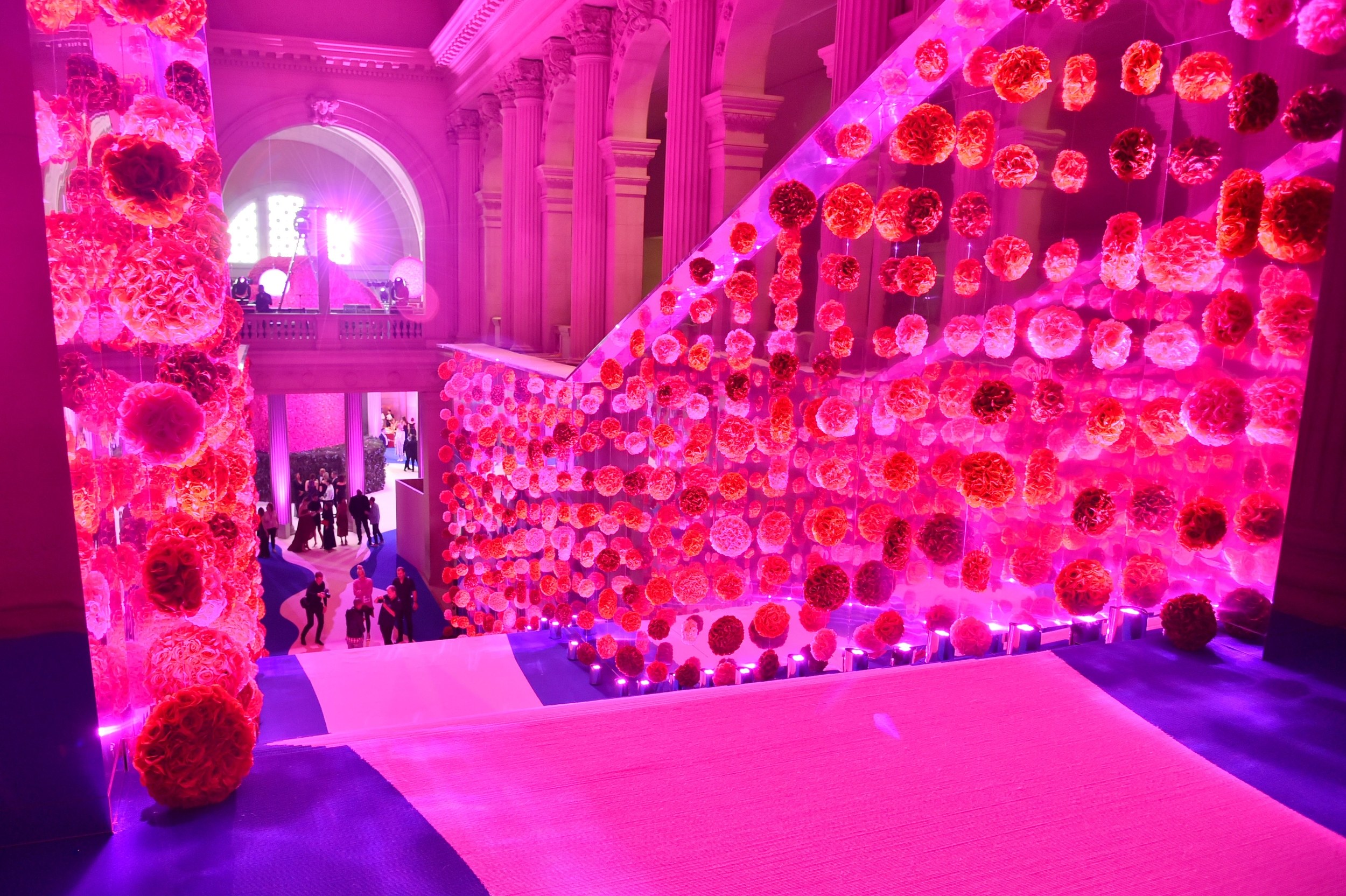 The most increasingly-frustrating red carpet event of the year happened last night! Once again, it was time for the Met Costume Institute Gala, celebrating another exhibit that honors landmark designers and iconic moments in the history of fashion; once again, the celebrities ruined it all.
There's an inherent tension on the red carpet between fashion professionals and the increasing celebrity presence. Make no mistake, Anna Wintour and company are happy to make this event as popular as possible while still looking exclusive enough to be frightening to everybody who wants in. (I'm sure some fashion people miss when it was a smaller crowd and peasants weren't stacked fifteen deep across the street to catch a look at the arrivals, but Anna Wintour is savvy enough to know the value of the amount of press coverage this show gets now. She's savvy enough to show up every year in something that allllmost feels like something from the year before, except that obviously that couldn't be the case because Anna Wintour would never be late to a theme, would she?, so she's absolutely savvy enough for this.)
But the increasing profile of the event does mean that, half the time, you're handing a specific fashion brief to a group of people who have hired a phalanx of professionals to make sure they absolutely never run the risk of making a fool of themselves in public. Fashion is not a risk they can always afford to take. If they can't find a way to nod to the theme in the world's subtlest, safest way, they're going to take that $30,000 ticket, slap on something by the designer who brought them, and swan up the stairs pretending it's the SAG Awards.
Take Haley Bennett, who's currently trying to Happen in Hollywood, and I'm not entirely sure her full-Persephone look works as well here as it could. At the same time, though, this is a look that would clearly not fly at any other event; she is trying to Attend the Met Gala, and not just appear on a red carpet. Compare her with, I dunno, Selena Gomez, and we can begin to see the fashion/celebrity divide.
You can feel Selena Gomez silently worrying that the woman behind her will somehow infect her with Statement-itis. She can't risk that after she and her team have been working for minimum four months to pick the world's most unfussy dress to wear as she debuts her new relationship – which is the only statement she has ANY intention of making at the Gala this year, so get that ruffle lady to back up at least three steps, please.
She's not alone. The last few years of exhibitions have been either a more general topic (superheroes, technology, punk, "China"), or a designer who was well known enough the mainstream to be generally understood on sight, or understood as beautiful (Poiret, Charles James, McQueen). Those are all lovely choices for exhibits; somehow, half of them end up being hell on a red carpet. And if celebrities managed to mangle their tributes to a guy whose entire legacy was Lovely Ballgowns, I guess it's no surprise so many of them fell down on the job when it came to Comme des Garçons.
Comme des Garçons designer Rei Kawakubo has been at the helm since the inception of the company, and she's known for approaching collections without much concern for marketability, or even wearability. A lot of her work is thematic and sculptural – meditations on a theme rather than anything that's actually ready to wear in the traditional sense. Past themes for collections have included "lumps and bumps" and "bad taste." So, sure, some of her things are not meant for an evening of dinner and dancing. (There is a tiny dress sewn to the front of that purple dress; hard to pitch that one to a stylist.)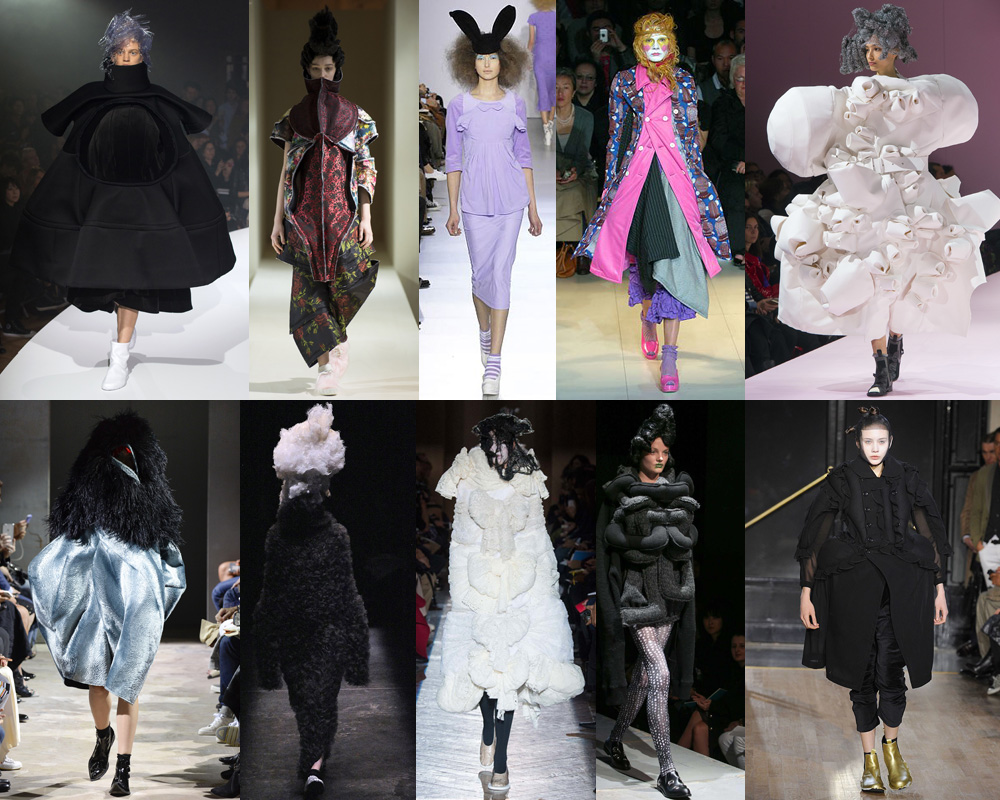 However, it's not hard to find pieces that are still vaguely sculpturally tailored but that still read as red-carpet wear or comfortably avant-garde fashion. (Comme des Garçons is experimental enough that there's plenty to choose from.)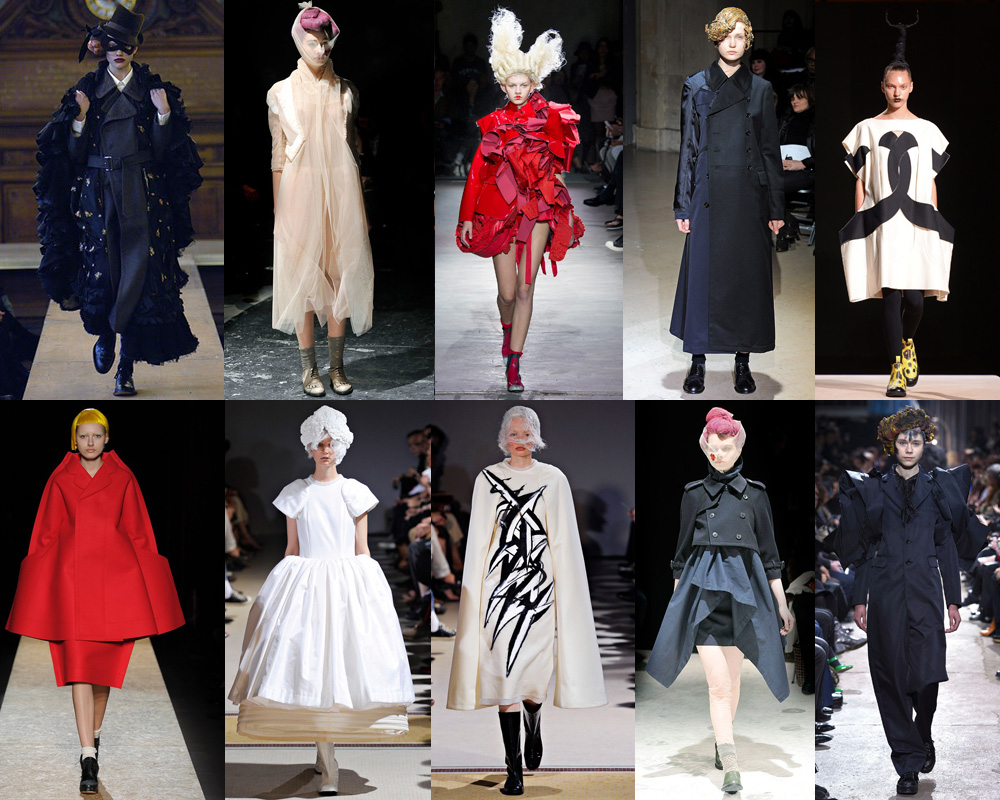 Given all this, "The Art of the In-Between" is a marvelous thesis statement for her work. It's also an almost impossible red carpet brief. Either you had to wear Comme des Garçons (and there are probably secret fashion rules about which seasons are still considered wearable and which have yet to become vintage enough to be fair game again), or you had to somehow suggest an ineffable sense of fashion. Not style, which is something we expect from celebs; fashion, which we expect at the Met Gala. For this, if for no other reason, anyone who actually showed up in Comme des Garçons got full marks, regardless of how they actually looked. Everyone else will, of course, be mercilessly judged on their choices and their ability to carry off whatever they chose.
WORE THE BAND'S SHIRT TO THE CONCERT DIVISION
Rihanna. Fairly sure this is the undisputed look of the night across the board, and for good reason. She looks as if she understands and enjoys the idea behind the dress she's wearing, and manages to make it look almost effortless even though the mere idea of the soup course must have been as the sounding of a dreadful bell at the top of a far-off hill.
This also marks the second Gala where she wore work by a designer featured in the exhibit (for "China Through the Looking Glass," she wore Guo Pei). It's interesting how rare a practice this is, particularly since Rihanna keeps getting such amazing results from just participating in the brief.
On pretty much the opposite end of the ease-and-experience spectrum is former ambassador Caroline Kennedy, who is clearly putting forth a great deal of effort in wearing this dress. However, her palpable awkwardness is totally excused given that she very clearly wanted to honor the evening's guest, so she can inch her way up those stairs all she wants.
Michele Lamy, decidedly from the Fashion side of the aisle, demonstrates what happens when you aren't afraid to go wild on a red carpet. She is not fucking around. Not with you, not with her makeup, not with this dress, nothing. Honestly, she looks mildly appalled that anyone wore anything else.
Helen Lasichanh is being a real trouper about this one, but it also looks like she just caught sight of my second collage up there, realized Comme des Garçons makes garments you can get both your arms through, and is still processing.
Tracee Ellis Ross found one! She loves it! Look at her arm, hanging free! She manages to make the silhouette look comfortable, even sporty, like she's just out for a nice avant-garde-18th-century night on the town!
And so did Sophia Sanchez!
For many others on the red carpet, wearing actual Comme was off the table, but they still managed to turn in looks that, even in passing, adhered to the brief. Whether or not they succeeded is almost entirely a matter of styling and confidence.
THEY ATTEMPTED A THING DIVISION
Cynthia Erivo, who looks incredible; this dress is built for volume and texture, and the styling is both over the top in a general sense and specifically reminiscent of several Comme runway shows.
Grace Hartzel, professional wearer of clothes, in silent-movie Gothic makeup and creepy-1902-schoolteacher bicycle clothes. I really enjoy this one; there's a streak of the perverse about it that feels like it suits the occasion.
Ruth Negga, wearing a tabard dress that emphasizes the fall of the fabric and, extremely cleverly, suggests one of the many Comme garments that prevents use of the arms without feeling like that's what she's trying to evoke. Great choice.
Solange Knowles; not my favorite Met Gala look of hers, but a fun take on a tux.
Lily Aldridge. The dress is largely red-carpet standard, but somehow the leggings and veil turn it into something that suggests a concept and not just a dress; I'll take it. (I definitely looked at it for more than three seconds trying to figure out what the deal was, which is the sort of thing you want on this carpet that you don't want happening so much at, say, the Golden Globes.)
Hailee Steinfeld. Does this look good? Not particularly. Does it play with proportions and ditch the idea of an idealized feminine shape in favor of using the human body as a support system for seemingly-disparate fabric joins? It does; that's within the brief as far as I'm concerned.
These ruffles reference some of Comme's collections that play with volume, and Rila Fukushima wears them like she's at a haunted cocktail party and she's going to murder you later. Why not?
Jaden Smith brought a bouquet of his own hair, which is potentially off-putting, but it also handily suggests the idea of change and reformation, and that's the sort of thing a good Comme collection would be built around, so why the hell not; if not here, than where.
A ballgown that looks like it's molting and/or being taken over by lichen is likely going to be right at home on the Met Gala carpet, and Zoe Kravitz knows it. (I'm not a huge fan of this hair color on her, but the cut looks great.)
Maggie Gyllenhaal. Her style generally hovers somewhere around Organic Sad Trombone, but as it turns out, that works in her favor here; the color and drape of this are just Comme-related enough that you can see what she's going for.
Rita Ora, brief-compliant; she's got latex hair, and there's no other red carpet that would take that dress.
The Olsen twins. They broke up their usual aesthetic for a reason, and these outfits feel as if they could have at least used my two collages as part of a mood board about what they were going to do, and on this red carpet, I'm fairly sure that counts.
Cara Delevigne, whose hair is painted on, dressed like someone who is about to leap into the air and musically show a curious child the wonders of nuclear energy before returning them to their classroom in time for the bomb drill.
Ashley Graham. It's a perfectly nice dress, and though it looks a little more red-carpet standard than some of the other looks in this category, I'm happy to accept that the floral detailing is deliberately more texture than shape as a nod to Comme.
I am far more interested in the progression of Dakota Johnson's styling than events probably warrant. But she's been playing the careless California starlet for a little while, and now it looks like now she's hoping to make a move toward slightly edgier stuff – indie enough to do the festival circuit but mainstream enough to warrant borrowing a Gucci for the premiere. (Rooney Mara. She wants to become Rooney Mara.)
Lily Collins, who picked a really solid dress for a Comme exhibit, but who – in wearing Kawakubo's signature hairstyle – has officially reached the Trying Too Hard threshold.
The Trying Too Hard worst-case scenario: Katy Perry, who is wearing this outfit as if it is a sacrificial robe and/or she's just begun to realize she should have taken off one harness element before she left the house. She always manages to overclock herself on this carpet – she shows up dressed to theme and looks mildly horrified to realize she's doing it – but given that she was a part of this year's gala, it feels like even more pressure, under which she is silently crumbling. That veil probably snagged on that carpet all the way up the stairs; we know she has someone paid to spread it out for her, but what she needed most of all is someone to gently tell her not to do this.
That might sound like a lot to ask, but it can't be THAT hard to find someone to tell you that something is a bit much. I mean, none of the people in the next division had one of those people, but surely they exist, right?
DIDN'T GIVE ONE FUCK DIVISION
Gisele is a co-chair of this event, celebrating one of the most versatile and inventive designers going, and this is what she chose to wear. She is not at the top of this list because I like it, because even in basic-bitch terms this dress is a red-carpet bore; she is at the top of the list because no one else on this carpet, even Anna Wintour, managed to give less of a fuck about the brief than this.
Zendaya is the opposite of all that. Sure, she didn't give a fuck about the brief, but she was here to show off some fashion, and by god, she did.
See also: Priyanka Chopra, who has been trying to deliver contained-but-outstanding looks on several consecutive red carpets and finally gave up and demanded a ten-foot gumshoe. I don't personally care for it (love the proportions and shape of the collar and sleeves but feel like the train throws it off-balance), but this dress does exactly what it was meant to do, which is make sure everybody has to take pictures of her in landscape, since those are more likely to be a blog header, a feature intro, or a standalone sidebar. She is not going to get lumped into "Gorgeous in Gold" composite photos one more fucking time.
Janelle Monae regrets to inform you she is not, nor has ever been, dressing to someone else's theme. She has been assembling her own outstanding black and white sartorial continuity that rests somewhere between historical winks and futurist fantasy, and if that's not going to work for you, then just don't invite her, because she's going to show up however she likes.
Nicki Minaj. The train on this dress is almost laughably off-topic, but she made showing up in a van into an event; was there any doubt she was going to sell it?
Thandie Newton is not here to worry about the theme. She is here to match the staircase décor and to play a take-no-prisoners Demeter who absolutely loses her shit after Haley Bennett's Persephone gets swallowed by the Underworld, and she's all out of staircase.
Rose Byrne. I don't know how she manages to maintain the pristine facial expression of gently disdaining whatever she's wearing, but she always does, and it makes her unassailable. If she was allowed to be knowingly smoking a cigarette and blowing the smoke out towards the crowd with a derisive, long-suffering twitch of her eyebrow, she would be.
Daisy Ridley. So many people have had to approve this garment that it's amazing she can still summon even this much enthusiasm for it. Given how many people had a chance to say no to this dress, I am surprised this dress is still here.
Joan Smalls is a model. She's here to work. She will wear Comme des Garcons the moment you feel like paying her to wear it. Otherwise she's wearing whoever gave her this. Thank you, that's all, have a nice night.
Jennifer Lopez. "What if a '70s theater party, but too much?"
I kept this one until last because I'm genuinely taken aback at how lovely this look is despite how incongruous it is; the ghost of 1880, come to settle on Felicity Jones' late-Victorian shoulders. It's such a stunning color for her (and rare on this carpet), and the silhouette such a light-touch historical throwback, that it actually sells the idea of being suspended in between modern and Victorian ideals, which means it actually is in the brief on a technicality. Nice one.
From here, of course, we increasingly part ways with even sidelong suggestions of the brief, and things start to descend into the quiet, awkward chaos of people who are not about to rock the boat by doing anything showy. Some of them clearly had something in mind. Some of them…well.
BLESS YOUR HEART DIVISION
Mandy Moore. "I mean, lumps…feels like a lot? Not BAD, obviously, I love everything creative that anyone has ever done in their whole lives. It just feels like a lot. I still have an NBC show to promote! I just don't know if I can do lumps. Or prints, but obviously that's just my thing, prints are great for other people. Is there a way we can signal that I'm hip with the textile revolution of today without it being too much? I don't want it to be too much. But I don't want to look like I don't care, either – obviously I care, I was the voice of Rapunzel, I care so much! Is purple eyeshadow really Goth? It is, right? Okay, so, halfway there. We can do this. I believe in us."
Katie Holmes should not have worn this to the Met Gala and she is standing next to the man whose job it is to know better. Anyway, look at that awesome couple behind her to the left! She's got a really sculptural skirt and sort of playfully casual top, and he's wearing a kicky kilt! I really dig that.
Elle Fanning. "I want to look as virginal as possible. No, more than that. No, more. This isn't virginal enough. I don't give a good goddamn about that brief! Listen, I was in the Neon Demon, okay? I was so virginal someone had to eat my eyeballs to stay young. I want to look THAT virginal."
Lily James is tired of playing ingenues. Lily James and her mildly-self-supporting ballgown are ready for something more serious. A vampire, maybe, if you have one? Or like, a crooked nightclub singer. Someone who has a secret? Any secret, she's not picky. She just wants to be mean to someone; even a little mean. Anything.
Honestly, I can't even be upset with this terrible look. Celine Dion minds her own business 364 days a year doing whatever else she does (is she in Vegas? If she isn't physically, she's in Vegas in her heart), and for this night someone asked if they could put her in asymmetric trash bags and the last remaining black fronds from the 1989 House Beautiful décor issue, and she said yes! Of course! How nice of you to think of her! She's just happy to be here! Pin that garbage bag to her however you wish! What a fun, sincere time we'll have tonight!
Reese Witherspoon. "I'm a serious producer who's gathering Emmy steam, here. One sleeve ONLY."
But at some point, you stop cutting anybody any slack. All the invisible Kardashians, for example. Also all these people.
THESE PEOPLE ARE TESTING ME DIVISION
Bella Hadid. I think in some ways this is a fascinating outfit; in order to stand out on a red carpet that, if it had followed the brief, would have been full of sculptural pieces that used the human body as support structure for fabric architecture, there's a certain symmetry in putting such emphasis on the human form. But in other ways, this looks like she's dressed like a sexy sock for Halloween, and I don't know what anyone wants us to do about that.
Halle Berry smiles because she knows how to play this game without anyone thinking about sexy socks aaaat allllll.
This picture features Behati Prinsloo, but her dress is so basic we aren't even going to address it. Instead, let's appreciate the two assistants on her left; matching formal-appropriate v-necks, sleeves (you'll be running up and down stairs and don't want your arms moving visibly against your black dress), and a watch, because it's hard to juggle the walkie and your phone at the same time (the shoulder mic only helps so much). I am also impressed that these women look so rested given that they are likely running on about five hours of sleep across the last three days, and at least one of those hours was just in the backseat of their Uber on the way over.
Claire Danes. She clearly already knows what's wrong, but I'm just going to let her sweat it out.
Riley Keough, who wasn't invited to the Punk Gala and is just going to keep dutifully catching up on the themes she missed one year at a time.
Lupita Nyong'o. Love everything above the neck. You will never convince me of anything else that's going on here.
Does it look like a white lobster is holding Sophie Turner's bosoms up? It does now, doesn't it? It fucking well does now.
"And on that night, Doutzen Kroes' dress was the most tired of them all."
But honestly, the dress that stopped me in my tracks tonight was this one, on Allison Williams. Do you have no friends? Not one? You don't have to come if you don't want to come. It's fine.