The red carpet is always an alien planet. The gravity field is different there, objects held in orbit by twenty-thousand dollar dresses, jewelry that comes with its own bodyguards, and clutch purses studded with adamantium – or no purse, if designer contracts couldn't be arranged: it's dangerous to your image to go with a purse you bought yourself unless you're under 14. Your goal is to stand out, unless you risk being put on a worst-dressed list if you do, in which case you play it safe. (Or, sometimes, you wear a fashion-forward thing you know will get you on the Worst Dressed because you're demonstrating edge. It's the Victorian language of clothing writ small; you wear hothouse flowers in the city because they're more expensive, and take the priciest silk flowers you can buy into the country with you.)
Let's not pretend I don't care about stunning outfits worn by famous people (I'm in this as much as anybody), but the red carpet goes beyond a fashion event to become coded messages about the careers of the people who walk it. I wrote more about the surreal ecosystem for this week's Philly Weekly: let's just say this year featured a 360-degree photo booth decked out to look like a rainforest, and a drone on the red carpet for no reason I can think of except as a beat in a larger PR campaign to make drones seem like adorable selfie machines we should all be happy about.
But as a system that works as a PR machine for everyone on that carpet including the people being herded off to one side in that picture, there's no better leadoff than Rosamund Pike in a virginal dress she had to know was a chest disaster, not caring: it assured everyone she hadn't let having a baby affect her marquee figure, and she kept that sleek Gone Girl haircut to remind you exactly fucking why she was on that carpet. If it looked from the front as if her breasts had melted and the dress was sliding precariously and stiffly right off her torso, no one cared. This was the shot they wanted; this was the shot they got. An alien planet, sure, but a fascinating visit. Let's get started.
(I always love shots that show the mess before the camera angles are carefully locked in. It looks, at a glance, like that GlamCam 360 has been slowly overrun, a melancholy urban-exploration destination not long abandoned where the artsy photographs have just begun to make the rounds.)

LOOK OF THE NIGHT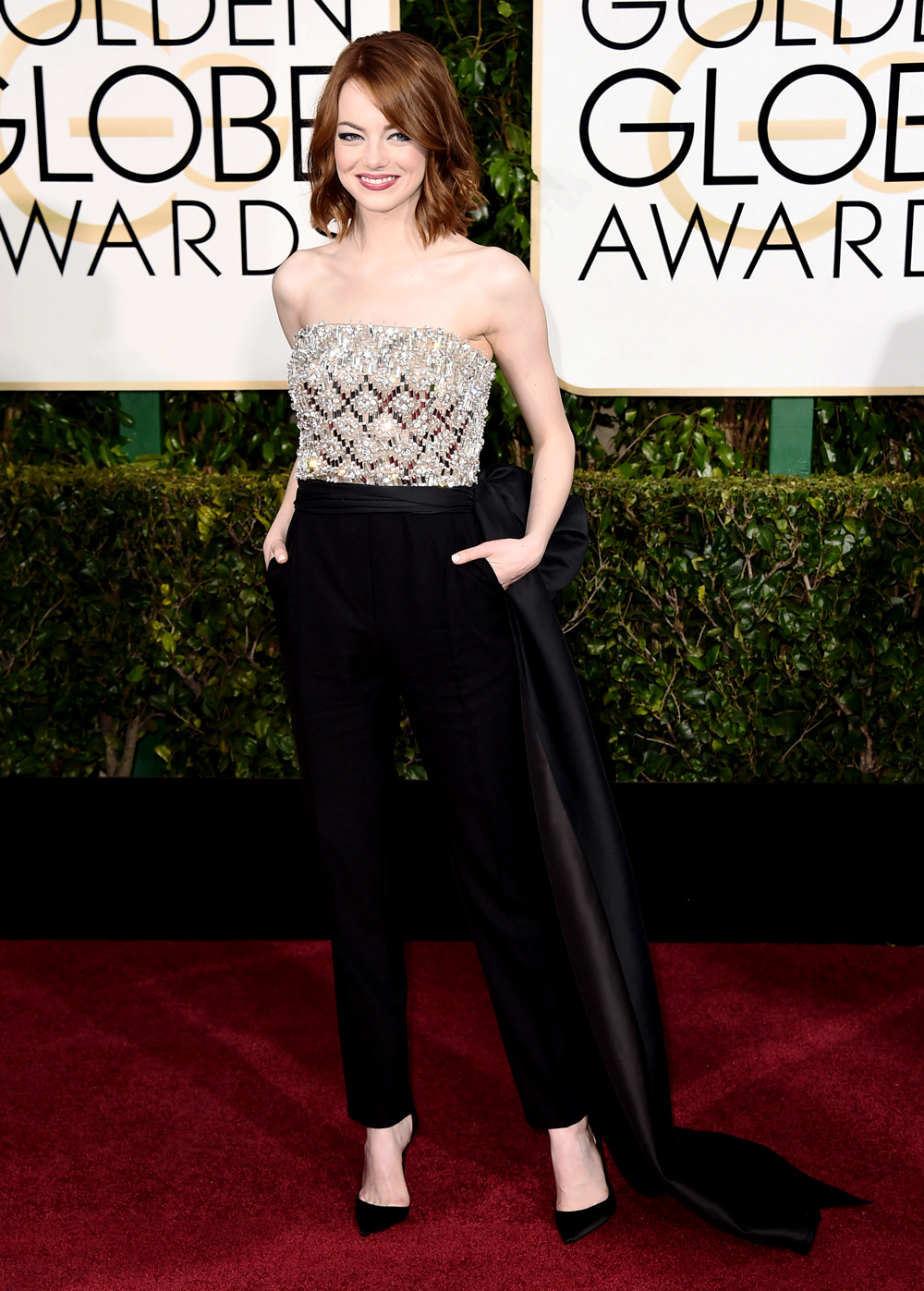 Emma Stone. Red carpet pants can be tricky, but you'd never know it from Emma Stone's carrying-off of this outfit that manages to evoke vintage hostess gowns and still look casually modern. We can argue about the bow if you want, but this is a standout look that doesn't call particular attention to itself, and that's quite a trick.

LOOKIN' GREAT DIVISION
There are so many people in this division that it didn't seem worth it to create hierarchies of particular colors or inspirations. It was a very safe year: they're all inspired by vintage Hollywood, and very few people deviated from it. And since those that did met with mixed results, it makes sense; the Globes can be a place to announce a trend for the year (last year's boycott of the Necklace Guild continues), but they're also testing the waters for the Oscars and the Emmys, and in a year where so many winners were up in the air, nobody wanted to overdress and come out looking presumptuous. So it's a parade of mostly-nice outfits, with the more interesting mistakes yet to come.
Ava DuVernay. Sleek, impeccably fitted, her hair is amazing, the earrings are perfect. If we had seen this on the podium (and I mean, we should have at some point, let's be honest), I would have loved to see how the cape-train moved.
Allison Tolman. Another perfectly-fitted dress (and even hemmed to the right length, which as we know from past experience is a rare thing), with a romantic silhouette offset by the details and the stark black.
Gina Rodriguez! Another great example of black with outstanding detailing. (I'm glad I watched the rec carpet stuff on mute this year, because without the kleigs the issue I had with the opaque-to-sheer suddenness disappeared; in regular light it looked subtle and rich.)
Naomi Watts, who visited the Necklace Guild at their headquarters, which I can only imagine is inside a cave made of diamonds, and said, "I shall not ignore you like my sisters. Give me a necklace nobody will mess with."
Viola Davis. I love the smattering of sparkle and the weight and drape of the folds on her train.
Felicity Jones, whose neckline occupies an interesting place between prim and futuristic that I really enjoy.
Uzo Aduba, in some gorgeously textured jewel-tone beading that works really well with the silhouette.
Anna Kendrick, looking perfectly ingenue-y. (This was a seriously safe year; everyone's in a holding pattern until they know how the Oscar race is shaping up. I suspect things would have looked a lot different if the Globes had been next Sunday after the Oscar noms were out.)
Christine Baranski, who must have made a pact with a wizard.
Helen Mirren, that wizard.
Ruth Wilson. It's an odd red-carpet choice – the fabric, the black handsewing, the Peggy Olson office colorway – but in an evening of safe choices, it's nice to see her take a step sideways.
Quvenzhané Wallis, who last night reminded us has to be publicly graceful about a bunch of unacceptable bullshit people think is cute, looking adorable in a dress that's both suitably glam and age appropriate. Love the matching bracelets.
Amy Adams, who so often seems like an actress from the forties, carrying that idea right through.
Laura Carmichael, who nearly always goes for a simple dress with one design detail, a style that tends to pay off for her, and has done so here. There's a lot to be said for the careful art of dressing when you're supporting cast on a show and you know you aren't immediately gunning for something else – the range of pleasant but unobjectionable outfits is wide, but trying not to be boring is tricky. Laura Carmichael has found a sweet spot for this, I think.
Salma Hayek. In case you've forgotten Salma Hayek, she's come back to be married to her work once again.
Kelly Osbourne. Most red-carpet presenter types become spray-tan wallpaper to me, but Kelly has managed to maintain a personal style on the red carpet, which is always nice, and as a big fan of the well-executed evening sleeve, I thought this outfit came together pretty well.
Amal Clooney (who has apparently officially taken her husband's name), in a great throwback look complete with Grace Kelly gloves that are way too big and are a glitch in the line of both the gloves and the dress, but that is a stylist's problem, not her problem. (Funny to think she must have been feeling pressure about this given her actual profession, but there must have been plenty; her victory is that you can't tell. She had some amazing reaction shots, and I hope she continues to look at all awards shows as particularly troublesome office parties for her dumb lug husband.)
And Reese Witherspoon, who has figured out what works for her and is going to stick to it, this time with some beading.
In fact, there was some amazing beading last night. And some amazing sequins. It was a whole division!

VEGAS NIGHTS REVUE DIVISION
Julianne Moore, who manages to make an ombre sequin gown with maribou look somehow understated. The Vegas dream.
Ellie Kemper, who nerded out and cosplayed as an actual Deco casino, looking lovely in it.
Conchita Wurst, who decided to bring back the double-breasted velvet tux dress of yore (was it? It must have been, the 90s lasted ten whole years) and did an admirable job.
Lorde, who came to this casino to kick some rival-crime-family ass and see Cirque du Soleil, and they're all out of Cirque du Soleil.
Danielle Brooks, demonstrating a rare moment on the red carpet where I wish something was a few inches longer, but looking like an undercover agent determined to stamp crime out of Vegas for good in a dress that's got a little glitz but nothing else getting in the way, and I dig it.
Kate Beckinsale, who is always here despite not ever really doing much, always looking good but not too good; in Vegas she's an established casino owner of a well-respected casino that hasn't really updated in 15 years, content to let people enjoy it as it is.
Kate Hudson, the leading showgirl in Kate Beckinsale's casino.
COME SEE Jessican Chastain star in I DREAMED OF MARILYN, live at the MGM Grand!
COME SEE Jennifer Lopez star in I HAVE A MOVIE OUT IN A WEEK, live at a theater near you!
Michelle Monaghan, who forgot this was even tonight and had to throw something from 1997 on real quick just to make it to the carpet before the show started.
Lana Del Rey, the headliner of a carefully-constructed dive bar in Disneyland, true to brand.
Diane Kruger, the cool and distant glittering night sky above Vegas itself, whom Vegas might want to outshine but never can, because some things are written in the stars themselves.
Dakota Johnson, star of 50 Shades of Grey, in a dress that is less a garment than a stroke of marketing genius. It's a dull silhouette but too glitzy to ignore, low-necked but with a straight-across cut meant to make it look accidental and that virginal mermaid hair to distract you from it, which matches that raggedy mermaid hem that's either very fashion-forward or a post-apocalyptic mess depending on how you look at it, and a slit to mini-dress length but a train to make it register as an evening gown. It's a dress designed to make you hate it and tell other people, and that's exactly what this outfit is meant to do.

Of course, some outfits don't quite do all they could be doing. Not that they're bad! Most of these are perfectly nice. Just that sometimes you wear the dress, and sometimes the dress wears you.
SAD THEY DIDN'T AIM FOR THE VEGAS DIVISION
Maggie Gyllenhaal dresses just how she likes, and sometimes they're head-scratchers. This one, in which she spent the night reenacting that Folgers commercial with her brother, is a home-run of run-of-the-mill prettiness that avoids any of her quirks but also any of her pitfalls. Basically, someone from Sundance kept wringing their hands and repeating "But what if you WIN?" until she put down the Viktor & Rolf she probably wanted and went with this instead.
One time I went to Hampton Court and they gave a costume demonstration in which Queen Elizabeth got dressed in stays that were more like the rigging on a ship than a garment, and petticoats designed to keep your skirts out in a full bell. In unrelated news, here's Julianna Marguiles.
Juia Telles. This bodice was a savvy choice for her – technically risque but really as chaste as an ice-skating costume – and this dress is interesting mostly in the casting value of it for a character straddling teen roles and ingenue roles.
These are the faces of two women who can count in single digits the number of minutes until they change out of these dresses anyway.
"What does it mean, a dress wears you?" Patricia Arquette murmured introspectively as she shook off her stylist and puffed her five-layer shoulder bow higher just before the camera flash.

OH GOSH, NO THANKS DIVISON
Keira Knightley, in a dress that encapsulates how I feel about Keira Knightley: the intentions were sweetly good, the execution is a talentless disaster.
Claire Danes, in a dress that encapsulates how I feel about Claire Danes.
Melissa McCarthy. The skirt is great! The blouse is some Anne of Green Gables satin business that, if left open at the neck with maybe a little sparkle, would have made the best of that great face-framing collar and could have been fine. That bow ruins everything forever.
Zosia Mamet, who said, "I want to be the visual embodiment of a sad trombone sound. Can we do that?" Oh, Zosia, they sure can.
"Don't worry, Zosia," said Leah Dunham, "they won't even remember your mistakes after they get a look at my Half-Melted Lipstick concept."
Kerry Washington IS a fearless agricultural operative out to save the moons of Saturn in BO PEEP: AD 2245.
I wanted to like this. Oh, how I tried! It's certainly better than Rosamund Pike's take,in that Emily Blunt has wisely asked for breast support. (And it's interesting that apparently both actresses are keen to announce post-baby bodies ready for work.) But it looks oddly stiff, and like the workhorse it is, and it ends up being Not Quite.
Lupita N'yongo, in her first-ever red carpet miss. And even then, it's barely a miss! The colors are great, the styling impeccable, the skirt lovely. But the shape of that bodice was just never going to work on anyone, and not even Lupita can fix that (though the Buddy Holly glasses she wore later did everything they possibly could).
Still, if you cover that bodice with your thumb it's a great look, and this dress will end up in front of millions of eyes; I trust she'll be back on point on her next red carpet, and that until then, this dress will have done its job. They always do; it's the nature of the game.