Welcome to the Red Carpet Rundown of the BAFTAs, tha red carpet that pretends it's more sophisticated and understanding than those Other red carpets (look! Soothing greenery!), until you actually look at it: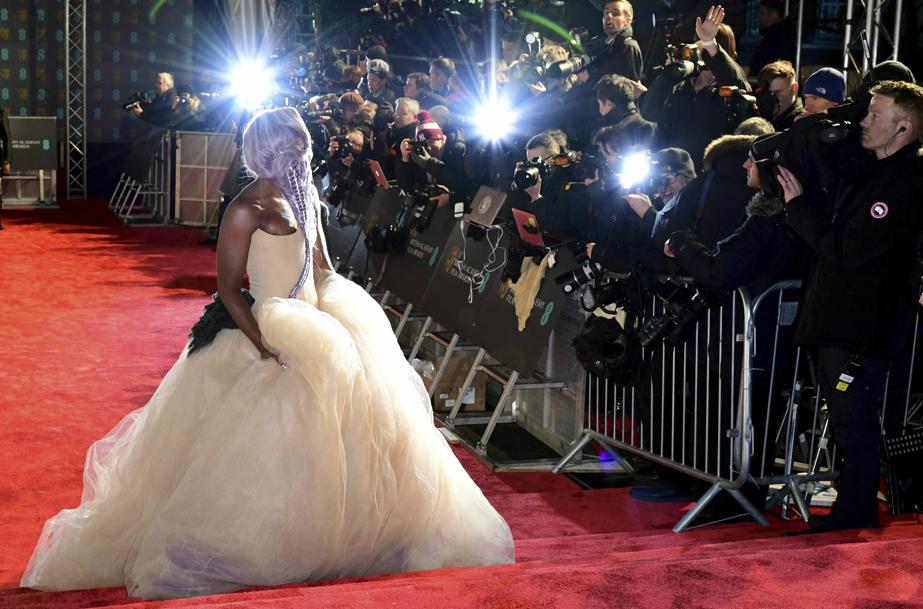 (Please understand how sincerely I mean this: Yikes.)
This event certainly never stood a chance against the Grammys, where much bigger statements are made. Like Cardi B, who wore 1995 Thierry Mugler Birth-of-Venus couture right down to the headpiece purely to make the statement that she has achieved the sort of red carpet clout where you can dig into designer archives for a dress that requires an assistant whose only job is to walk you successfully between photo stops. (Though for my money, the best dress on the Grammys carpet was on Jorja Smith – the kind of dress that reminds you "embellished sheath" doesn't sound particularly daring, but can sometimes be a formalwear-barnacle wonderland.)
But still, even if you've been scheduled opposite the bigger party, the show must go on, because those critical wheels of publicity, favors, security staff, assistants, crowd control, and press must spin. An actor on this carpet can only face the gauntlet and make the best of it.
If you have the particular skills necessary to navigate a red carpet, you can pull a Cate Blanchett, whose dresses often require a lot of Wearing, and who manages to not only wear this one but also faux-casually slip her hand underneath it as she faux-casually grins at an invisible 12-foot-tall friend (never an audience, always just one tall friend who she doesn't really know any more and can't quite remember if she likes but has already made eye contact with, almost, so it's too late to just ignore them, that would be rude, smile and move on) to highlight the giant nonsense gems swinging around on her sternum:
Hats off. (Hands under.)
You can also end up pulling an Olivia Colman, whose dress is a chic but relatively workable '60sish formal (evening sleeve with plenty of room, high enough neckline to not worry about tugging anything, short enough not to worry about tripping), whose presence on the carpet is lauded, and who still made Anxiety Fist repeatedly without even meaning to, because the red carpet is just like that.
(One can only imagine someone chose this train for her dress because they were expecting some horizontal blog-header shots of it on red-carpet summaries, not knowing how badly they would be thwarted by an evening of staunchly vertical photography. Hopefully they drank with Cynthia Erivo's stylist  later.)
Since so much of this red carpet is either A-listers trying out whatever they think is cool or people going all-out for their home event, it's usually a fairly fun time. This rundown is therefore a single division; everyone stands together under the boughs.
EVERYTHING HAPPENS SO MUCH DIVISION
Michelle Yeoh. Look of the night. Maybe her look of the year. (Her Ice Witch at the SAGs was also very, very good.) This is conveniently Space Empress adjacent splendor; this is also full Morgan le Fay, which I support to a degree you cannot even believe. This is a Michelle Yeoh entering a phase of her career that she's going to eat alive, and this dress wants you to know that. (Also note that while this dress is fairly busy, it's not overwhelming. Some dresses this season aren't as careful about that, and we'll get there.)
(I am genuinely fascinated how Michelle Yeoh has been positioning her looks this season. The SAG dress makes sense as a showstopper because she was a presenter and possibly going up for an award. But she wore a much less prepossessing dress than this to the Globes, bringing out the My Servants Will Carry My Sleeves, Thank You Anyway impression-maker out during the BAFTAs instead of the much-more-widely-televised Golden Globes. Was it all a subtle sign of displeasure, and you had no intention of wasting Elie Saab on the Globes? Did you want to be the standout on a more subdued carpet and you knew Gaga was busy at the Grammys tonight? Oh, to be a fly on the wall of this styling meeting.)
Thandie Newton. A black ballgown with hints of water-at-night on the full skirt you're wearing like you're daring someone to ask you about it? :bangs table: CATWOMAN TOP THREE CATWOMAN TOP THREE CATWOMAN TOP TH
Danai Gurira IS auditioning for the Addams Family, and I AM listening!
Rachel Weisz. At the Golden Globes her gown seemed selected to wink at the impression of upturned period petticoats, less a frothy ingenue than a naughty allusion. This time the whole team just skipped the allusion part and gave us the Full Crinoline so she could inevitably march up to the podium and collect her award looking both very fancy and nudge-nudge undressed. I have no complaints.
Regina King. This is the second time she's worn pink on the red carpet this season; usually a color shows up only once per actress per season. What if she just makes it her signature this year and keeps turning up in exquisitely tailored pinks? What if we had all that to look forward to?
Viola Davis. One moment on the red carpet doesn't reflect the experience (sometimes you just get Chlumskyed). Viola Davis usually sails through the red carpet. The strong sheath has become her signature, her hair looks amazing, and she's not wearing jewelry that obliges you to keep your knuckles to the camera and maintain a slightly weird pose all night. This stiffness could have been because someone took the photo before she was ready; it could also be someone dreading any questions about Liam Neeson when she's out here doing her job and doesn't need to be answering for someone else's racism. Red carpets are fun.
Cynthia Erivo. It's so, so much dress and she just loves it! I actually think it might be a little too much dress for the BAFTAs, but she sure doesn't, and it's always nice to get a sense of red-carpet fashion as part of a fun personal character design and not just a careful brand presentation (even though we're under no illusions that this isn't careful brand presentation, right? Right).
Sophie Okonedo. An interesting choice for her; the BAFTAs is a good place for tea length (it's a red carpet, but it's a cool red carpet! People do theater here!), and the 1950s wasp-waist with hints of panniers is a nice shape. The leafy lace isn't my favorite, but it gets the long-drape/short-skirt hemline better than many of its contemporaries.
Naomi Ackie. What a fun fucking look, okay? And talk about character design: "not super concerned about the actual event, extremely fun hair, strong lines, unexpected color" is practically a Kevin Wada brief.
Yalitza Aparicio. Great color on her, and I appreciate the clean lines of the ballgown. The pared-down glam of the styling was a good choice, too; the sleek faux-careless hair works to keep everything very modern.
Letitia Wright. Love the architectural details and boxy body of the blazer; am not entirely sold on the pant cuffs, but I love the length, so it's a net win. (Also like the shoes and bag; matching is not required, but if you're going to do robot-level silver foil, then why the hell not do it twice?)
Melissa McCarthy, whose Morticia look is also perfectly nice, and (presumably as a nod to the BAFTA cultural exchange), whose handbag looks like she's a Papist messenger nervously carrying a Bull across the water into Elizabethan England under cover of night.
Kate Fleetwood. The outfit strikes me as something worn to a donor gala where you want to look fancy but you also don't want to buy a new dress because you have perfectly nice fancy separates and a belt, but Donor Gala is still a workable dress code for the BAFTAs. She's mostly here because she plays Nancy Birch in Harlots, the only person not routinely referred to by her whole name, which is criminal if your name is Nancy Birch, honestly, but she was just the sort of spitnails for whom a last name is unnecessary. Anyway, watch Harlots.
Amy Adams. In accordance with prophecy, her dresses are going to get increasingly complicated until somebody gives her a fucking award. This one has bow shoulders and a belt and a brooch and a train lined in a contrasting color, and it is only going to get more intense from here, you understand?
Elizabeth Debicki. A fissure in the darkest depths, but make it fashion.
Zawe Ashton. Do I like this dress? No; the color's incredible but the Greek chiton reclamation project going on right now is a hit-or-miss proposition and this is not a hit. However, Zawe Ashton's "What, this old thing?" energy is stupendous, so you think this dress is cool for at least a full five seconds, which is essentially a magic trick, so full marks.
Glenn Close is doing everything required of her to look polished and formal and awardy this season, and this is another very suitable formal dress with very suitable evening styling, but that is also the face of a woman who has a closet full of Eileen Fisher separates that she is just PINING for right now.
Laura Harrier. Did you know she's here because she was in a nominated film set in the 1970s? Well, you do now, asshole. (She's got great red carpet energy, too: Make 'em wait for it….boom.)
Gemma Whelan, having a very pleasant time at BAFTA: The Late-Afternoon Garden Wedding For Your Richest Friends That You Are Attending Because Of That Small Favor They Did You One Time But After This You're Hoping They Go To France To Build A Winery For A Few Years And You Can Ignore Them For A While.
Octavia Spencer. All of this is fine – even cool! – except the belt, which breaks the line of embellishment to no good effect, does nothing to enhance the waist, and offers nowhere for the eye to rest. Why is it here? Why.
"Why?" is also a question I've been asking myself about this year's trend of Extremely Busy Dresses, where it feels as though someone has been asked to include 4-7 design elements in a single garment on a dare. However, I've been forced to admit through some recent research that honestly, these busy dresses are not doing anything that Callot Soeurs were not already doing from 1910-1916ish: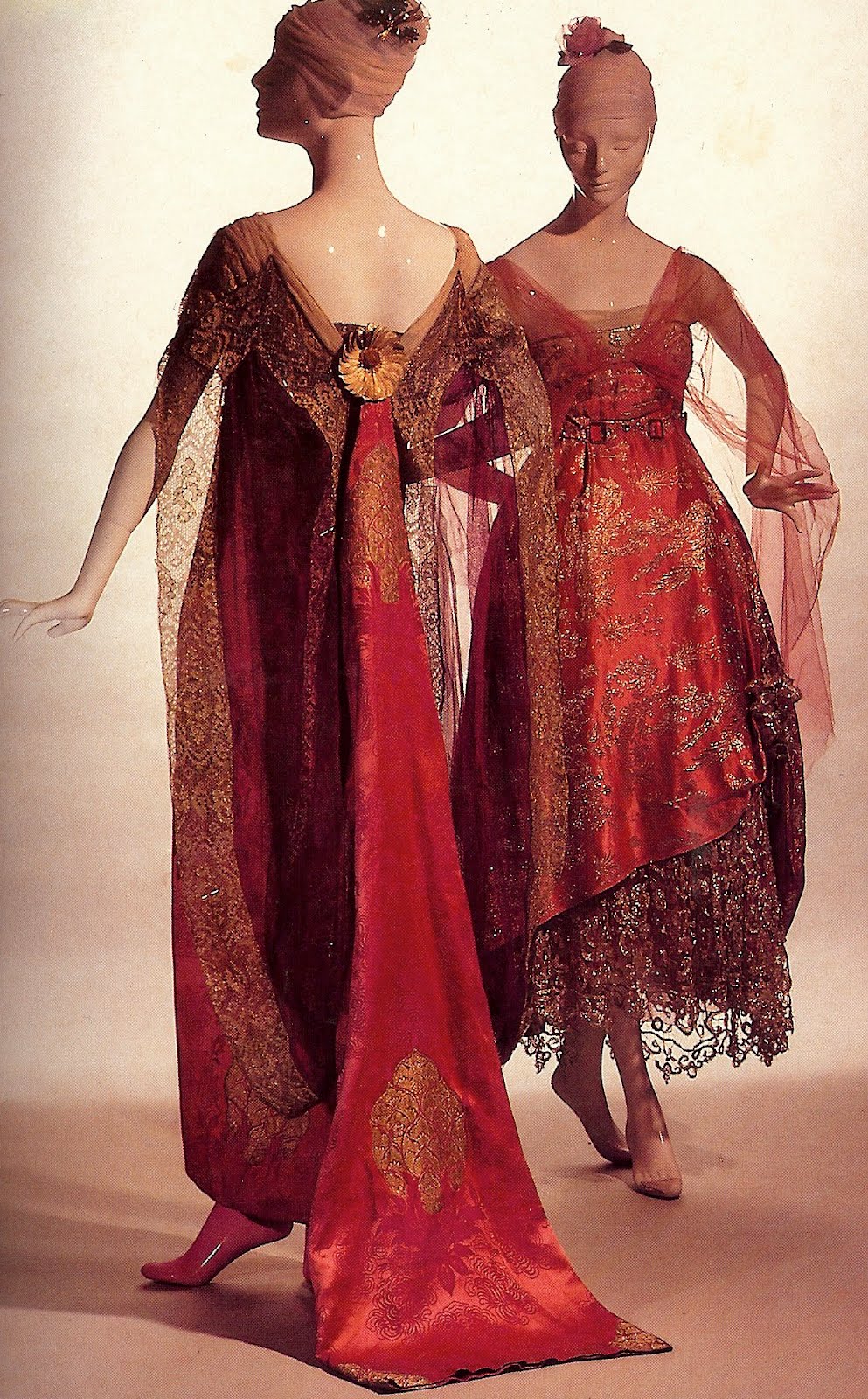 And though I appreciate those dresses more than the ones below, it's not as though there's no stylistic precedent for them, either. Busy dresses can be stunners; the question's all in the balance.
Elinor Tomlinson. A lot happening (too much? Ask 1916), but the asymmetric swoop of the black velvet is at least a strong central line to launch the rest from.
Lily Collins. The couture jellyfish business on the bottom half isn't my thing – even 1916 might have thought it's a little busy there – but the jacket sure is; every close-up shot of it was just sublime tailoring, and though this picture doesn't get them in shot, the cuffs have a dozen buttons in a line, and boy, that looks good.
Margot Robbie. If you're ever feeling self-conscious at a party and get worried that your dress might actually be wearing you, take heart: It happens to Margot Robbie, too.
And finally, Claire Foy, whose dress is blissfully confounding.
"It's a beautiful drape with fringe," says the Oscar de la Renta spokesperson, pointing at the sketch. "Just the most stunning shade of green."
"And it won't look like an incredibly fancy towel?" says Claire Foy (played here by a team of styling professionals).
"How dare you! Of course not! This is poetry in motion!"
"But you're sure in still photos it will not look like Claire Foy, acclaimed actress, has forgotten the BAFTAs are happening and yanked a two-story curtain from the stately windows of her impeccably decorated foyer to tuck around herself as she positively sprints for the Tube, hair still slicked back from a shower, fabric at the waist conforming to her body like she's the Princess Aurora and magically forming a slit at the opposite side of the actual drape, creating the distinct impression that several people worked extremely hard to tailor something that still retains the air of a tucked curtain?"
"Absolutely not like that."
"Perfect. We'll take it."