Once again, the most high-stakes red carpet parade of all has come and gone.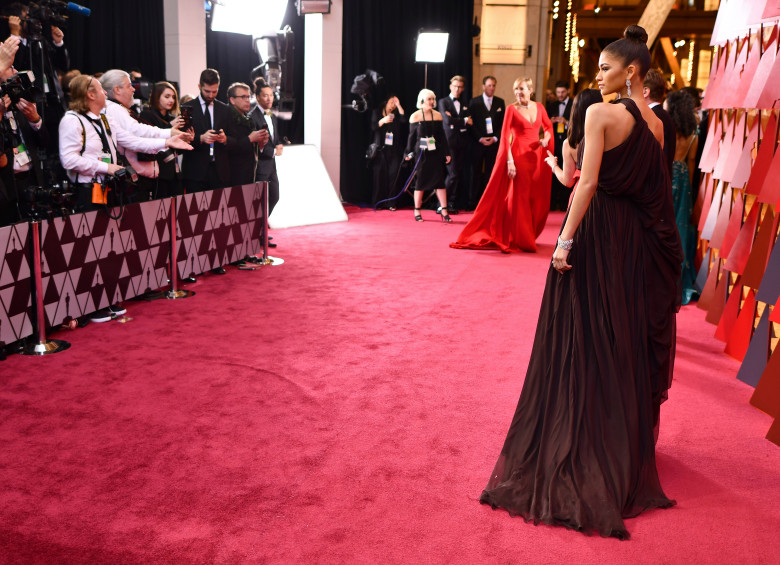 As the broadcast (and the photo backdrop, and the ad bumpers) kept reminding us, this was the 90th anniversary of the Oscars. I actually watched all those things because I got talked into an in-person viewing party, which meant going through the whole business in real time. Since my opinion of two of those dresses changed after seeing them in motion, we'll pretend I was watching for research. Plus, during the very overwrought bit about carrying snacks into the theater for the common people, I got to imagine how many security guards had to race across the street during a commercial break to keep an eye on all the jewelry.
And jewelry was back in a big way this carpet! This whole carpet felt like something of a throwback, honestly, like everyone was wary of seeming TOO gleeful when Ashley Judd, Mira Sorvino, and Salma Hayek's truly gobsmacking jeweled shoulder drapes were still taking the stage to accept conciliatory applause from all the people in Hollywood still not sure what they're actually going to do to fix any of this in the long term.
But in general, after two red carpets that were deliberately somber (the Golden Globes and the BAFTAs), it's back to business as usual. It's so much back to business as usual that I had to make a division just to sort out the sparkly nude dresses from one another. There are almost no ugly dresses this year; similarly, there's a very large tier of dresses that are all lovely, without a clear frontrunner, because everything has become either so personally branded or so carefully suitable that trying to catch a stylist in a misstep is increasingly rare. Nobody here is new. Nobody.
And that's fine. The Oscars is when everybody in Hollywood goes for broke. The Golden Globes are cute, the SAG Awards are nice, and the Met Gala is the last remaining exclusive nightclub for this entire crowd, but this is the one everyone hopes will last another 90 years, and they want to make these dresses count.
Still, some of these feel like they count more than others.
BIG MOVES DIVISION
Zendaya. Gosh, she and the team of crack professionals churning desperately just under the surface of the water are doing a truly fascinating job launching her from Disney star to EGOT hopeful. When she did her season of Dancing with the Stars, I knew what the show got out of it (the youths, sweet lord, they need the youths); she was there to charm the parents of all the kids already watching her show, bridging the kind of generational divide that gets you a part in both a Spidermovie and the most inexplicably popular movie musical of the last six years. But even if you'd never seen her show, or Dancing with the Stars, or any of her movies, you would already know exactly where she was trying to end up by watching her on the red carpet, where she has always dressed to kill. She did not come to the A list via anything quirky or youthful or anything else that brand-straddling young women do. Every time she steps onto a carpet, it is a full-concept look that can vary widely but is always aimed directly at being the most stylish person in the room. This is no different. She is making a bid for stardom, and she has dressed like a star.
The far end of this spectrum: Frances McDormand, who knew almost certainly she was going to win the Oscar, and did the usual, which was: avoid the red carpet entirely, wear almost no makeup or jewelry, pick up the award, and go home.
Betty Gabriel. Though she didn't have a lot of screen time in Get Out, she stole nearly every scene she was in. This dress does exactly the same thing. The lily-pad impression, the majestic sweep that very few others tried on this carpet – it's all designed to stand out, and it really does. (I am already getting a little tired of the Low Wide Cleavage V, because it almost inevitably fucks with the proportions, but since the emphasis of this dress is so clearly meant to be the landscape of the skirt, I'm fine with it.)
Allison Janney has shown up to collect awards this entire season, and her dresses are all Winner Dresses. Having already done sequins (which, sadly, you can only really do once a season without people worrying you Like Sequins Too Much), she went with the next logical step of formal dress, which was Medieval Tippet Sleeves. It worked.
Mirai Nagasu, making the most of her invitation to the Oscars. (The dress is lovely and so is she; for me this is an always-timely reminder of how hard it is to make the entire Red Carpet Affect look natural, and how primed we are to sense any hesitation; compare this picture to how Allison Janney is carrying her clutch. Mirai Nagasu has been taught how to stand, and she's doing exactly that, but the red carpet magic is not exactly that; it's exactly that, and something taxing and ineffable that makes people believe there's nowhere you'd rather be than giving 30-second interviews in 5-inch heels and a 30-thousand-dollar dress.)
Please note that there is no fault here with Mirai Nagasu. She looked lovely! She looked great! A lot of people looked great! The red-carpet machine is getting very good at avoiding mistakes!
LOOKIN' GREAT DIVISION
Lupita Nyong'o. Honestly, she always looks incredible. You could ask me how she looks before I even see her and I would answer with absolute confidence that she killed it. This dress, which suggests both celebratory glitz and a royal-family sash business with just a little bandolier structure, is another one of those. It's a gentle reminder that she's in Black Panther and also won an Oscar; not all her dresses have such direct messages, but if you're gonna do a direct message, do it here. (The gold threaded into her hair was the perfect finishing touch.)
Rita Moreno, who also brought her message with her. This is, famously, the same dress she wore to the 1962 Oscars, where she won for Best Supporting Actress. The skirt ended up working perfectly with the Full Versailles set design this year (a strange thing to repeatedly reference in a ceremony that was ostensibly concerned with addressing abuses of power, but sure). The bodice was altered to show more skin, which is already great. And this entire outfit is a rebuke from any angle you care to consider it, which makes it even better.
Octavia Spencer. A lovely color for her, a lovely drape, and no wrinkles, which always takes some doing in transit. Octavia Spencer is not going to sit down in the car like some rookie. She knows this game by now. (Not enough to hem this thing or get another two inches  of height on her shoe via platform, but I accept that sometimes you're too short for your dress and you don't feel like slapping on Venetian chopines. Life is hard enough.)
Greta Gerwig. Her team has done a really good job of trying to navigate the Young Director/Viable Indie Actress divide this season, in a way designed to make you feel like a jerk for even thinking there was ever a divide. This dress approaches but doesn't quite become Michelle Williams Goldenrod (such a memorable dress it's still a hard color to pull out on the carpet), and is the most "traditional" red carpet look of hers this year, but it's very sweet, and manages to avoid looking costumey in a way Emma Stone didn't quite avoid when she tried a similar retro look last year.
Dee Reese and Sara M. Broom. The sharp tailoring, the playing with proportions, the slightly punk edge to each look – what's not to like? (My favorite thing might be Dee Reese's socks, which is not something I'm usually into, but it looks so great here!)
Maya Rudolph. I did not like this until I saw it in motion, at which point I understood a lot more about the appeal. Despite the color suggesting some sidelong Handmaid reference, this ensemble is a quiet repudiation of the mandate of maintaining and displaying a fuckable body; in motion it looked elegant and vaguely sexless, and I am behind that concept all the way, any day of the week.
Tiffany Haddish, whose Eritrean ensemble is super cool – love the way the black cape frames the dress. (If I have a complaint, it's that the bunching on the bodice sits awkwardly perpendicular to the pleats on the skirt, and I would have wished for a little more interior support/boning/something to keep that bodice line more structural, but that's a minor complaint for a great look.)
The flip side of this: Danai Gurira, who looked incredible, and whose bodice had so much structure that the dress could clearly stand up without her. That's not even a criticism; this is the Oscars, and every single one of these dresses are chosen by people who are not taking any chances. She's working her way up to being a regular on this carpet; she's going to start the track record of Taking No Prisoners right now.)
Phoebe Waller-Bridge, who looks slightly like a 1930s starlet in a movie where she's a scrappy reporter who has to infiltrate a supper club to get dirt on a handsome actor (spoilers, they make out), and slightly like someone who is beginning to realize the scope and depth of the Star Wars press machine (spoilers, she'll be very tired).
Janet Mock, making this dress look carelessly breezy in a way we rarely see at the Oscars. I love anyone who can manage to make the Oscars red carpet look like you just dropped in on your way to someplace cooler.
Viola Davis. As usual, she's in a beautifully-tailored column of color. This is not my favorite of those (she's worn better pinks), but she is on awards carpets regularly enough that she's gone through several other pinks already, which is a nice consolation. I want her to reach Meryl Streep levels of "I've done that already" red-carpet looks.
Margot Robbie, who was nominated for a film about figure skating and is going to make damn sure her dress looks like it. (I wonder how hard her stylist was grinding their teeth when Salma Hayek showed up in the This, But 85 Million Times More Than This shoulder drape.)
Rachel Morrison, looking exactly how you would look if you were on the 90th-anniversary red carpet of an event where you were the first woman ever nominated in your category.
Sally Hawkins. None of her dresses this season have been my favorite, but they have all looked like Sally Hawkins' favorite, which matters more. Whoever's assisting her with the season has really worked hard to keep the quirky aesthetic she usually has and dial it up just enough to avoid any questions about What She Was Thinking, which is why you hire professionals in the first place. It's gone well! I especially love the wink at her Ginger Rogers gown from Shape of Water in the hem embellishment here.
Helen Mirren, who I just assume planned her entire look around her necklace because that's how much jewelry came back with a vengeance this time, and who then abandoned all this planning to wear a completely different dress for a punch line about a jet ski, because that is just who Helen Mirren is.
Jennifer Lawrence. Oh boy.
She always looks good, because there are a team of people putting her into things designed to look good, and she dislikes it all pretty much equally across the board. But how she looks is only the tip of Things to Talk About regarding Jennifer Lawrence, whose performance in Winter's Bone was so good that the hype managed to extend through a YA franchise she shouldn't have been in, several dramas she shouldn't have been in, a superhero franchise she shouldn't have been in, and some dresses she shouldn't have been in. In a move that felt candid at first and like a defense mechanism as time went on, she was almost aggressively uncensored, often when it would have behooved her to think a little bit before she announced things (like how she rubbed her butt on sacred rocks, which is so bad that I genuinely can't believe it didn't occur to her to maybe keep a lid on that shit).
At this point I'm convinced that she is in a war of attrition with her PR team in which she promises to defend wearing waist-deep Versace in winter weather like it was her idea, and defend all this polishing and tightening and sanding-down that has turned her into someone who seems to resent her own presence on the red carpet, but only if she's allowed to say anything that comes to mind. I genuinely don't know who's going to win. I hear she wants to take a break; I hope she does, and not just because I'm very curious about what things will be like for her when she comes back.
(If you would like to see me process even more feelings about celebrities in wars of attrition with their image-management teams, I wrote two books about them, and you can check out Persona and Icon.)
For pathos reasons, I didn't put Jennifer Lawrence in this next division. She is absolutely being treated like a doll, in ways more transparent on her than on many of these other, equally-styled women, but we're trying to have fun here, so.
DOLL DIVISION
Nicole Kidman, for whom Barbie is not movie-star enough. You know a doll for Movie Stars? Gene, who was an adult actress doll with a fully-fleshed-out backstory of movies and rivals. Barbie's dresses had Velcro up the back like some kind of toy. Gene dresses, one presumes, could only be fastened by dolls that had been summoned to life by Gene's sloe-eyed glare in order to serve her, so they could pour her into glazed dresses with suspiciously out-of-proportion bows on the front of the skirt for a role as a torch singer on the wrong side of the law. Nicole Kidman refuses to be Barbie. Gene or bust.
Taraji P. Henson, "Oh, Officer, Are You Sure My Husband is Dead? Goodness, That's a Tragedy, Just a Tragedy" Gene.
In 1965, Mattel released a Special Edition doll of Barbie's little sister to counter growing concerns that the older doll-centric demographic was dismissing her for being too young and gormless. Later, however, Mattel executives would admit that the doll's piercing gaze made them uncomfortable about their deepest insecurities, and the make was retired soon after. Here, Saoirse Ronan boldly is Silently Judging You Skipper.
St. Vincent is the Barbie that a girl plays with until only scraps of her clothes are left and her original hair is all pulled out and replaced with hair she drew in with black marker, and you can't ever shake the sense that if you make her mad, that doll is going to show up in your bedroom and take revenge.
You can tell how Kelly Marie Tran was gunning for Straight-Up Fairy Princess Figurine from the moment she found out she was going to be on the carpet, and then got a dress that absolutely looks like a fairy princess but also requires her to wear it very carefully. (There are times she feels like she's being dressed by other people, and times you can tell she loves what she's wearing; this is somewhere in the middle, where she loves the dress but is not exactly comfortable.)
Lesley Manville. "What if we took this Erté sculpture of a fairy godmother and made it sort of plush? You know, more comfortable, more relatable," the junior executive suggested. Everyone around them nodded eagerly – they desperately needed a doll that seemed more approachable, and this velvet direction seemed the only way to make the Lesley Manville Fairy Godmother look less intimidating. In another room, unnoticed, Lesley Manville Fairy Godmother prepared to choke every last one of them to death on porcelain dust as punishment for this dress.
Emily Blunt, Erté Princess designed to bookend her fairy godmother, looks on and does nothing. Every princess doll knows that life is cruel. Nothing can save those humans now.
Whoopi Goldberg, whose team has to know that this early-90s jewel-tone extravaganza is going to look like Lwaxana loaned Guinan a formal dress for an embassy event. (Sold as a pack with Former-Friend-with-Benefits Picard, middle-school me desperately hopes.)
Sandra Bullock is the "Movie Stars who have been instructed by their PR teams to sound like they vaguely support the idea of speaking out against power without giving a single specific until Ocean's 8 can clear a nine-figure opening weekend" Tom Tierney Paper Doll Book. (It's a short book.)
Jennifer Garner, who decided that emulating dolls of the past is cheating. She is an entrepreneur, and she wants to spearhead a 2018-appropriate relaunch of Chatty Cathy which emits existential despair when you pull the string.
Everyone in the next division was hoping to end up in the Doll Division; that's why you wear ethereal spangled gowns in the first place. The trick is, the ethereal spangled gown has been done so much, and it's so hard to look good in, and there were so many on just this carpet, that you end up wondering if any of them will ever look good again.
THE CRUSTY BEIGE DIVISION
I would have said there were no winners in the Crusty Beige Division, except that Gina Rodriguez was there, and she wears the shit out of anything she has on. She is thrilled to be wearing this, and the dress is thrilled to be worn by her, and she is proof that even overdone dresses can look great on the right people. (Except the mermaid gowns that are super tight to the knee and flare out below it, which are the bootcut jeans of dresses and need to be approached with extreme caution.)
Elisabeth Moss, who loves the Crusty Beige aesthetic on the red carpet when it has literally never gone well for her. And in person, I am sure these dresses really do look ethereal and lovely on her. However, she is very pale and the lighting on the red carpet does nothing but wash out both her and the dress, which everyone is well aware of by now, so I have to assume that's the effect they're going for. Someone tricked her into wearing black a little while ago, and I wish that had stuck.
Allison Williams. She has every single Crusty Beige problem that Elisabeth Moss has, and which application of bronzer has not fixed. However, I feel like this look is both a perfectly acceptable red carpet outfit, and an extended joke about her character in Get Out. This is the most overtly Barbie hair/dress combo of anything on this carpet, honestly; this year, that can't be a mistake.
And Abbie Cornish, in the Crusty Beige that Tried Too Hard. (I like a lot about it, in pieces, but it's overwhelming in the aggregate. Is it the difference in width between the scallops on her cape and on her skirt? Is it the heaviness of the cape against the deep wide V? The spangles over lace? The Nonsense Cape trailing behind? Take your pick.)
It's just as well Abbie Cornish went for this look, though, so I could put her here, in the division for those who tried, instead of the division we all knew was coming. There are very few people here this year, because I don't think merely being cookie-cutter on this carpet counts as a crime; it's a career-safety move and I am not going to fault that. This is for those who leave me with questions, or sadness.
NO THANKS DIVISION
Emma Stone. So, here's the thing. Red and this shade of pink and navy is a very interesting color combination. Everyone knows my love of a good evening pant. And I think this silhouette, as a concept, is a good one. You can see in the lapels how sharp this could have looked! But Emma Stone is a new Louis Vuitton brand ambassador, and somehow a group of trained professionals got together and decided "some color" and "evening pant" meant that she should wear some almost-fitted pieces with smocking detail that draws the eye to the sleeve wrinkles, in unbroken satin, and someone along that process has failed her. I have never seen an outfit so desperate for some velvet in my life. (Would a velvet sash have been enough, or would we have been looking at a jacket in velvet with a satin sash and satin pants? My gut says the second, but it's not like the first would have hurt this look.)
Andra Day, whose dress looks like she got caught in some collapsing curtains while time traveling in a House Beautiful shoot from 1986 and had to get back in a hurry. (The thing is, she knows this is a worst-dressed contender. She laid down on the red carpet to make sure everyone got a Worst Dressed picture of her – horizontally, which is more blog- and header-friendly. And when she actually took the stage, it was in a very nice black ballgown, so she knew that look was not actually going to serve her well as the style statement she wanted to associate with her work. It was a look that is going to get pictures taken, and that is why it was there.)
And fascinatingly, Haley Bennett. Honestly, the neckline on this dress could easily have sent her to the Doll Division, because I have rarely in my life seen a dress so deliberately designed to make its wearer look like a doll neck. But she lives here. Not because I don't like the dress – I like more about it than I dislike – but because I am deeply concerned that getting such an obviously hair-shirt reference dress onto the Oscars carpet means that she found out she wasn't being invited to the Catholic Imagination Met Gala after she'd already promised someone she'd wear the dress. She's one of the few actresses willing to go all out on the Met carpet and risk looking bizarre; it feels like this dress is her trying to prove it to the wrong people.
But the fact that you can look a dress and wonder why it appeared at one event and not another means that the collective red-carpet algorithm has become specialized enough to worry me. In the best way. I hope she shows up on the Met Gala carpet, because I cannot wait to see what she's wearing, and if that's not the point of doing the red carpet, what is?